John Byrne looks back on the year in TV and chooses his top five in the categories of Drama, Comedy, Factual, Panel/Chat Show, Reality and Anthology/Miniseries.
It's been another remarkable and memorable year for TV, and once again the gogglebox has wiped the floor with Hollywood's big screen when it comes to quality, content and five-star performances.
In terms of variety it's impossible to beat our beloved telly. It just offers so much entertainment, from the cautionary drama of The Handmaid's Tale to the caustic comedy of Curb Your Enthusiasm, to the beauty of Blue Planet II or the delight of Dancing with the Stars.
So it's no wonder the average Irish viewer spends more than 24 hours a week watching - that's equivalent to 12 films a week, 624 movies a year.
It was also another great year for female actors, with both Elisabeth Moss and Carrie Coon excelling in two shows each - Moss in zeitgeisty drama The Handmaid's Tale and the loopy Top of the Lake: China Girl, while Coon nailed it in cult drama The Leftovers and the latest Fargo anthology.
The girls also ruled it in Little Big Lies and American Horror Story, while Sharon Horgan and Julia Louis-Dreyfus proved yet again that comedy knows no gender boundaries.
More of the same please in 2018.
Drama
Another fantastic year for Drama, I could list more than 30 shows and still leave out many more that I haven't yet seen (and perhaps never will). The choice is staggering.
Newcomers such as Westworld and Legion messed with our heads, while the established likes of Broadchurch and Homeland both came back with a bang.
At home, Striking Out and Acceptable Risk kept the Emerald engine running, while Line of Duty and Doctor Foster both impressed in a very strong year for the BBC.
Best Drama: Better Call Saul (Netflix)
Now better than Breaking Bad, this prequel about a small time lawyer just keeps impressing with each season as amiable shyster Jimmy McGill creeps towards criminality and becoming Saul Goodman.
Once again, a superb central cast of Bob Odenkirk, Jonathan Banks, Rhea Seehorn and Michael McKean excelled. Another season's on the way, which will probably wrap things up. It's a languid gem.
2: The Leftovers (Sky Atlantic)
Three seasons of heartache, loss and despair in this unique show about the sudden and inexplicable disappearance of 2% of the planet's population were rounded-off with superlative performances from Carrie Coon as the deeply wounded Nora Durst.
3: This is Us (RTÉ One, Channel 4)
The family drama that took the place of the superb but sadly overlooked Parenthood is a much more weepy affair, while the likes of Mandy Moore and Sterling K Brown offered standout performances. This show oozes much-needed empathy. People really matter in this show.
4: Mr Mercedes (RTÉ One)
Brendan Gleeson playing a boozy, angry, foul-mouthed retired Irish cop in an adaptation of a Stephen King novel about a serial killer on his second wind proved to be the surprise hit of the year. Darkly delightful.
5: The Handmaid's Tale (Channel 4)
Margaret Atwood's dystopian story was given a wonderful TV adaptation, with Elisabeth Moss outstanding in the lead role as a fertile woman forced to become a proxy pregnancy vessel for a well-placed couple. Grim but engrossing.
Best new drama: Legion (Fox)
This delinquent drama about a schizophrenic mutant redefined comic book adaptations. It makes the delightfully acerbic Mr Robot look like The Big Bang Theory in comparison, and provided cult TV watchers with the most mental slice of telly since The Prisoner. A psychedelic trip and then some.
Comedy
Another strong year for sitcoms and comedy - especially from the UK end of things, as new shows such as Motherland and Back supplemented the likes of Catastrophe and Car Share.
Stateside, Girls came to an impressive end, Broad City's still doing the business for sisters in New York City, while Veep remains a hugely enjoyable platform for the now peerless Julia Louis-Dreyfus.
Best Comedy: Curb Your Enthusiasm (Sky Atlantic)
I feared the worst when I heard Larry David was returning with a new run after a lengthy lay-off, but this has proved to be the greatest comeback in showbiz since Take That reformed.
If anything, his character's curmudgeonly approach to everyday annoyances is more relevant now because – well, let's face it – everyone's angry about everything these days. At least Larry David makes it seem funny.
2: The Good Place (Netflix)
Kristen Bell and Ted Danson are great here, but so is newcomer William Jackson in this whimsical tale of a woman (Bell) who ends up in the heaven-like Good Place after death, when she really should be elsewhere. It's a forking hoot.
3: Atlanta (Sky Atlantic)
Creator, producer, director and star Donald Glover deservedly won an Emmy for his brilliant breakout comedy about a pair of cousins looking to make it in the rap scene. Smart, sharp and full of great characters.
4: Veep (Sky Atlantic)
For what seems like forever, this less-acidic US version of BBC political satire The Thick of It has been landing knockout comedy punches, with a superb ensemble cast led by the wonderful Julia Louis-Dreyfus.
5: Catastrophe (Channel 4)
A poignant season three of Sharon Horgan and Rob Delaney's relationship saga, as it marked the last time we got to see Carrie Fisher in action. The show itself also ended on a downer, with Rob in big trouble. Tony Hancock would be envious.
Best new comedy: Motherland (BBC Two)
Sharon Horgan teamed up with Graham Linehan and others for this show. After a superb pilot it got green-lighted, and offers a smart-cum-cynical insight into the complex life led by London-based parents. I love Diane Morgan and want to have her children.
Factual
The most varied genre of them all, this year has seen documentaries ranging from The Vietnam War to angry Americans to Nathan Carter in Nashville - and so many of them were also brilliant.
Best Factual: The History of Comedy (Sky Arts)
This eight-parter from across the Atlantic pond may have been hopelessly lopsided towards American comedy, but for that it offers a great insight into what makes US comedy so majestic.
As well as being a valuable history lesson it was also full of laughs. The series was broken up by subjects ranging from groundbreaking comedians, the rise of female comedians, parody and satire, and the comedy of real life. Edutainment at its best.
2: Blue Planet II (BBC One)
Once again, the Beeb came up trumps with this latest, mind-boggling and eye-bulging look at life underwater. This is the type of series that's perfect for big, sharply-focused TV sets and curious, caring minds.
3: George Michael: Freedom (Channel 4)
Less than a year after his death last Christmas (oh, the irony), Channel 4 aired this fascinating and intimate look into the life and career of the much-loved George Michael, who eerily worked on the documentary and also narrated.
4: The Vietnam War (RTÉ One , BBC Four)
American channel PBS are experts at producing superb and definitive documentary series and this one - from the remarkable Ken Burns and Lynn Novick - on the folly of America's war in Vietnam is up there with the best from the US public broadcaster.
5: Fab Vinny (RTÉ One)
Vincent Hanley was a huge radio and TV star here in Ireland in the 1980s when he became the country's first high-profile victim of AIDS, and this half-hour doc succinctly summed up his singular life – and tragic death.
Panel/Chat Show
Perennial favourites such as The Late Late Show and The Graham Norton Show all shone as brightly as ever, while Frankie Boyle arrived with customary zeal to rugby tackle the madness of modern times.
Best Panel/Chat Show: Would I Lie to You? (BBC One)
11 seasons in and yet it remains as sharp and fresh as it was in the beginning. Team leaders Lee Mack and David Mitchell work so well together and it's more about fun than getting the boot in. It's so not 2017.
2: Frankie Boyle's New World Order (BBC Two)
Talking about getting the boot in, this new arrival from the razor sharp Boyle was great, anarchic fun. He makes two statements, discusses them with his guests before tearing today's world apart with effortless zeal.
3: The Tommy Tiernan Show (RTÉ One)
There are far too many chat shows on RTÉ - there, I said it - but at least Tommy Tiernan's version takes a new vantage point by having guests that the host knows little or nothing about. It's been an unrehearsed hoot.
4: Tonight with Vincent Browne (TV3)
2017 went and bid farewell to modern TV's Fab Vinny, as Vincent Browne finally gave Irish politicians a chance of a decent night's sleep by retiring from his often controversial, always topical, chat show. No more Browne trousers in Leinster House.
5: The Graham Norton Show (BBC One, TV3)
Still the most entertaining chat show around, though it's starting to show slight signs of cosy wear and tear. It might need a bit of a revamp if it's going to remain a must-watch and despite its obvious attraction to A-listers.
Reality
The most-maligned of TV genres, the worst of reality shows are awful experiences and borderline sociopathic, but once people are allowed to do something worthwhile or positive, it can be a source of uplifting TV.
Best Reality show: Dancing with the Stars (RTÉ One)
Ireland's version of Strictly may not last too long – your local TD or schoolteacher could feature by the fifth season – but if the first run is anything to go by it'll be a brief but brilliant run.
From Teresa Mannion being adored by the nation, to Des Cahill's new status as a hero to every flat-footed fella, it was great and engaging fun up to a final that saw gaelic footballer Aidan O'Mahony emerge triumphant.
2: Frock Finders (RTÉ One)
More all-encompassing than the similar Say Yes to the Dress, this show featured a wide range of people seeking that perfect look, ranging from comedian Katherine Lynch to Amy Lynch, the first entrant with Down Syndrome to compete in the Kerry Rose.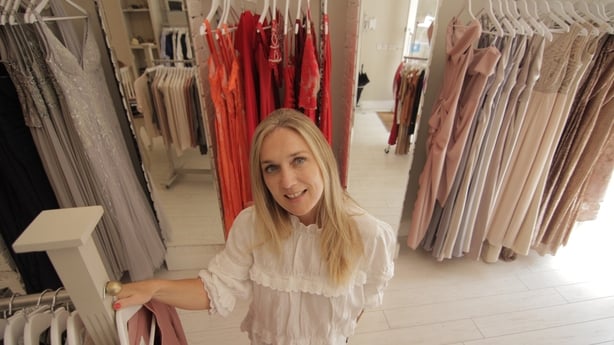 3: Strictly Come Dancing (BBC One)
The original dancing celebrity show continues to be the ultimate in glitzy Saturday evening entertainment, even though it lost its legendary host, the late and great Bruce Forsyth, and jesuitical judge Len Goodman.
4: The X Factor (TV3)
There's life in the old dog yet. Simon Cowell's pantomime-ish talent show may be losing viewers by the millions in the UK, but it's freshened things up by allowing some of the talent to perform their own songs. That's a big positive.
5: Gogglebox Ireland (TV3)
The original, UK version of this TV-reviewing show felt a little stale this time around, but the Rory Cowan-voiced Irish version on TV3 keeps on hitting the spot with hilarious regularity. RIP Leon Bernicoff, the irreplaceable Scouser from the UK show.
Anthology/Miniseries
There's usually a touch of class about shows in this category and this year's been no different, ranging from a topical American Horror Story to the Beeb's latest period drama, Howards End.
A late arrival came over Christmas with Feud: Bette and Joan. Haven't seen all of it yet, but it's been excellent so far with Susan Sarandon and Jessica Lange both hamming to perfection in the lead roles.
Best Anthology/Miniseries: Big Little Lies (Sky Atlantic)
Boasting Hollywood heavyweights Nicole Kidman, Resse Witherspoon and Laura Dern, this show managed to be both dark and soapy without falling calamitously between the two.
A classic tale of money, misery and marital mayhem, it was a whodunit that managed to keep everyone guessing as it teased out and pieced together a frankly deserved comeuppance. And what a cast!
2: Rellik (BBC One)
Convoluted, daft, and constantly frustrating, this six-part drama about murder, abuse and deception mucked around with time and viewers' heads like it was some kind of battle of wills between writers Harry and Jack Williams and anyone with a remote control. Loved it.
3: Broken (BBC One, RTÉ One)
You don't have to be a genius to figure out that a grim Jimmy McGovern story featuring Sean Bean as a guilt-riddled priest would be both bleak and uplifting – but it was still a hard-going joy to behold.
4: The Night of (Sky Atlantic)
There was much to enjoy in this drama about a college student accused of murdering a girl on the Upper West Side of New York. John Turturro and Riz Ahmed were excellent as quirky lawyer and ambivalent defendant.
5: Fargo (Channel 4)
While not as outstanding as the first two seasons, this was still great fun with Carrie Coon as snoopy copper Gloria Burgle and Ewan McGregor in twin roles. But Mary Elizabeth Winstead stole the show as the effortlessly cool Nikki Swango.