Jake Bugg, Everything Everything, Tom Grennan.and Britpop survivors Cast are among the first acts announced for the Indiependence Music & Arts Festival which takes place at Deer Farm in Mitchelstown, Co Cork on August 3 to 5, 2018.
Le Galaxie, King Kong Company, HamsandwicH, The Blizzards, Le Boom, Wild Youth, 1000 Beasts and Walking on Cars will also play the festival, which first took place in 2006.
INDIE18 will also feature artists with strong ties to London club and label Ministry of Sound with debuts from Sigala and Mylo.
All Early Bird Tickets have already sold out for INDIE18, with three-day camping tickets now on sale for €139 and VIP Indie Garden tickets on sale for €179 from www.tickets.ie.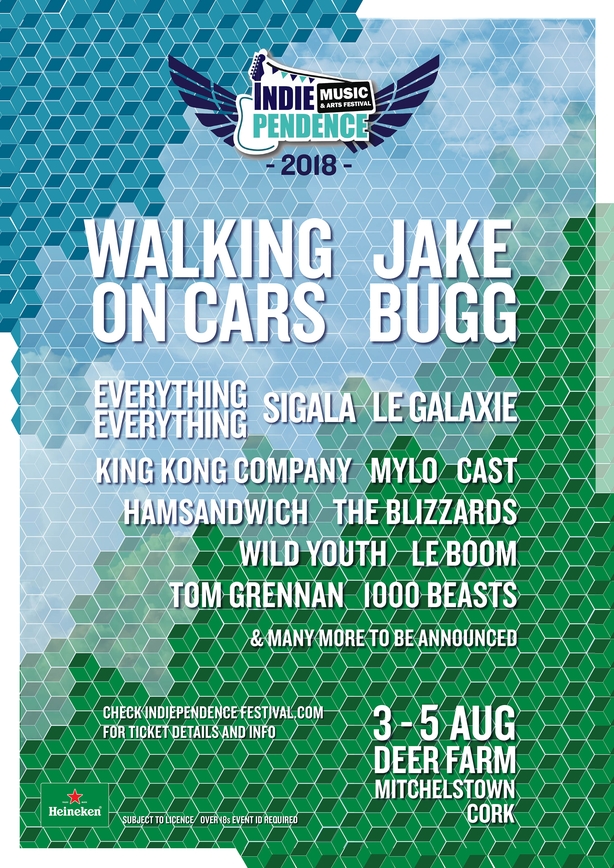 "We will be announcing a lot more acts in 2018," said organiser Shane Dunne. "But wanted to give Indie fans something to look forward to before Christmas. Thanks to everyone who has bought tickets so far and we look forward to sharing some really big names with you in the new year."
Indiependence has previously featured acts such as Basement Jaxx, Public Enemy, De La Soul and Editors.