France's biggest rockstar Johnny Hallyday has died aged 74 after a battle with lung cancer.
The singer sold over 100 million records and starred in a number of films in a career which spanned over half a century.
His career began in 1960 with the release of his debut album Hello Johnny. Hallyday, who is credited with introducing rock and roll music to France, is known as "the biggest rock star you've never heard of" outside of his home country.
The musician's wife Laeticia Hallyday confirmed the news of his death in a statement on Wednesday (December 6) in a statement which read: "Johnny Hallyday has left us. I write these words without believing them. But yet, it's true. My man is no longer with us.
"He left us tonight as he lived his whole life, with courage and dignity."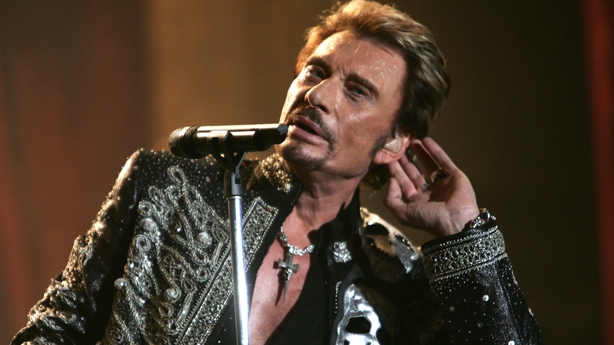 French President Emmanuel Macron reacted to the news with a statement which read: "Across generations, he carved himself into the lives of French people. He charmed them through the generosity you saw in his concerts: so epic, so intimate, in huge venues, in small spots.
"We all have a piece of Johnny Hallyday inside every one of us. The public today is in tears, and the whole country mourns."
Hallyday, whose real name was Jean-Philippe Smet, was born in Paris in 1943. He decided he wanted to be a singer after seeing Elvis Presley on screen in 1957. The gravelly voiced star packed out sports stadiums in France for decades and was considered a national institution.
He also branched out into film, appearing on the big screen in films such as Jean-Luc Godard's Détective in 1985, The Man on the Train in 2002, and Pink Panther 2 in 2009.
People have taken to Twitter to pay tribute to the late musician, with fellow musician Lenny Kravitz saying "your soul is pure Rock and Roll".
Farewell Dear @JohnnySjh. Your friendship, sweetness and support are imprinted in my heart. It is an honor to have known you and to have spent time with you and your beautiful family. Your soul is pure Rock and Roll. Repose en paix. 📷: @candyTman pic.twitter.com/1ZAFUewHlo

— Lenny Kravitz (@LennyKravitz) December 6, 2017
Singing icon Celine Dion said Hallyday was "a giant in show business", adding that he will be "sadly missed but never forgotten".
I'm very sad to hear the news that Johnny Hallyday passed away. He was a giant in show business...a true icon! My thoughts go out to his family, his loved ones, and to the millions of fans who adored him for many decades.He will be sadly missed, but never forgotten.- Céline xx…

— Celine Dion (@celinedion) December 6, 2017
Musician Brian Ray said Hallyday was a "fearless performer" who "will be missed by millions".
I'm just gutted to hear Johnny Hallyday has died. He was a loyal friend and lovely, fearless performer and he will be missed by millions. My heart goes out to his family and friends today. RIP JoJo and thank you for all the music.

— Brian Ray (@brianrayguitar) December 6, 2017
Take a look at some of the tributes below.
Johnny Hallyday showed us that our inner turmoil could be expressed with very little restraint through song. I was fortunate to see this iconic, raging « bête de scene » once here in SF a few years ago. His vitality was the stuff of legends. #RipJohnny

— Paul Gassée (@Paul_Gassee) December 6, 2017
Sad news this morning.
Johnny Hallyday has left us tonight. pic.twitter.com/VRNcJawKAY

— 謙信 (@Kenshin_Eddy) December 6, 2017
Possibly you've never heard of him, but in France it's difficult to overstate what a cultural icon Johnny Hallyday was — basically France's Elvis. Security barriers are being put up outside his home right now https://t.co/kVsstMWLNl

— Katy Lee (@kjalee) December 6, 2017
Don't expect much from France today, we're mourning our national rock star, Jean-Philippe Smet, aka the great Johnny Hallyday https://t.co/Z9zlFzyOZw

— Sylvie Kauffmann (@SylvieKauffmann) December 6, 2017
RIP JohnnyHallyday 🙏🇫🇷🎤ciao 😔 #JohnnyHalliday #RipJohnnyhalliday

— Valentin Grimoux (@vaval53) December 6, 2017
Johnny Hallyday was a French legend. I am terribly sad that he has left us. I'll never forget him. #JohnnyHallyday #RIPJohnnyHallyday pic.twitter.com/B2bmpqK1N9

— Jonathan D. Hoff (@JonathanDHoff) December 6, 2017
🙏🏼 THE KING 🙏🏼 #johnnyhallyday #johnny #rock #rocknroll #paris #losangeles #king #Johnny #france #king pic.twitter.com/n3QxHlmrPr

— ANTHONY DUPRAY (@AnthonyDupray) December 6, 2017
Johnny Hallyday, 1943 - 2017. pic.twitter.com/qmdECxFh7O

— SensCritique (@SensCritique) December 6, 2017
Another star in Rock' n' Roll heaven. RIP Johnny Hallyday 🎸 pic.twitter.com/3qtvo9C2Ra

— Grandad Tim mk2 (@Stuart88T) December 6, 2017