There's a revelatory documentary about Irish people and sleep, Other Voices returns with a special, and Mary Berry's back – this time in posh English kitchens.
Pick of the day
Awake: the Science of Sleep, 9.35pm, RTÉ One
Dr Pixie McKenna explores the very latest in sleep science and reveals the catastrophic health concerns that can arise from not getting enough shuteye.
Over the course of the documentary McKenna meets a wide range of Irish people suffering from sleep issues and disorders; from insomnia to narcolepsy, from Sleep Apnoea to parents with young toddlers suffering from disrupted sleep.
She also joins Professor Niall Moyna and his team at The School of Health & Human Performance in DCU where they will observe four volunteers who have agreed to stay awake for 40 hours, in order to see the effects of acute sleep deprivation.
New or Returning Shows
Other Voices, 11.00pm, RTÉ2
By all accounts, Belfast's Duncairn Centre welcomed Other Voices to the city with open arms.
This special episode of the long-running music series features sets from Grammy shortlisted trad giants Beoga, lo-fi acoustic gems from Portadown's Jealous of the Birds and some minimalist electronica from Derry's Ryan Vail.
The show also features Kildare pop-rock, arena-touring duo Picture This, the atmospheric folk of Hampshire-born, Donegal-bred Rosie Carney and an electrifying set from Derry punk purveyors Touts. Presented by Huw Stephens, May Kay and Rigsy.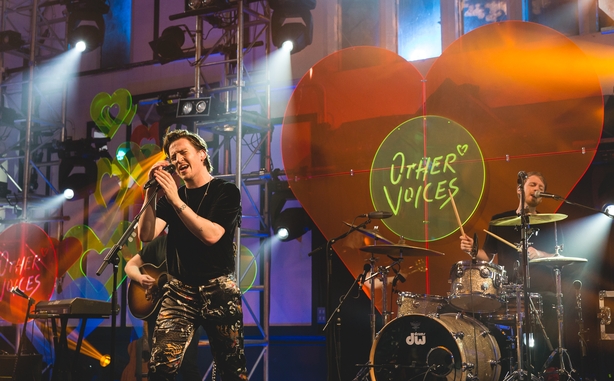 Mary Berry's Country House Secrets, 8.00pm, BBC One
In her first show since Bake Off, this four-parter opens with Mary visiting Highclere Castle, the real-life Downton Abbey.
It's home to the eighth Earl and Countess of Carnarvon and renowned as the setting for some of the most lavish and influential weekend house parties in history.
Inspired by what she discovers, Mary takes to the estate kitchen where she creates a delicious spread, from raspberry tartlets to gamekeeper's stew and an elaborate menu for a grand finale dinner.
The Healer, 10.00pm, TLC
Here you can follow the life and work of Charlie Goldsmith, the Australian who apparently has the ability to heal people with energy.
Energy Healing is something that draws much scepticism. But Charlie's on a mission to demonstrate his work and do scientific studies in order to gain credibility for himself and people like him.
Ending Tonight
Violent Men: Behind Bars, 9.00pm, Channel 4
Here's the second half of the ground-breaking documentary series looking at what it's like to serve a long-term jail sentence in Britain.
Filmed over a year, with unprecedented and extensive access, this episode follows men serving long sentences for crimes of violence, from the moment they are sentenced through the system as they face up to years behind bars.
New to Download
Quarry Season 1, Sky Box Sets and NowTV
This US drama is well worth a look, even though it got cancelled after just one season.
Based on the bestselling novels by Max Allan Collins (Road to Perdition), Quarry stars Logan Marshall-Green (Prometheus) as US Marine Mac Conway, a Vietnam War veteran who returns home to Memphis in 1972.
But after failing to reintegrate back into society he becomes drawn to a murky criminal underworld, filled with money, violence and contract killing.
Godless, Netflix
Frank Griffin's gang terrorizes the West as they hunt Roy Goode. The chase leads to the quiet town of La Belle, made up entirely of women.
Don't Miss
Scandal, 10.00pm, Sky Living
The final season of Shonda Rhimes' shouty and daft political soap continues as President Mellie Grant hosts her first state dinner.
The guest of honour is President Rashad of Bashran, and the plan is for this to be the first step towards peace in the Middle East. Olivia can't rely on Mellie's charm to get the job done, so she puts Jake to work on a back-up plan.
Meanwhile, the team at Quinn Perkins & Associates attend the soiree in the hope of getting a more high-profile clientele.