Ireland's Greatest Sporting Moment starts in the 1980s, Sam Smith's the feature of a BBC special, while Donald Trump is the focus of an in-depth documentary series on Channel 4.
Pick of the day
Ireland's Greatest Sporting Moment, 9.30pm, RTÉ2
In front of a live studio audience, this show will reflect on the 50 years of Irish sport between Ireland's first TV Sport broadcast in 1962 up until 2012.
Presented by Des Cahill and Evanne Ni Chuilinn, the series kicks-off with Eamon Dunphy, Joe Brolly and Sonia O'Sullivan debating the greatest Irish sporting moment of a momentous decade, the 1980s.
Shamrock Rovers' Four-in-a-row would get my personal vote, although it's hard to argue on a nationwide level against Ray Houghton's goal against England at Euro 88 - and Charlie Haughey's Tour de France win is also up there.
New or Returning Shows
Sam Smith at the BBC, 8.00pm, BBC One
Sam Smith sits down with Fearne Cotton for this BBC Music special, filmed in front of a live studio audience.
Oscar and Grammy Award-winning Sam Smith will perform new tracks from his eagerly awaited new album, as well as classic tracks, accompanied by his band and the BBC Concert Orchestra.
He'll be talking to Fearne Cotton about his career, music and his life to date.
Gift of Life, 9.00pm, TV3
Based at Newcastle's Institute of Transplantation, one of the world's leading transplant centres, this three-part documentary follows several patients as they experience this life saving and cutting edge area of medicine.
Episode one focuses on three patients as they undergo an organ transplant: six-year-old Ella suffers from a congenital heart defect; Stacey, a single mum in her mid-20s has chronic kidney disease; while 33-year-old Aaron is in the final stages of cystic fibrosis.
Angry, White and American, 10.00pm, Channel 4
This summer, the world was shocked as white nationalists, neo-Nazis and the Ku Klux Klan took to the streets in Charlottesville, Virginia to protest against the removal of a statue of confederate General Robert E Lee.
Just weeks before the violence erupted, journalist Gary Younge met one of the speakers from the Charlottesville rallies, the self-styled leader of the alt-right Richard Spencer, and in an explosive exchange attempts to get under the skin of his racist views.
Younge also visits the northern communities of Johnstown, Pennsylvania and Portland, Maine - where Donald Trump's emotional appeal to white people helped him secure victory in former democratic heartlands.
The Cruise, 8.430pm, TV3
In a follow-up to the series about life on board the cruise ship Regal Princess, this documentary follows just some of the 1,400 staff and crew of its sister ship the Royal Princess during a busy summer season around the Mediterranean.
Ending Tonight
Neven's Italian Food Trails, 7.00pm, RTÉ One
Neven Maguire's last stop is the Mediterranean resort of Sorrento, situated on the southern shore of the Bay of Naples.
Fish, pasta and pizza are on the menu, with Neven visiting Soul and Fish where chef Vincenzo Incoronato prepares rock fish with linguine.
He also learns what Bronze Dye dried pasta is, and why it's considered the best, and he gets taught how to make the perfect pizza by pizza maker Benito Iaccarino.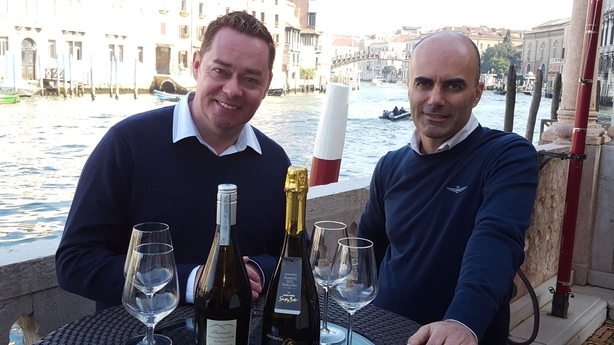 Tin Star, 9.00pm, Sky Atlantic
It took a while to get going, but this drama starring Tim Roth as violent, alcoholic cop Jim Worth did just enough to justify a second season – though where they can go next is baffling.
In this season one finale, Jack, learning the identity of his son's killer, abandons any remaining semblance of being the town's symbol of law and order.
Both he and his wife Angela head into the mountains, with her looking to rescue their daughter while he seeks revenge.
New to Download
Legends: Seasons 1 & 2, Sky Box Sets & Now TV
This passable action drama stars Sean Bean as deep-cover FBI operative Martin Odum, who has an uncanny ability to transform himself into a different person for each job.
He creates elaborate backstories for each of his characters, along with distinctive physical traits and speech patterns.
But, as he submerges deeper and deeper into his aliases, he finds he is on the brink of losing himself – and his hold on reality.
Don't Miss
Trump: An American Dream, 9.00pm, Channel 4
Here's a four-part exploration of one of modern America's most extraordinary lives, and the most controversial US President since Richard Nixon.
It goes back to the beginning of the Trump phenomenon, charting The Donald's long rise to power across four decades through the eye-witness testimony of friends and enemies, and via a treasure trove of rare and revelatory archive.
It's a story of audacious deals, enormous gambles and catastrophic misjudgements, as well as wives and mistresses, ego and dynastic ambitions, and of politics and celebrity.