On Thursday night's episode of Fair City, there's trouble in store as Melanie walks in as Kerri-Ann and Mondo share a tender moment.
Earlier in the episode, Mondo feels pressure as Decco calls him out for upsetting Kerri-Ann.
Kerri-Ann decides to act on her feelings and kisses Mondo, but she is disappointed when he rejects her advances and says they can't be together.
Ray tries to get Melanie to give Mondo another chance but fails.
Later, Kerri-Ann approaches Mondo in the pub to thank him for making her see sense and remind her that she is a married woman.
She leans in and kisses him tenderly to thank him just as Melanie arrives and catches them together...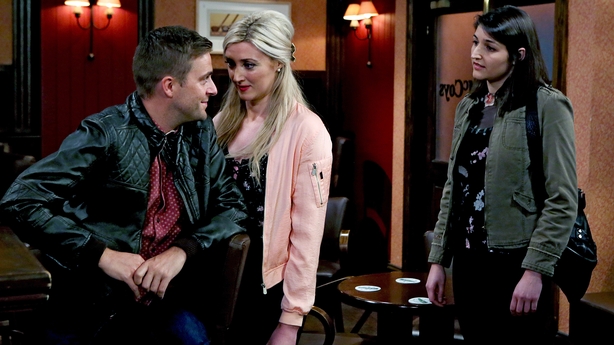 Fair City actor George McMahon, who plays Mondo in the show, says he feels sorry for Mondo as "his head is all over the place".
"Everyone knows there's always been something special between him and Kerri-Ann", McMahon said. "But Decco is his best mate and then there's Melanie. Things are going really well with her, he finally seems to be settling down and he should be enjoying the relationship.
"But he just can't ignore that spark between him and Kerri-Ann and the possibility of what could be. She's telling him that he's the one for her, but he doesn't want to betray Decco or Melanie - so it's a tough one. But tomorrow night things take a turn tomorrow night on Fair City when Melanie catches him and Kerri-Ann sharing a moment - will he be able to talk his way out of this one - I'm not so sure..."
Watch these scenes air on Fair City on Thursday, November 9 at 8pm on RTÉ One.
For more soap storylines and clips, click here.