Conor McGregor was in Dublin for the world premiere of his documentary feature film Notorious, which follows his meteoric rise to worldwide fame and success over the past four years, but the MMA champion is already looking to the future, saying this is "only the beginning".
Speaking to RTÉ Entertainment on the red carpet at The Savoy Cinema, the irrepressible Crumlin-born star said it felt "absolutely amazing" to be finally showing the film to his fans after hundreds of hours of filming.
"I hope people take inspiration from it. It's been one hell of a journey", he said with a smile. "I can't wait to sit down and watch it and just chill with my people."
The 29-year-old has achieved remarkable success since he catapulted onto the mixed martial arts scene in recent years, but McGregor says there's lots more to come.
"Hell no, it's only the beginning! The end of the film is the Diaz II rematch, I've since won the UFC lightweight belt.
"I've since fought the Floyd [Mayweather] fight and who knows what's next - keep an eye out for a sequel!"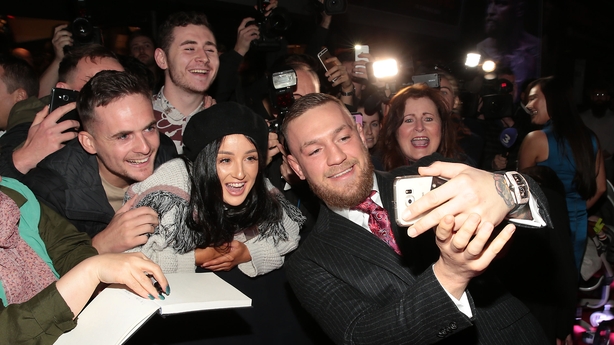 The UFC star was joined by his partner Dee Devlin and their almost six-month-old baby son Conor Jnr on the red carpet, while his parents Tony and Margaret and sisters Erin and Aoife also stepped out to support him.
Margaret told RTÉ Entertainment that she's "excited and a little bit nervous" to finally see the film that charts the most recent years of their lives and that she "couldn't be prouder" of everything he's achieved so far.
"Knowing Conor, he puts on a great show, so I can just imagine what it's going to be like!" she said of the documentary hitting the big screen.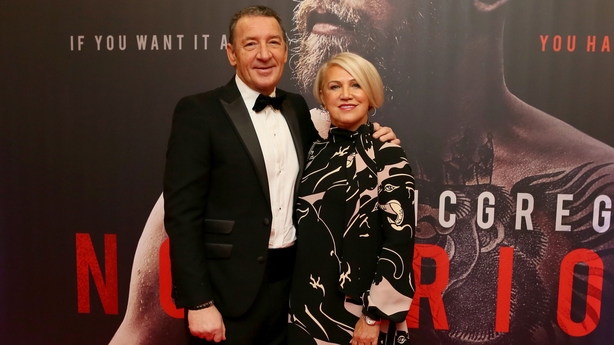 Click here for all the fashion details from the premiere
When asked how she found having the cameras around them 24/7, Margaret said, "I'm getting kind of a bit used to it now, the only thing is you always have to try always look your best!"
However, she added of how fame has affected her family: "We'll never change as a family, we're just a normal working class family."
Conor's father Tony said that Margaret finds it hard to watch her son in the ring, while he loves every minute of it, "I love it, I'm a fan, it's excruciating for his mother. His mother's an Irish mum, they can't take their sons getting pain, Dad's like it.
"And plus the McGregor's are a fighting clan. That's what we do!"
Conor McGregor's much-trusted coach John Kavanagh, who has been training him in MMA since the beginning, said initially he wasn't sure about having cameras around all the time, but is glad the film has been made.
"I didn't know that that was the point of the cameras. Conor is a bit of a visionary I'll have to say that, when we were only starting off he had this idea of getting some cameras around us because he knew where he was going. He was very determined he was going to be a UFC world champion and he knew he was going to make history, so why not chart it," Kavanagh said.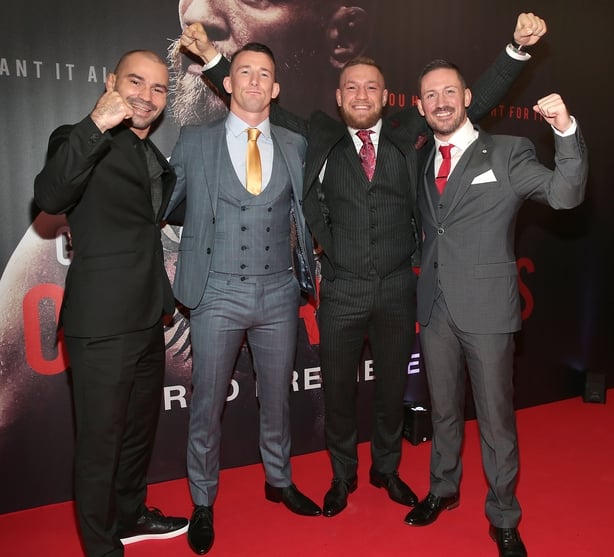 "At the start I probably wasn't as into it, because I'm just a trainer and I was like 'get those cameras out of my way' but I'm very glad he did it now because it is an interesting story and I hope it inspires some people."
The martial arts expert also revealed what he hopes Conor's next bout will be. Hint: it's not boxing.
"I hope it's UFC I hope it's Tony Ferguson and I hope it's soon", Kavanagh said. "I like him when he's busy, I like him when he's in the gym, I like him when he's training. The boxing was fun but it's not my passion, my passion is mixed martial arts so I hope he's back to MMA."
Conor McGregor: Notorious is in cinemas now and will be on DVD and digital download from November 20.