There's a documentary about the late Vincent Hanley, Brendan Courtney has a new series about grown-ups living with parents, while it's goodbye to Bake Off and Jools Holland
Pick of the Day
Fab Vinny, 7.00pm, RTÉ2
30 years on from the death of DJ Vincent Hanley from AIDS, Cláracha Gaeilge looks back at his cutting-edge hit music video show MT USA which brightened up grey Irish Sundays in the 1980s.
Vincent's story, as it unfolded behind the microphone and cameras, reveals a small-town Clonmel boy breaking for freedom and making it in the Big Apple. His family and friends remember him and a very different Ireland.
In 1984 MT USA burst onto Irish TV screens with pop videos from the likes of ZZ Top, Weird Al Yankovich, Talking Heads and Cyndi Lauper. This was the first time in Ireland that the viewing public had access to music videos and not just what they could glimpse on Top of the Pops.
Vincent Hanley was the man in the middle of this music video revolution on RTÉ. Behind the pop music and the glamour of 1980s New York City lies a story of ambition, talent and a life cut short. Vincent died at the age of 33.
And this is his story.
New or Returning Shows
This Crowded House, 9.30pm, RTÉ2
Presented by Brendan Courtney, This Crowded House follows the journey of eight different Irish families as their adult children try to figure out how to move out.
Brendan helps these adult children explore their options in this current tricky housing market, as well as helping them get on the right financial path to independent futures, calling on the necessary expertise where needed.
First up, he meets a pair of boomerang bunk bed brothers in their 20s, struggling being back under their parents' roof and feeling the pressure to move out and get their independence once again.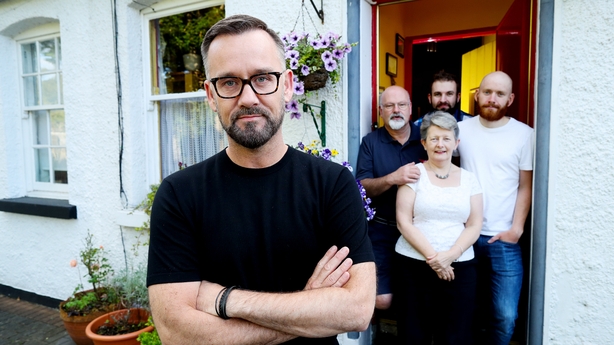 Generation What?, 10.30pm, RTÉ2
Generation What? is a pan-European survey, in which millennials (18-34 year olds) were asked 149 questions about their beliefs and their lives, with a view to getting a clear picture of how this age group feel the world in which they live.
In programme one, presenter Eoghan McDermott visits Berlin to meet with German millennials and compare the findings of the German survey with the Irish results.
During the course of this visit, he also meets with Derek Scally, the Irish Times correspondent in Berlin, to hear about the rise of the far right in Germany and the significant events which have affected the mindset of young people there.
Strike Back, 9.00pm, Sky One
Season six of this ripping yarn begins with a new team, a new enemy and new rules.
It all begins when Omair Idrisi, the man behind some of the worst terrorist attacks on the West, escapes during a plan masterminded by his British wife, Jane Lowry.
It's a mess that Colonel Adeena Donovan needs cleared up. Fast. And who's best for the job? Section 20.
The unit's reinstated for a life-or-death mission that will take them across the Middle East and Europe, and plunge them into the paths of Saudi princes and Russian FSB agents.
Young and Sterile: My Choice, 11.30pm, BBC One
This could be a bit of an eye-opener as presenter Poppy Begum looks at how a growing number of young people in the UK are opting to be sterilised.
She meets some of these women and men eager to take control over their bodies - despite some medical advice to the contrary - and discovers the reasons behind their choice to remain child-free for life.
Ending Today
The Great British Bake Off: The Final, 8.00pm, Channel 4
Twelve bakers started; now just three remain. But only one can be crowned winner of The Great British Bake Off 2017.
The final – Channel 4's first - sees Paul Hollywood and Prue Leith set three challenges that will test every aspect of the bakers' skills. In the last signature challenge, the bakers return to bread, and the tricky task of a batch of loaves.
In the technical challenge, Prue has made a simple biscuit bake very tough. There can be no room for nerves or trembling hands.
On the final day, as the bakers' families gather outside the tent, the finalists have one last challenge: a delicate, multi-layered, high-end patisserie showstopper that could win them the title.
Later Live . . . with Jools Holland, 11.15pm, BBC Two
The final live show in the current run sees the former Squeeze man introducing another eclectic line-up that this time includes Noel Gallagher's High Flying Birds, Dua Lipa and Saz'iso.
Our Girl, 9.00pm, BBC One
Trapped in the middle of Afghanistan without helicopter support, the team face a long dangerous drive back to Kabul. Elvis takes charge of the journey home.
But instead of returning to Nepal, 2-section find themselves supporting another attempt to capture Omar.
The consequences for Georgie will change her life forever . . .
Celebrity Hunted, 9.15pm, Channel 4
Can any of the remaining celebrity fugitives evade capture and make it to the extraction point? With dogs, drones and helicopters at the ready, the hunters are determined to get a clean sweep.
Jay McGuiness and Siva Kaneswaran have kept a low profile so far. But when the sharp-eyed hunters identify their precise location from a road-side selfie, their cover is well and truly blown.
Don't Miss
66 Days, 9.00pm, BBC 4
This is a pretty impressive documentary about a very dark period in recent Irish history: the 1981 Hunger Strikes.
The film mixes re-enactment, animation, interviews and archive footage to relate the story of Bobby Sands and the 1981 Irish hunger strike, as well as covering the events leading up to the strike and its complex legacy.
Martin McCann reads several excerpts from Sands' own diary.