The Deuce continues to impress, Channel 4 has a new black comedy, Bridget & Eamon head to Lourdes and Lucky Kennedy shacks up with former EastEnder Daniella Westbrook
Pick of the day
The Deuce, 10.00pm, Sky Atlantic
So far, Maggie Gyllenhaal, James Franco and co have been superb in this cinematically seductive HBO drama about the seedy underbelly of 1970s New York and its burgeoning porn industry.
But it's not exactly a barrel of laughs.
This week, looking for a way out of his construction gig, Bobby tries to convince his brother-in-law Vincent to accept mobster Rudy's latest offer.
Meanwhile, having been roughed up by a client one too many times, the independently-minded Candy contemplates a change in career.
New tonight
The End of the F***ing World, 10.20pm, Channel 4
This looks quite promising.
This is an apparently dark and comic road trip tale about two confused teen outsiders, James (Alex Lawther, who was in Black Mirror) and Alyssa (Jessica Barden, The Lobster), written by up-and-comer Charlie Covell and based on the award-winning series of comic books by Charles Forsman.
James is a loner who doesn't engage and has violent inner fantasies, while Alyssa is a new girl in school who rejects pretty much everyone she meets.
She sees a kindred spirit in James, just as he identifies her as a potential victim. And so their journey begins.
After the first episode is broadcast, you can watch the entire season on All 4.
Living with an Addict, 10.00pm, RTÉ2
Here's a new observational documentary showing the damage that addiction can leave in its wake and the means by which family members try to cope and intervene.
The focus is shared between a family of five in Mayo, who have grown up with an alcoholic mother; Bray businessman, Dave Tew, dealing with the presence of a heroin addict in the family; and the impact that gambling addiction has had on Galway hurler Davy Glennon's mother and brother.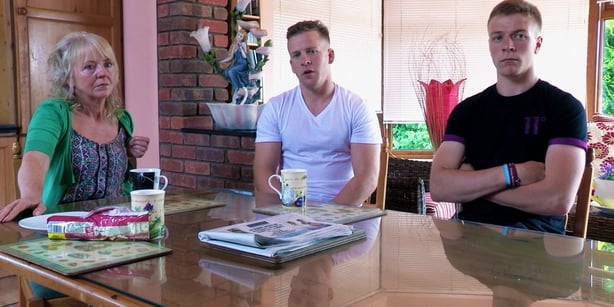 This World: Calais, The End of the Jungle, 9.00pm, BBC Two
This documentary could be hard going as it documents the final days inside the Calais Jungle, as the largest migrant camp in Europe turns to flames.
Positioned deep inside the camp, five-time Bafta-winning director Dan Reed and his crew chronicle the events that unfold as the French riot police prepare to move in.
Ending tonight
Bridget & Eamon, 9.30pm, RTÉ2
This week's third season-ending episode is entitled The Trip to Lourdes, which pretty much sums up what you can expect from this latest comedic trek back to the 1980s.
There are two free seats on the bus to Lourdes but how far will Bridget go to make sure she gets to go this year to the famous grotto in France?
All she's missing is someone that needs to be cured by Our Lady of Lourdes. And that, of course, is where the hapless Eamon comes in.
Don't Miss
Living with Lucy, 10.00pm, TV3
Lucy Kennedy heads off to Spain's Costa del Sol to spend a few days in the company of party girl and ex- Eastenders actress, Danniella Westbrook.
Lucy has a hectic schedule as Danniella is determined to show her how she likes to live. From wild pool parties to fancy dinners, Lucy certainly gets an insight into the social side of Marbella.
Daniella also heads for some facial filler injections and tries to convince Lucy to have some herself, but after seeing what's involved, Lucy wisely backs down.
Opening up, Danniella talks to Lucy about her troubled past and her plans for the future.