Soap fans were left up in arms on Friday night when Jane fled the square without telling Ian the truth about Max's manipulation - but will he discover why his wife suddenly left him?
New photos from EastEnders show Ian (Adam Woodyatt) seeking help from his mum Kathy (Gillian Taylforth) as he frantically tries to find Jane (Laurie Brett).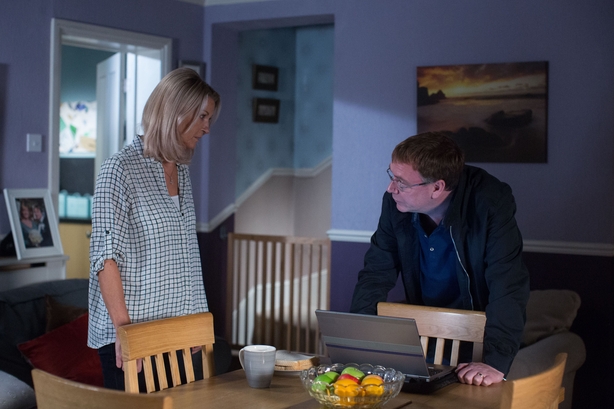 Still oblivious to the fact that Max (Jake Wood) orchestrated the whole thing it looks like Ian has yet to listen to the emotional voicemail Jane left as she headed off in a taxi at the end of Friday (October 20) night episode.
Oh Ian! PICK UP YOUR PHONE!! 📱💔

▶︎#EastEnders is back on Monday at 8.00PM.◀︎ pic.twitter.com/Cj5uYZuz9s

— BBC EastEnders (@bbceastenders) October 20, 2017
When Ian failed to pick up his phone Jane left a message and said: "Oh god, Ian I'm sorry. I'm so sorry I had to leave like that, I had to fake it.
"This is going to sound crazy but we were being watched. I don't exactly get what's going on, but I don't know who we can trust.
"I'm so paranoid. Listen, I will ring you tonight. Don't speak to anyone until I've called you. I'll explain everything I know, I promise.
"But listen, I still love you. I do love you."
Max has been taking revenge on various neighbours since he was released from prison after serving time for the murder of Lucy Beale, for which he was wrongly convicted.
Earlier this week Max visited her hospital bedside, where she had recently woken up from a coma, and said: "When you've been discharged, you're going to leave Walford for good."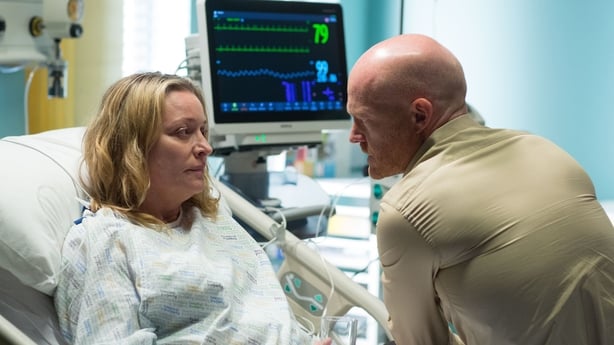 At first she refused, but Max squeezed her hand painfully hard and said: "If you don't, Jane, I'm going to see to it that you, and everyone that you love suffers."
Max forced Jane to split up with her husband Ian as part of his plan to get her out of Walford without any friends or family by her side.
Despite trying to refuse nasty Max's demands, Jane finally gave in when her tormentor showed her footage of someone waking up her son Bobby in his youth detention centre - as he serves his sentence for killing his sister, Lucy - before terrorising him.
EastEnders, RTÉ One and BBC One, Monday, Tuesday, Thursday & Friday