Writer and broadcaster Maia Dunphy appeared on Friday's Late Late Show where she spoke frankly about the realities of modern motherhood.
Dunphy, who shares son Tom with her husband, comedian Johnny Vegas, opened up on the pressures women face to be "perfect" mothers all of the time.
The Dublin-born star tackled the topic by talking about not bonding with her bump while pregnant. "I was worried through my whole pregnancy that I didn't feel this incredible bond with my bump. I felt this is a bad sign, this means I'm not going to bond with my baby, I'm going to be a terrible mother", she said.
"It turns out loads of women feel this way, and it doesn't mean you're going to be a terrible mother. There's so much pressure on women to be perfect the whole time during motherhood, you've got to embrace pregnancy, the way you're giving birth, all of it.
"Sometimes you just have to embrace being slightly terrified."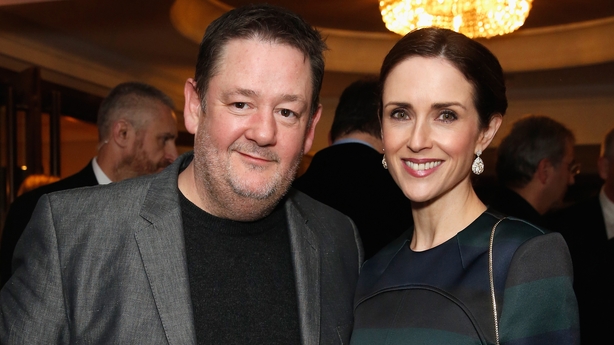 Dunphy said she had "no notions" about what it would like to be a mother before she welcomed her son, saying: "I had no idea at all about motherhood. I didn't not want kids, but like a lot of women from my generation we other prioritised other things until suddenly age took over and it was now or never.
"I knew my friends who had kids were exhausted all the time, had less disposable income, didn't go out as much, but I didn't think about it that much until I was a mum myself."
The TV presenter spoke about society's fervent interest in women becoming pregnant, saying: "There's no other aspect of human life that illicits so much interest than women's fertility, it's unbelievable."
"They may as well say to you how's your sex life. Nobody would say that!", she added jokingly.
The Dublin-born star said that the speculation and advice doesn't stop once you become pregnant. "It never stops, first it's all the things you shouldn't be doing, all the things you shouldn't be doing, what you should be eating what you shouldn't be eating", she said. "For some reason I became the poster girl for alcohol. I had one beer at my friend's 40th birthday when I was pregnant and my god the looks I got!"
We love @MaiaDunphy's fierce honesty as she chats about the realities of motherhood on the #latelate - bravo! pic.twitter.com/n6gY0PtOtu

— Entertainment on RTÉ (@RTE_Ents) October 20, 2017
Dunphy explained with her trademark directness that not all women "need" to have children. "I think it's really important for some women not to have kids, and to be allowed not to have kids", she told Ryan. 
"If I had never had a child, there wouldn't have been a great void in my life. I would have filled it with food and travel and a career and sleep. Lots and lots of sleep", she deadpanned.
Dunphy spoke movingly about mother's feeling lonely, which is something people can be reluctant to admit.
"It's a difficut thing to admit to being lonely. Motherhood is very lonely", she said. "Suddenly you find your self at a home with a tiny person who needs you all the time, 24/7, it's quite isolating, and it's exhausting and you need other people who understand that."