Friday night's double bill of Coronation Street had viewers on the edge of their seats after Pat Phelan suffered a brutal beating which led to him to formulating a revenge plot.
The nefarious builder, who is played by Connor McIntyre, was attacked in his own kitchen after Vinny (Ian Kelsey) sent a henchman to hurt him with a crowbar in retaliation for Phelan threatening his mum.
After fighting the heavy off, Phelan decided that he needed to deal with the Vinny issue for once and for all.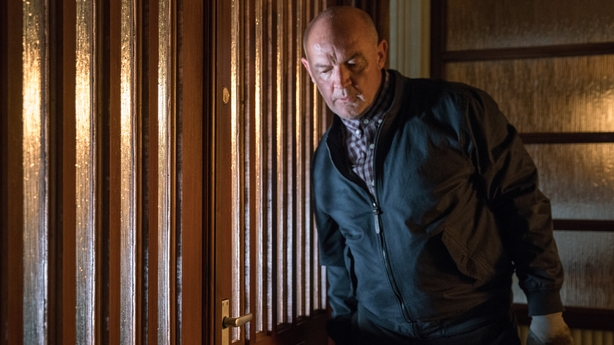 It seemed like Phelan had a sinister revenge plot in mind when he headed to see Vinny's mum and asked her to go to the beach. However, Phelan clearly changed his mind when she mentioned that Harvey was dropping by for a visit. 
Phelan has promised his hostage Andy Carver that he will replace him with someone else, and it looks like Vinny could be headed towards the basement.

Next week, the storyline is set to come to a head and Phelan is forced to make a drastic decision that could result in a character's death.
Corrie fans are loving Phelan's storyline and are mightily impressed with McIntyre's acting skills, saying he's "very chilling" and "the most entertaining villain ever".
#Corrie Pat Phelan without a doubt best soap baddie of all time long may he reign @connor9mcintyre

— Jeanette Makinson (@InBFenby) October 20, 2017
Be careful what you do to our bad guy he's got fans #Corrie #Phelan. Leave him alone 😡😡😡😡😡 or you will be sorry

— Sue Jones (@Suej1959) October 20, 2017
Ooer don't mess with pat #PhelanFridays #Corrie 👊🏻👊🏻

— nilsatisnisioptimum (@jennifer1878) October 20, 2017
I love #Corrie always have, but I love it even more when Pat's in it.

— Trish (@AnnyTrish) October 20, 2017
Our man's not happy really not happy #Corrie #Phelan WATCH YOUR BACK 😡😡😡 pic.twitter.com/IpDoYskylY

— Sue Jones (@Suej1959) October 20, 2017
@connor9mcintyre  #corrie another fantastic evening in.  having #patphelan in your own front room. Very chilling! Great actor

— mr.timp (@nigetimp) October 20, 2017
#phelan is on the warpath. 😈😈😈😈 roll on Monday 😎 #corrie

— Jessi Jai Davies (@JJDRebel) October 20, 2017
Phelan means business 😱😱😱😱 it's getting very interesting now @jennifer1878 @connor9mcintyre #Corrie #PhelanFridays

— Team JDM 🇬🇧😍😜 (@Laura_everton79) October 20, 2017
@connor9mcintyre is chillingly convincing as Phelan. Watching #coldfeet now to take my mind off his evil stares!! #corrie #coronationstreet

— Debra🌻 (@sunflowerdeb16) October 20, 2017
Phelan is the most entertaining Villlain ever!! #Corrie @connor9mcintyre

— Sajida 🎁🎀🎂🎈 (@SajiDA144) October 20, 2017
Coronation Street airs on Monday, Wednesday and Friday on TV3.  Check out the latest soap news and clips here.