Gerard Butler has told RTÉ Entertainment that he is "lucky" to be alive following his terrifying motorbike accident which sent him somersaulting 30 feet in the air.
The 47-year-old actor, who is currently promoting his new disaster movie Geostorm, was rushed to hospital last week after crashing his bike in Los Angeles.
Butler spoke to RTÉ Entertainment about the incident and revealed he has five fractures in his right foot and a fracture in his left foot, along with a painful knee injury.
"The more I think about it I got quite lucky because I went through the air. I did like 30 feet and did a somersault and smashed right down.
"I guess I could have landed a lot of ways that it could have gone worse. I got a few fractures on my feet and I messed up my knee.
"I've been hobbling around in the middle of this world press tour and shooting some stuff as well. It's not been the best time for it to happen but I'll be fine."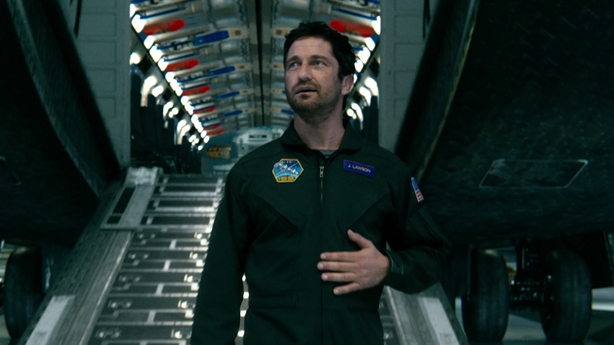 Gerard plays a super-scientist/engineer in Geostorm who invents a fancy climate-controlling system that can halt global-warming. When the system malfunctions and starts to attack Earth, the brains behind the machine is tasked with saving the planet.
"At its central core it is a cautionary tale. I think when you see the opening it is kind of like a QuickTime version of this montage where you are seeing where we are going. It's kind of a goosebump moment," he said.
"What I love about the idea behind that moment and the rest of the movie is ultimately what always defeats these forces are people coming together and then finally the governments get over all of their self interests and start working together to cure this larger problem. 
"But it's also what happens personally with the characters and it's about the scientific level. I think if people take anything from the movie it's that (1) Something needs to be done and (2) It is about us all coming together and actually doing something about it," he added.
Geostorm blows into cinemas nationwide on Friday, October 20.