It's a bawdy and brutal story of pimps, American GIs and desperate showgirls but the stars of Miss Saigon believe that the real villain of the stage musical blockbuster is war itself.
The show, which is at the Bord Gais Energy Theatre until November 18, tells the story of innocent bar girl Kim, played by Sooha Kim, who falls for US soldier Chris but their star-crossed love is torn apart by the ravages of the Vietnam War.
Stage musical veteran Red Concepcion plays the Engineer, a grasping pimp who runs the seedy Dreamland club in Saigon and speaking to RTÉ Entertainment, he said, "The thing about Miss Saigon is that I don't think there are any clear cut goodies or baddies - they're all just victims of circumstance.
Watch our full interview with Miss Saigon stars Red Concepcion and Ashley Gilmour
"The Engineer though, without mincing my words, is a pimp and he's a manipulator. I guess if you needed a villain in this show you would call him the villain but really the villain is war."
Since its debut in 1989, Miss Saigon has become Broadway's 13th longest-running show and it's now in its 11th production after winning two Olivier Awards and three Tony Awards.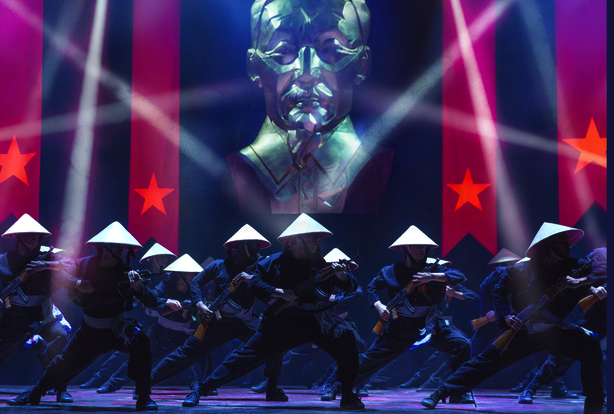 It's a big production featuring a huge cast and even a scale version of a helicopter landing on stage but at its fast-beating heart, Miss Saigon is a love story.
Ashley Gilmour plays Chris, the American GI Chris who starts a romance with Kim just as the fall of Saigon turns very bloody indeed. "I think he's just a guy who finds something in this relationship with Kim that's he's looking for," says Gilmour.
"He's lost in this war, he's done with it and he wants to go home and suddenly there's this beautiful girl who fills him with a purpose."
"The thing about Miss Saigon is that it's an epic musical and the music is just very lush and it's done in such an epic way," adds Concepcion.
"But really it's about people in love and people going through the Vietnam War so even in this grand scale there is something that touches people's hearts."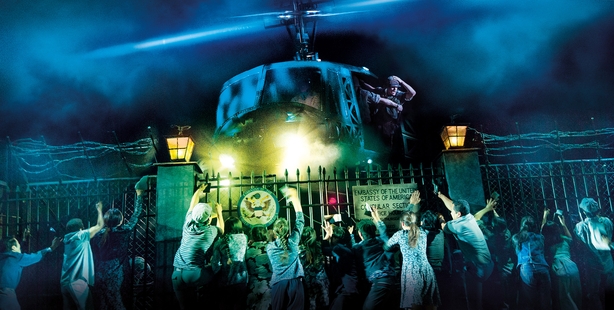 Miss Saigon is at the Bord Gais Energy Theatre until November 18.