Say Yes to the Dress Ireland, a George Michael documentary, Salon Confidential and loads more on a Manic Monday's telly
Pick of the day
Say Yes to the Dress Ireland, 9.30pm, RTÉ2
Ireland's most famous wedding planner Peter Kelly aka Franc presents the Irish version of the international reality hit series.
The ten-part first season was filmed in a new couture section of Vows bridal store based in Blarney Business Park in Cork, stocked with stunning dresses from all over the world.
In the opening episode, Franc meets three very different brides-to-be: Eimear Duffy from Stillorgan in Dublin, Cavan-based Mairead Brady, and Cora Ann Collins from Kerry.
New or returning shows
Salon Confidential, 10.00pm, RTÉ2
This new four-parter television promises to tackle life's big dilemmas and issues exercising the nation.
Salon Confidential features a cast of recurring hairdressers including celebrity hair stylist Gareth Bromell, barbers and a make-up artist, who use their expert skills to solve not only their clients bad hair days but also their daily dilemmas.
Topics featured include love, loss, children and childbirth, ageing, money, dating, sexism, health, diet, body image and anxiety to mention but a few.
Criminal Minds, 9.00pm, Sky Living
The BAU are back as Criminal Minds opens up its 13th season of spine-chilling cases, while adding a new face to their ranks.
Ex-Delta Soldier and former International Response Team member Agent Matt Simmons (Daniel Henney) joins as a full-time fixture at the BAU.
There's no time for a welcome party, though, as the team have to race to take down their archnemesis, Mr Scratch, and save one of their own in the process.
It's a baptism by fire, and a white-knuckle start to the hit crime procedural's new season.
Dispatches, 8.00pm, Channel 4
Morland Sanders investigates who's responsible for wage stagnation in the UK and whether British workers can turn the tables on their bosses.
Master negotiator Dan Hughes - the expert who's training the civil servants who are representing the UK at Brexit negotiations - reveals his top tips on how to prepare for that all-important pay discussion.
Supergirl, 8.00pm, Sky 1
Bloodsport is among new villains squaring up to the Girl of Steel as Melissa Benoist returns to play Kara Zor-El/Kara Danvers/Supergirl for a third season.
Kara deals with the loss of Mon-El by the only means she knows how – saving her hometown from a string of sinister threats.
But along the way, a National City citizen reveals a mysterious connection to her.
Anthony Foley: Munster Man, 9.35pm, RTÉ One
In October 2016 news of the sudden death of Munster rugby head coach Anthony 'Axel' Foley reverberated throughout the rugby world and beyond.
This documentary tells a story of Munster rugby through his life. Told from within the Munster family, it promises an extraordinary and honest insight into the events surrounding Foley's time as head coach, his death and the emotional aftermath.
There are contributions from the likes of Ronan O'Gara, Paul O'Connell, Keith Wood, Anthony's sister's Rosie and Orla Foley as they try to come to terms with the sudden death of their coach, colleague, friend and brother.
Tribes, Animals and Me, 8.00pm, RTÉ2
In Anaconda People Of The Amazon, Gordon Buchanan joins a Waorani tribal family in Ecuador's Amazon jungle as they search for giant anacondas.
The Rehab, 9.00pm, TV3
This three-part access series gets to the heart of the struggle to get clean as it follows the progress of addicts going through the gruelling process of addiction counselling, rehab and rebuilding lives.
For Columb Fogarty from Dublin it's his third time to go for treatment in Coolmine and he's determined he's going to make it happen this time.
Sharon has come up from Cork to try to get her life together. Just 30, she's faced a lot of challenges along the way.
Tobias Gunning, now a graduate of Coolmine, knows very well how hard it is to make this happen. He's finished his time in Coolmine but keeps a connection to the place that probably saved his life.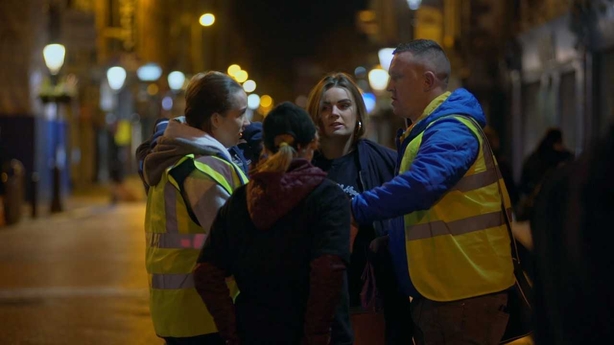 Tricks of the Restaurant Trade, 8.30pm, Channel 4
Back for another helping, this smart guide yet to eating out goes behind the scenes at big high street brands to reveal, investigate and campaign, in order to secure UK viewers the best dining experience for their money.
In this first episode, chef Simon Rimmer explores how the biggest coffee brands are copying the artisans to change what we drink.
Sophie Morgan investigates the truth about the buzzwords used to sell food and reveals why 'fresh' and 'handmade' may not always mean what we think they do.
Ending today
Rellik, 9.00pm, BBC One
Following Gabriel's discovery of a crucial piece of evidence, the hunt is on to track down the killer.
With the net tightening, a thrilling chase of twists and turns ensues, and as Gabriel begins to piece together the trail of violence leading to the killer, he end up putting at risk everything he holds dear.
As the series draws to a close, carefully interwoven stories are connected in unforeseen ways - in a devastating exploration of what makes people who they are.
Upstart Crow, 8.30pm, BBC Two
Will finally manages to finish his great teen romance Romeo and Juliet, but it leaves him with the rather thorny problem of who to cast as Juliet.
Kate would be perfect, but unfortunately women actors are illegal, and with Master of the Revels Robert Greene on the prowl, Will can't afford to put a foot wrong.
New to download
Scandal, seasons 1-6, Sky Box Sets
Daft, shouty and preposterous - there's an awful lot to like about Shonda Rhimes' soapy escapist drama, starring Kerry Washington as Washington DC-based crisis manager Olivia Pope.
In between carrying on with the US President, Pope and her team of lawyers, hackers and political insiders attempt to protect and defend the public images of America's elite and keep their secrets under wraps.
Don't Miss
George Michael: Freedom, 9.00pm, Channel 4
This promises to be an intimate look into the extraordinary life and career of the Grammy Award-winning singer and songwriter.
Narrated by the star, it chronicles his entire career, with a focus on the period around the release of his critically-acclaimed album Listen without Prejudice Vol. 1.
The reclusive star opens his heart about his great love, great loss and the well-documented UK High Court battle with his record label.
It features incredible never-seen personal archive and home footage, interviews, with some of his most famous friends, music legends and leading industry figures, including Stevie Wonder and Elton John.
Followed by George Michael: Live in London at 10.50pm.