Wicklow brothers Seán and Conor Price have successfully made it past the Six Chair Challenge round of The X Factor.
The Blessington siblings, who have been performing together for around four years, brought their audition back to basics by singing an original track called Something in the Way.
However, seconds into their performance Cowell waved his hand and signalled the pair to stop their song, and asked them to sing their back-up track.
"Guys, I'm going to be honest with you. After that, I'm not sure if I'm going to give you a chair. So I need to hear another song. What's your backup?," Cowell said.
The brothers continued by singing another self-penned song,Time, which showcased the beautiful lyrics and rapping skills that initially won over the judges during their very first audition in Edinburgh.
Following their second performance it was all high praise from the judges with Sharon Osbourne saying, "Conor your confidence is unbelievable. You have a great vibe going on and I love the harmonies. It just worked."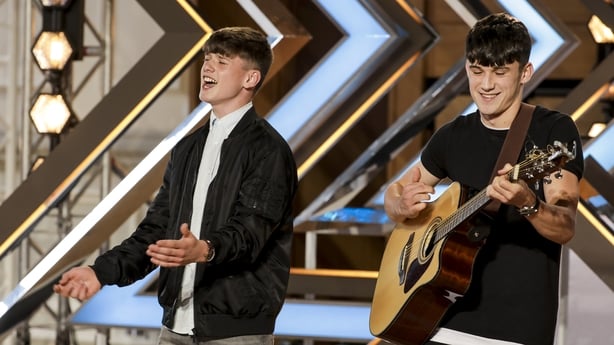 Louis Walsh showered praise on the boys, adding: "Sean and Conor every time I see you, you get better and better, and with you guys it's all about the potential. You are so young and you've got so much to give. You guys have to get a seat."
Cowell admitted how he could tell the duo were nervous before awarding them a coveted seat, saying: "Guys, what's clear is that in the small rooms you were much more comfortable. I think it's very difficult for people your age to be on a stage this big because you're showing your nerves.
"So I have to make a decision whether I think this is right for you or too much for you."
Cowell eventually revealed the boys' fate, declaring "Okay, I've made a decision. You are going to take the seat."
.@sean_conorprice bag them selves a seat! But it looks like we're waving goodbye to EasyLife in the process! ???? #SixChairChallenge pic.twitter.com/t7tjWtj6Qz

— The X Factor (@TheXFactor) October 14, 2017
You can next catch The X Factor on Sunday, October 15 at 7pm on TV3 and UTV.