EastEnders fans were left reeling after Albert Square favourite Stacey collapsed in Friday night's episode.
The pregnant Stacey, played by Lacey Turner, lost her temper when she discovered that Carmel (Bonnie Langford) reported her to social services after seeing bruises on the arms of Stacey's son - Carmel's grandson - Arthur and getting the wrong idea.
After a tense encounter with the social worker, Stacey learned that Carmel's intervention had prompted the visit - and fireworks ensued.
As Stacey's rage exploded, she fell on the floor and started shaking.
That was Friday's #EastEnders.
Stacey's collapsed.
And we won't know why until Monday at 8.00PM.🕗

‼️😩THAT'S. NOT. FAIR😩‼️ pic.twitter.com/AY0XFT7o4Y

— BBC EastEnders (@bbceastenders) October 13, 2017
The drama continues on RTÉ One and BBC One on Monday night, with Stacey rushed to hospital and husband Martin told she needs an emergency C-section.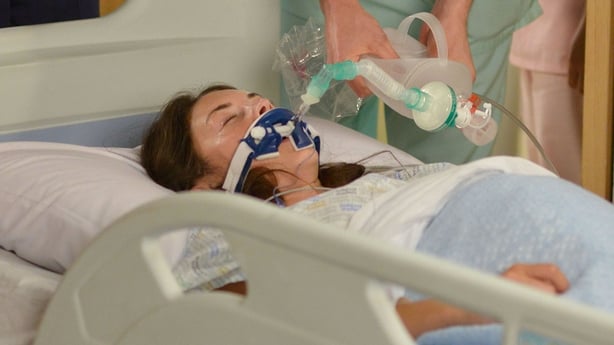 In the meantime, many fans have been raving about Lacey Turner's performance:
I'm telling u smfn Lacey turner from eastenders deserves a bloody oscar I have goosebumps #eastenders

— Caitlin Dempster (@caitlindempster) October 13, 2017
Convincing performance by @LaceyTurner of an Eclamptic Seizure on #Eastenders. Raising awareness of Pre-Eclampsia 👏🏼👏🏼

— Dawn (@Dawnie_cross) October 13, 2017
Amazing episode again from @LaceyTurner wonder does #Stacey have #preeclampsia No wonder with all the stress!! @bbceastenders #EastEnders

— Lyndsey Fitzpatrick (@LyndseyFitz) October 13, 2017
#Eastenders is like Casualty these days. It's like who's going to end up needing the hospital next.

— Jonathan Cheetham (@Jontroid) October 13, 2017
Up until the last 5 minutes, that was super boring tonight 😴 #Eastenders

— TillyK&ZackMFan (@t_keeperFanZM) October 13, 2017
That last scene of #eastenders got me like pic.twitter.com/caR42hI0Cb

— nicola✨ (@waheyitsnikki) October 13, 2017
Honestly Lacey Turner is a ledge. The girl can act her socks off! #eastenders pic.twitter.com/G2qoFWMUQS

— Lavinya (@ThisisLavinya) October 13, 2017
Phenomenal acting from @LaceyTurner on @bbceastenders tonight someone give that girl an Oscar #powerfulperformance #oscarworthy #eastenders

— Adele (@adele_ohanlon) October 13, 2017
Lacey is on another level, keep the awards coming for her, she deserves every single nomination 🙌🏻 #EastEnders

— brooke (@fanjacjossa) October 13, 2017
@LaceyTurner you need award for that tonight amazing actress 😍😍 #eastenders

— christie (@3__christie__x) October 13, 2017
wow lacey turner is one of the best actors in #eastenders ❤️ @LaceyTurner

— Morgan 🦄 | Danny❤️ (@nananstrumpet) October 13, 2017