If you're going no further than the sofa, here are some tips on what's worth watching on the box over the weekend. It's a busy one!
Pick of the weekend
Louis Theroux: Dark States, 9.00pm, Sunday, BBC Two
Houston, the fourth largest city in the USA, is widely considered to be the number one hub for human trafficking in North America. So, yes, Houston does have a problem.
The US Department of Justice estimates that at least one in five of all the country's victims are trafficked through the city, and most of these people will be forced to work in the sex industry.
Louis spends time with American women working in the city's illegal sex industry and explores the often complex dynamic between prostitute and pimp.
He discovers a subculture that plays by rules that are morally challenging to most people, and seeks to understand what stops these women breaking free.
Louis also embeds with law enforcement on undercover operations and meets Vice Division officers tasked with persuading the working women to speak out against their pimps.
New and returning shows
Lucy Worsley's Nights at the Opera, 9.00pm, Saturday, BBC Two
For centuries in western culture, opera has been the greatest show on earth, and here historian Lucy Worsley explores how history and opera go hand in hand.
In the first episode, Lucy investigates four cities and four operas embedded in the cauldron of European politics between the 17th and 19th centuries.
She visits Venice, where Claudio Monteverdi invented modern opera with The Coronation of Poppea, the first work which featured real historical characters that the audience could identify with.
Then it's to Vienna, where Mozart's subversive masterpiece The Marriage of Figaro held a mirror up to society.
Finally, she travels to Milan, where Verdi's Slaves' Chorus in his opera Nabucco captured the hopes and dreams of the Italian people as they moved towards independence and a united nation.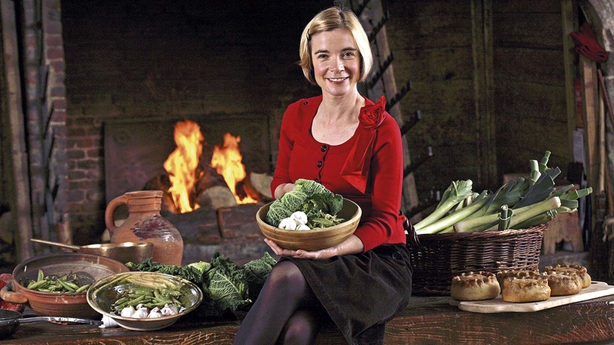 Best Laid Plans, 4.30pm, Saturday, Channel 4
New series in which architectural designer Charlie Luxton and property developer Sophie Morgan help homeowners undertaking large scale renovations to resolve their crucial design dilemmas.
Charlie joins Kent couple Sam and Adam who face a race against time to resolve key style and layout disagreements, and finish their luxury two-storey extension and renovation before the birth of their third child.
Meanwhile in Hertfordshire, Sophie helps Sarah and Adam to find common ground between competing visions about the design of their new high-end kitchen-diner extension.
Ending this weekend
The Crystal Maze, 8.00pm, Friday, Channel 4
For the final show in the current series, Richard Ayoade guides a Pizza Hut team through the Maze. This group of Welsh hopefuls met while working in a restaurant, which is probably a good training ground for a show such as this.
Mammon, 11.05pm, Friday, RTÉ2
Concluding with a double bill, this Norwegian drama about politics, power and the press drama sees central figures Ellen and Peter go abroad searching for the photographic evidence that got Hammern killed.
New to Download
Mindhunter, Netflix, from Friday
David 'House of Cards' Fincher returns with what's pitched as a rigorous study of the damaged psyches of serial killers and the innovative FBI Agents who attempt to understand and catch them.
The story follows ambitious FBI agent Holden Ford (Jonathan Groff) as he struggles to comprehend incarcerated killers, so that he might use this knowledge to catch others.
He's teamed with experienced agent Bill Tench (Holt McCallany) in the Behavioural Science Unit and will work with his sometimes reluctant partner to find new methods of investigation.
Together they will meet some of America's gravest killers - and also face the cynicism and scorn of the tradition-bound hierarchy of the 1970s' Federal Bureau of Investigation.
Don't Miss
The Graham Norton Show, 10.35pm, Friday, BBC One and 10.15pm, Saturday, TV3
It's another superb line-up from London as Graham Norton hosts a quintet of quality actors.
Dubliner Colin Farrell and Australian star Nicole Kidman are in to promote their new drama The Killing of a Sacred Deer, while Bryan Cranston is in to talk about his role in the stage version of Network.
Top of the pile though is veteran Hollywood A-lister Jane Fonda, who will surely have a few tales to tell from a lifetime in Tinseltown.
British actor Matt Lucas is also on the sofa, while our own Niall Horan will pop in to perform his latest, Too Much to Ask.
Here's Liam Gallagher from last week:
Weekend movies
Split, 8.00pm, Saturday, Sky Movies Premiere and Sky Cinema on demand
M Night Shyamalan is back in business with this creepy psychological horror. It begins with the abduction of three teenage girls - BFFs Claire (Haley Lu Richardson) and Marcia (Jessica Sula), plus loner Casey (The Witch's Anya Taylor-Joy).
They wake up in the underground lair of one Kevin Crumb (the excellent James McAvoy), a man whose struggles with dissociative identity disorder are about to take a profoundly unsettling turn.
Despite the best efforts of psychiatrist Karen Fletcher (Betty Buckley) the most unstable of Kevin's 23 personalities are now firmly running the show, and what they've got planned isn't for the faint-hearted.
Also:
Fences, 8.00pm, Sunday, Sky Cinema Premiere
Here's a splendid drama with Denzel Washington and Viola Davis as an embittered middle-aged man and his long-suffering wife. Both were nominated for Oscars and Golden Globes - Davis won both but Washington lost out.
Bridget Jones's Baby, 8.00pm, Sunday, Sky Cinema Comedy
After a lacklustre sequel, this third Bridget Jones film is a much more enjoyable outing, with Renée Zellweger's character caught between two potential fathers, played by Colin Firth and Patrick Dempsey.
Weekend Box Set
Peep Show, All4
Given that the lads have just completed the first season of Back, it's as good a time as any to catch David Mitchell and Robert Webb in this great comedy.
Peep Show follows the pathetic lives of the socially awkward Mark Corrigan (Mitchell) and juvenile slacker Jeremy Usborne (Webb), two friends who share a flat in Croydon, London.
All nine seasons – 54 episodes in total – are available, and the quality is both high and consistent. The supporting cast includes Olivia Colman, Matt King and Isy Suttie, who are all superb.