Series two of The Grand Tour is returning later this year, but with one big change to cater for its "accident-prone" hosts.
The studio tent - which travelled around the world with them in the first series - will be staying firmly put in the Cotswolds in south England.
Although hosts Jeremy Clarkson, James May and Richard Hammond will still be taking the show across locations across five continents, all of their studio segments will be filmed in the UK.
A statement from the series said: "Given their sore joints, struggling lungs and combined age of 158, the studio tent has been given a new home in a charming location in the Cotswolds."
The format tweak comes in the wake of Richard Hammond's serious car accident in the first series, which saw his car burst into flames, and Jeremy Clarkson being hospitalised for pneumonia.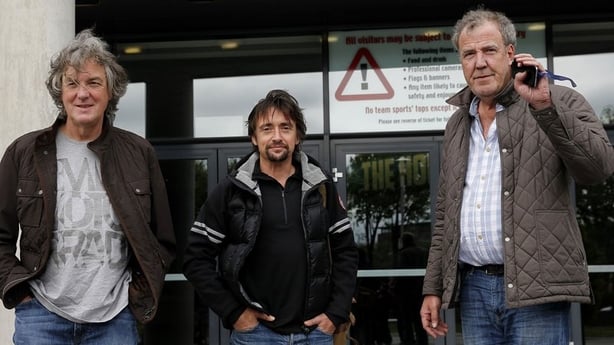 The Amazon Prime Video show's executive producer, Andy Wilman, said: "It's clear that the most popular Grand Tour element of the show is when the chaps are roaming the globe on their big adventures and road trips, so that's what we're doing a lot more of for this series."
But he added: "We'll keep the studio in one place, and given how accident-prone they are at the minute, that can only be a good thing!"
Clarkson, 57, Hammond, 47, and May, 54, will spend more than 100 days across five continents, with diverse locations including Croatia, Mozambique, Dubai, Spain, Switzerland, Colorado and New York.
The second series of The Grand Tour will kick off later this year.