John Byrne reviews the opening episode of new RTÉ One drama Acceptable Risk, starring Elaine Cassidy and Angeline Ball.
Just looking at the cast list had me eagerly anticipating this new drama. I've been a big fan of Elaine Cassidy's since Harper's Island almost a decade ago, while No Offence is one of my favourite TV shows of the last ten years.
The often underrated Angeline Ball was back on the box for the first time in a while, while the inclusion of Danish actor Morten Suurballe (he was the boss copper in The Killing) added intrigue.
This bears all the hallmarks of RTÉ really going for it, on the back of recent successes such as Love/Hate and Striking Out. There's even an Emmy award-winner on board, in the shape of Canadian screenwriter Ron Hutchinson, who gained his gong with the miniseries Traffic.
Here, the story oscillates between Dublin and Montreal, as Lee Manning (Paul Popowich), a top executive for Gumbiner-Fischer, a multi-national pharma company, is shot dead and his body dumped while he's on a business trip to Canada.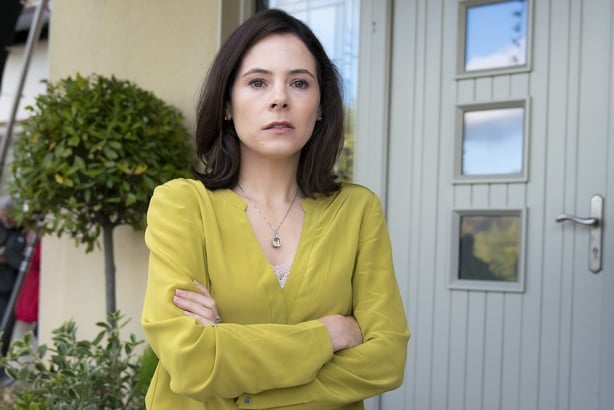 Back in Ireland, his wife Sarah Manning (Elaine Cassidy) is devastated by the sudden and inexplicable death of her husband. But the horror show is only starting.
Detective Sergeant Emer Byrne (Angeline Ball), is the Garda who breaks the bad news and liases with Montreal police, who get doubly curious when they uncover a gun in Lee's hotel bedroom. We all know the pharma business can get nasty, but guns?
For viewers, the mystery deepened earlier. Right at the start, as someone broke into Sarah and Lee's house just before Sarah arrived. The same guy is spotted by Sarah's sister when she's collecting her late brother-in-law's car. In his haste to get away, he drops something.
It turns out to be a pretty high spec GPS tracker, which gets the Gardaí into a spot of collective chin-scratching when CCTV reveals that our bearded bloke meets up with a woman with a car registered to the US Embassy in Dublin.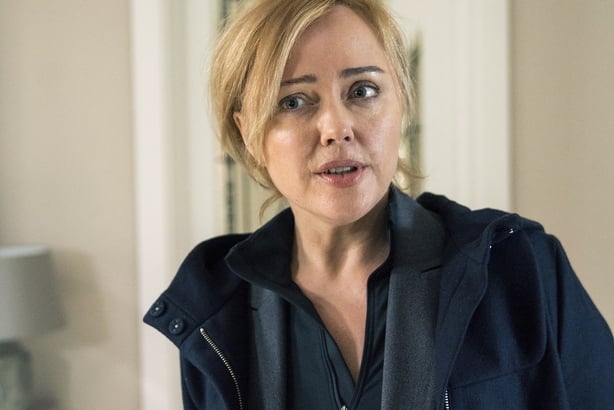 It all rolls along at a languorous pace, much like many of the Scandi dramas that have become hugely popular in recent years. No fun for the goldfish generation maybe, but it allows the plot to percolate, and the cast to show off their acting chops. Elaine Cassidy stands out, as ever.
Angeline Ball initially presents her detective Byrne as a bored mid-lifer, but as the intrigue grows you can see the lights going back on as her enthusiasm and curiosity grow. It's a nice turn.
We see little of Morten Suurballe in this opening episode – he plays Lee's boss – but the role should increase as there's clearly something funny going on here. Especially as Sarah used to work for the same firm, while her first husband – who drowned three years earlier in a canal after an apparent drunken stumble – was also employed there.
As the episode comes to a climax, Risteárd Cooper's character, who is head of security at the firm, ends up lying on the road after chasing the mysterious lady with the US Embassy car when she was caught snooping around Sarah's house.
I have no idea what's going on here, but am desperate to find out.
Job done, then.
Acceptable Risk continues on Sundays on RTÉ One.