Brendan Gleeson stars in new US drama Mr Mercedes, while Bridget & Eamon, Living with Lucy and Ploughing Live all return. It's busy night on the box!
Pick of the day
Mr Mercedes, 10.15pm, RTÉ One
One of several TV adaptations of Stephen King books, this promises to be quite entertaining as it's been adapted for TV by David E Kelly, the brains behind a variety of great shows, most recently Big Little Lies.
Two years after retiring, former homicide detective Bill Hodges (played by Brendan Gleeson) is still haunted by his last case, a massacre that left sixteen people dead. When the demented culprit begins to torment Hodges, he is compelled to revisit the case.
The serial killer taunts him with a series of lurid emails, forcing the ex-cop to undertake a private, and potentially criminal, crusade to bring the killer to justice before he can strike again.
New tonight
Ploughing Live, 7.00pm, RTÉ One
Presented by Marty Morrissey and Aine Lawlor, the three part series is coming live from Europe's biggest outdoor event, the National Ploughing Championships in Tullamore, Co Offaly.
Now in its 86th year, this is a wellie-oiled machine, and hopefully the weather remains good for the course of the event as Aine and Marty bring viewers all the big news and happenings.
Bridget & Eamon, 9.30pm, RTÉ2
Jennifer Zamparelli and Bernard O'Shea are back for a third season of the IFTA award-winning comedy series.
This time around, the dynamic duo accidentally star in a porn video, they both join a camogie team, start rival radio stations and open a video shop in the house.
In tonight's opener, Bridget's mother – played by Deirdre O'Kane, no less - has a new young foreign boyfriend and Bridget is going to lose her inheritance unless she can break them up.
Schizophrenia: the Voices in My Head, 10.00pm, RTÉ2
In a first for Irish TV, young people speak openly about what it's like to live with such a severe mental health disorder and struggle with delusional thoughts and the internal voices that are so associated with schizophrenia.
Viewers will see these young people at their happiest and darkest moments. As one contributor says: "Thirty years ago I would have been locked up, medicated up to my eyeballs and abandoned in some institution, but that is changing."
Dream House, 8.00pm, TV3
Anna Daly and Darren Kennedy go inside some of the blingest houses on the market to get a sneak peek at how the other half lives. Or other 1%, really.
Lisa Riley's Baggy Body Club, 9.00pm, TV3
The former Emmerdale star shed a mind-blowing 12 stone in 18 months, transforming herself from a size 28 to a 12. Now she's coping with the excessive skin that remains.
The Tonight Show, 11.00pm, TV3
And so the post-Vincent Browne era begins. Presented by Matt Cooper and Ivan Yates, The Tonight Show will offer their unique take on the big stories of the day and feature panel discussions covering topics of national interest.
In addition, a nightly news review will offer insight into trending stories and videos of the day, the most talked about, read and shared articles, and a look ahead at tomorrow's leading stories.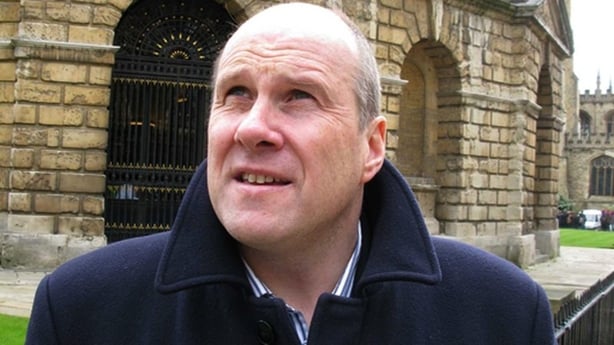 Ending tonight
The Walking Dead, 11.35pm, RTÉ2
The season seven finale sees Negan and the Saviors travel to Alexandria with Sasha in a coffin as a gimmick to confront Rick.
At Alexandria, there's a standoff that ends up in a gun fight, with the unexpected arrival of Kingdom and Hilltop fighters. As ever, expect a high body count.
Quacks, 10.00pm, BBC Two
This period medical comedy's kind of come and gone without drawing much attention to itself.
Robert's rival, the famous, suave French surgeon Patrice DuPont is due to perform surgery on a very prestigious patient: Dr Hendrick.
Patrice makes John a tempting offer to join him, and Robert - to his disgust - finds he must work with Patrice as his assistant.
When disaster strikes, will the surgeons be able to save Dr Hendrick? Will any of them even want to?
New to Download
Jerry Before Seinfeld, Netflix
Now this is a must-see. In a special that blends live stand-up with a personal retrospective, legendary comic Jerry Seinfeld returns to the New York comedy club that launched his career back in the late 1970s/early 80s.
His act fills up about 50 minutes of the special's hour-long running time, while a mixture of home movies, archive recordings and newly-filmed pieces around Manhattan make up the rest.
Seinfeld's set is a combination of old and new jokes, many of them revolving around Seinfeld's recollections of his childhood and apprenticeship years.
Despite amassing a fortune rumoured to be more than half-a-billion dollars, Seinfeld still loves playing live, but usually in front of massive crowds, so it's a rare treat to see him in a club environment.
Don't Miss
Living with Lucy, 10.00pm, TV3
Possibly the most up-for-it personality on Irish TV, Lucy Kennedy returns with a new run of the show where she shacks up with some well-known head and sees how they live on a day-to-day basis.
Lucy's host in this opening episode is hurling legend Davy Fitzgerald, and she heads to Sixmilebridge in Clare, where Davy is living with his partner Sharon and son in a palatial mansion complete with his man cave and juke box.
Lucy arrives in the midst of Davy's eight-week ban while Wexford are getting ready for a championship game against Laois. From hurling lessons to yoga lessons Davy and Lucy share a weekend of sporting shananigans.
Here's a classic from her (unpleasant) time with Callum Best: