X Factor presenter Dermot O'Leary has said he has enjoyed the last laugh about having an Irish passport in the wake of the UK's Brexit referendum result.
The broadcaster, whose parents Maria and Sean recently moved back to their native Wexford, discussed his Irish roots in an interview with The Irish Times' Weekend magazine, where it was put to him that living in the UK and having an Irish passport had taken on a new significance in the wake of the UK's decision to leave the EU.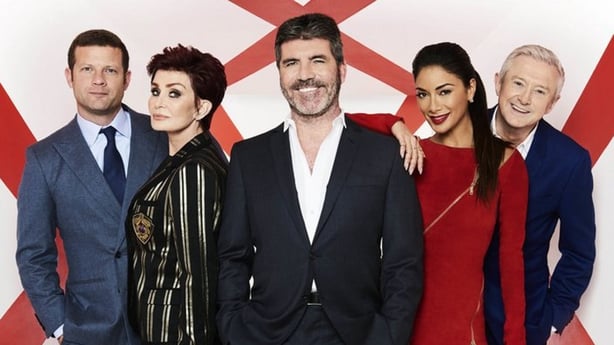 "I know. Who's laughing now?" O'Leary replied, smiling. "I don't think [my parents] thought any deeper than, 'It might be nice for them to have an Irish passport'. I'm not Irish in the same way you're Irish, but I'd have a lot in common with people who are second-generation West Indian, or Jewish... It's really interesting in terms of how it shapes your identity."
Commenting on his parents' decision to return to Wexford, O'Leary said: "There was a lot of building going on, not necessarily where we were living, but I think they probably wanted to move house anyway. One of my aunties moved back [to Wexford] a few years ago. They were never that generation who left Ireland and would never come back. There was never a feeling of remoteness. Now it's just a question of a Ryanair flight and some hand luggage."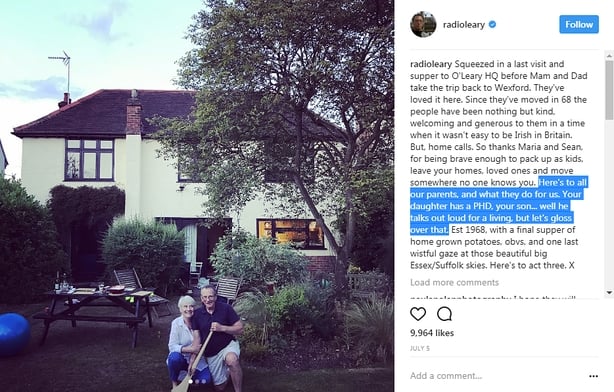 In a poignant and much-discussed Instagram post in July, O'Leary reflected on his family's experience as emigrants, posting a photo of his parents outside their old home in Essex. 
"They've loved it here," O'Leary wrote. "Since they've moved in 68 the people have been nothing but kind, welcoming and generous to them in a time when it wasn't easy to be Irish in Britain. But, home calls.
"So thanks Maria and Sean, for being brave enough to pack up as kids, leave your homes, loved ones and move somewhere no one knows you.
"Here's to all our parents, and what they do for us. Your daughter has a PHD, your son... well he talks out loud for a living, but let's gloss over that."
We need your consent to load this YouTube contentWe use YouTube to manage extra content that can set cookies on your device and collect data about your activity. Please review their details and accept them to load the content.Manage Preferences
"It got picked up by a few people, but my parents never experienced any racism," O'Leary recounted to The Irish Times.
"It's funny when it has that kind of impact. I was just posting that to give them a salute, as it were. I didn't think it would make any impact. But they had nothing but a great welcome over here."
As to whether his Irishness meant a predisposition to his choice of career, O'Leary said: "Put it this way: there are a lot of people in British TV with 'O' in their surname. And I don't want to fall into lazy cliché, but we are gabblers."