Teresa Mannion's now famous Storm Desmond report for RTÉ News in 2015 has gone viral again with the help of Snoop Dogg and 50 Cent, who both shared the video to their Instagram accounts on Monday.
At the time, Mannion instantly became the top trending Twitter topic in Ireland after the heroic news report in December 2015, which saw her battered by sheets of rain and strong winds as she delivered her piece to camera live from Salthill in Galway.
The video has now been given a new lease of life at the hands of 50 Cent and Snoop Dogg, who both shared it with their Instagram followers.
50 Cent posted the video with the caption, "Does this mean I'm insensitive? If so why are you laughing. LOL." The video has been viewed over one million times on his page.
Snoop Dogg also shared the video, captioning it, "Stop in the name of love." Snoop's post has been viewed over 800,000 times.
Responding to the rappers' posts, Mannion tweeted, "Shoutouts from @SnoopDogg and @50Cent today, don't worry guys I wasn't hurt."
Shoutouts from @SnoopDogg and @50cent today, don't worry guys I wasn't hurt 🛑#Galway pic.twitter.com/W3jabN0q04

— TERESA MANNION (@TeresaMannion) September 11, 2017
Speaking to RTÉ Entertainment about the high profile attention to her news report, Mannion said she never tires of it, but that it's "not really about me any more."
"It's actually two years in December and every time it dies down it's back up again; it just gets oxygen from somewhere and it starts all over again," she said. "It kind of gets new fans on board who now know it because of Snoop Dogg and 50 Cent. I never tire of it, its not really about me anymore."
"It does amuse me how it gains instant traction again," she added.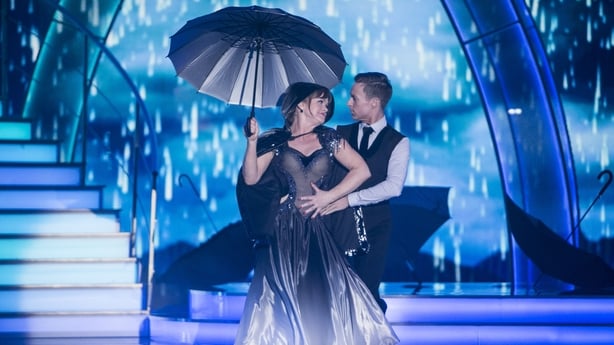 Mannion, who has gone on to star in Dancing With The Stars Ireland and become the focus of countless memes on the back of the viral news report, said she can't help but laugh at the situation.
"I look at all of it like looking at myself from afar and going, 'Is this all real, how did this all happen?' None of it has been bad, I'm laughing as much as the next person - that's the only way you can deal with it, that's worked for me." she said.