Ros na Rún returns Tuesday night with serious questions about David's survival following the accidental shooting in the shed. His partner Gráinne has most reason to be anxious about him, given the circumstances. Paddy Kehoe spoke to Brídín Nic Dhonncha who plays Gráinne.
It's Saturday and it's Bridin Nic Dhonncha's birthday and she has just been in Clarenbridge for a celebratory meal. There had been Ros na Rún rehearsals earlier in the day, the usual on Saturdays, as the cast work six days a week, and she finally had time to talk.
The actress recaps last season's finale as the series drew to a close for the summer. "Gráinne had borrowed a gun off a local farmer, she was going to shoot some bullets in the poly-tunnel to scare some rabbits. David (Sean Mistéal) came with her and when she told him she was pregnant, they had a big cuddle, they were overjoyed and happy."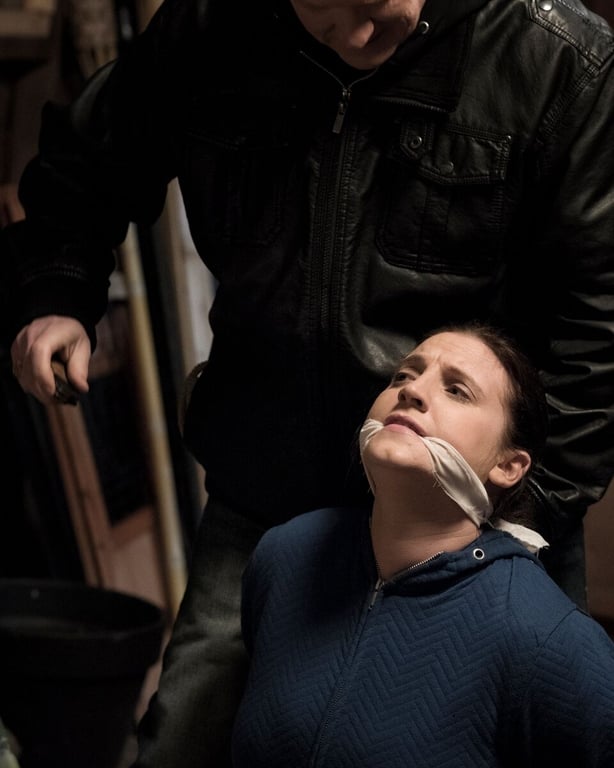 "What they didn't know was that there was this other character present nearby, Anto, who was up to no good in the shed beside the poly-tunnel. He was fighting with Colm and (Colm's girlfriend) Mo was tied up and gagged in a corner. We saw the lights on and went in and tried to save them."
In the heat of the altercation at the shed, Grainne got "a bit of a thump – Anto just whacked her in the belly." Not a great thing to happen a pregnant woman, and then to make matters worse the gun was discharged, injuring David. "It seems to have been quite serious," says Brídín, referring to the last episode in series 21.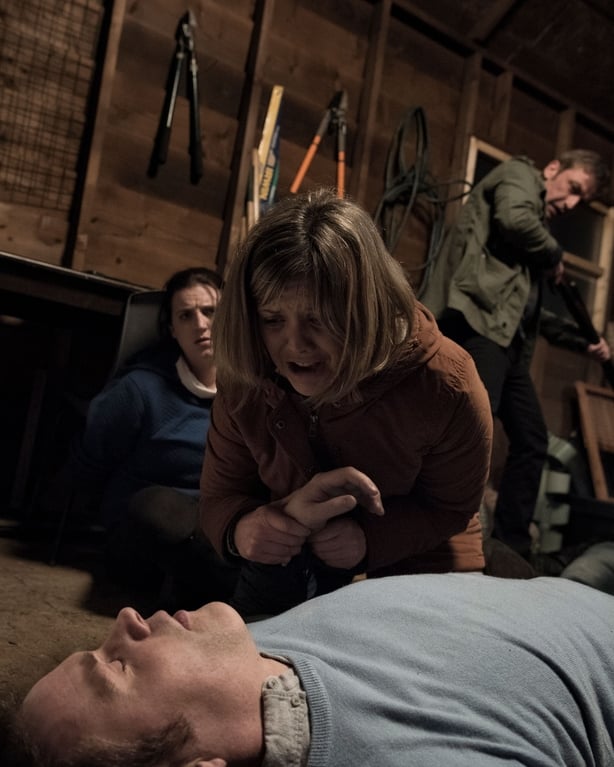 Brídín believes he will be in hospital on Tuesday night's first episode in the new series of Ros na Rún. "It doesn't look good - she crawled over to David and he was bleeding heavily, that's how we ended it, and his eyes are closed." Gráinne naturally has worries too about the pregnancy, given the blow to her stomach.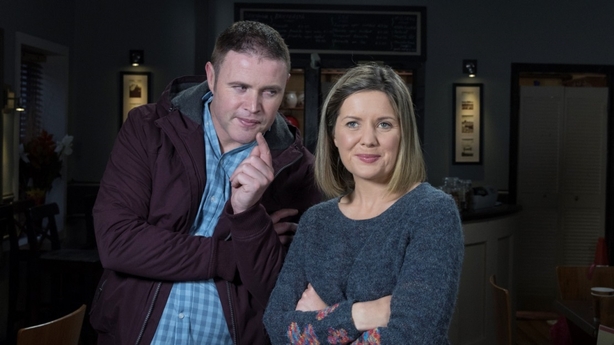 Mo, meanwhile is very disappointed with Colm. "Anto is sniffing around him, so I don't think things are great between those two either. Mo thought Colm was finished with all these people he knew from prison, but this guy turns up looking for money and Mo didn't know that they were associated."
The trauma of Grainne's experiences in Ros na Rún temporarily suspended, Brídín had a quiet summer, work-wise. There was an audition for a play but it didn't in fact suit in the end. She has two young sons to look after in any case.
News had come through earlier that morning of the death at 87 of the veteran actor Peadar Lamb. Gráinne grew up in An Ceathrú Rua (Carraroe, Connemara) and still lives there. In fact she knows the Lamb family well, they were neighbours, and she met Peadar a number of times.
Brídín does not hail from an acting family herself, her dad, a Connemara man, was a landscape gardener and her mother who came from County Meath was a teacher. They are both retired. She started to study acting at the relatively late age of 28 when she enrolled with the Gaiety School of Acting.
She had been living in Dublin for a number of years at the time. "I started acting with an amateur group (Bulfin, an Irish language group) when I was about 25 and I decided I really liked it. " In fact she quit her job at a publishing house to study at the Gaiety School.
"I like to pretend to be somebody else," she says laughing. "It's a lovely escape, it's a really nice thing to do, to step out of yourself and try and be someone else for a few hours, it's lovely."
Ros na Rún, TG4, Tuesday, Thursday, omnibus episode, Sunday