There are three major music festivals on this Bank Holiday Weekend and we'll be choosing our top acts from The Beatyard, Indiependence and Castlepalooza in the lead-up to three days of great sounds and hopefully great weather.
It never rains but it pours. Well, hopefully not this bank holiday weekend but there are no less than three major music festivals taking place in Ireland in the coming days and let's face it, many people out there will have the dreaded festival FOMO.
But whether you're taking it handy down by the pier and harbour in Dun Laoghaire for Beatyard (boat rides, the DART home), heading down to Mitchelstown for Independience or scaling the rock 'n' roll ramparts at Castlepalooza we've pulled together our top acts not to miss in what is going to be one very busy weekend.
First up is The Beatyard in Dun Laoghaire on August 5 and 6.
Air - Main Stage, Sunday at 9.30pm
French electronic duo Air, consisting of Nicolas Godin and Jean-Benoit, are the perfect Sunday headliners for Beatyard. Their 1998 debut album Moon Safari was trailblazing as it was accessible and it shaped the musical taste of an entire generation. Expect a trip down memory lane with the likes of Sexy Boy and Kelly Watch the Stars. Sarah McIntyre
Toots and the Maytalls, Main Stage, Sunday at 6.00pm
This lot, led by the sweet-voiced Toots Hibbert, go way back to the early days of what became known as ska and rocksteady, having formed in 1962. They're instigators. Their song Do the Reggay gave reggae music its name, so no more need be said. They featured on the soundtrack of Jimmy Cliff's legendary The Harder They Come film, while British bands such as The Specials (Monkey Man) and The Clash (Pressure Drop) covered some of their songs. Go see this lot and get a history lesson that compels you to dance. John Byrne
Bananarama, Main Stage, Saturday at 6.00pm
One of the greatest and certainly most successful of girl groups, Bananamara was formed by three punk fans at the tail-end of that period, and went on to produce a string of hits during the 1980s. Back with two of the original line-up - Sara Dallin and Keren Woodward - fans and the curious can expect a shed load of top pop from two very smart women (who may or may not be) growing old gracefully. The set list should include tunes such as Really Saying Something, Shy Boy, Cruel Summer, Robert De Niro's Waiting and Love in the First Degree. If anyone thinks pop music is crap, get a load of this lot and learn the truth. JB
Mark Ronson, Main Stage, Saturday at 9.15pm
Expect a mix of disco, pop and soul from Mark Ronson's DJ set on Saturday - one thing's for sure, he'll get you dancing. Likely to play anything from Britney Spears to Jimi Hendrix, Tame Impala to Chic, mixed in with his own hits like Uptown Funk and Valerie, it's one not to be missed. Sinead Brennan
Horse Meat Disco, Bodytonic x Red Bull Stage, Saturday at 9.00pm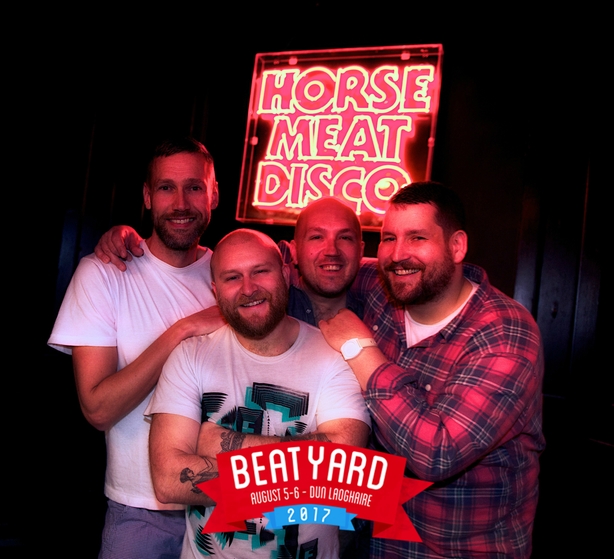 Their name gives it all away - disco. Sorry, no horse meat. Few are doing it as well as Horse Meat Disco and their knowledge of the genre is second to none. Classics mixed in with rarities and seldom heard gems; their sets are always a whole load of fun. As with every festival there are scheduling conflicts and if you're choosing to see Mark Ronson at Beatyard on Saturday night instead, you've a second chance to catch Horse Meat Disco at their after party in Wigwam on Saturday night - it's bound to get sweaty. SB
Rusangano Family, Main Stage, Saturday at 3.15pm
This should a a real afternoon delight from the Limerick and Clare-based hip hop trio. Very popular winners of this year's Choice Music Prize, the band, who hail from Togo, Zimbabwe and Co Clare, are festival veterans at this stage serving songs with a social conscious but without forgetting quality tunes and great delivery. If the sun is out at Beatyard, this will be one of the sets of the weekend. Alan Corr
Click back tomorrow for our preview of Castleaplooza.