Back in the comfort zone of a much-loved album, U2 were at their most U2 for a heroic show in their spiritual home on Dublin's northside.
Even the security men were grinning like idiots when four jets blazed overhead during Where The Streets Have No Name and left a vapour trail of green, white and orange over Croke Park on Saturday night.
There it was - a tricolour rainbow to banish any fears of the earlier threat of rain. This was U2 at home and damn it if they weren't going to be the most U2 they've ever been.
That flyover!!!! #U2TheJoshuaTree2017 pic.twitter.com/NgIAW5poBd

— Stefanie (@Hwy_Girl) 22 July 2017
This was self-mythologising rock theatre on a grand scale and it is nearly impossible to resist the pure force of a band who may be retreating into the comfort zone of tried and tested material but who deliver it with conviction and power.
Other than the obvious commercial payback, there are three ways of looking at U2's decision to tour the Joshua Tree thirty years after its original release. Is it a stalling mechanism as they go through one of their frequent bouts of writer's block and struggle to produce that new album?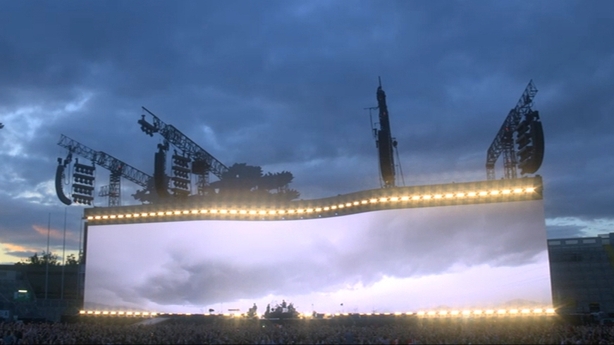 Despite the band's anxiety to remain relevant after all these years, are they merely paying proper respect to their magnum opus, or most tenuously, do the band really believe that in Trumpworld, The Joshua Tree, a love letter and a jaundiced examination of America, is more relevant now than ever?
Most damning of all, is this tour U2s final acknowledgement of the rather large elephant in the stadium - they are now a heritage act trading on considerable former glories and long bereft of interesting new material?
We need your consent to load this Facebook contentWe use Facebook to manage extra content that can set cookies on your device and collect data about your activity. Please review their details and accept them to load the content.Manage Preferences
As cabinet ministers got lost in the prawn sandwich section high up in the Hogan Stand (the President and Taoiseach were also in attendance), those questions were probably not utmost on the minds of the U2 faithful below. Even cynics rubberneck and marvel as the band file out one by one onto the outcrop of the B-stage -   Larry first to pound out the opening tattoo of Sunday Bloody Sunday, a drum intro as familiar as When The Levee Breaks and just as powerful
U2's quiet man is then joined by his brothers for the now customary opening power set. New Year's Day now comes with impassioned tributes to Manchester and London and the sight and sound of 80,000 people chanting "no more war!" is undeniably empowering.
A contemplative Bad, the northside Dublin ballad, is moving and spine-tingling and Pride complete the intro salvo before the main event: The Joshua Tree in all its crimson glory.
Over-familiarity cannot dent its sheer power but it is the epic visuals, shot by the band's long time collaborator Anton Corbijn, that often steal the night. As the songs bulldoze the naysayers, the images roll out - vast open American highways (nearly the width of the Hill 16 end), the Joshua Tree itself stark against a blood-red screen, and funny montages that equally lampoon and pay homage to America's love affair with itself.
We need your consent to load this Facebook contentWe use Facebook to manage extra content that can set cookies on your device and collect data about your activity. Please review their details and accept them to load the content.Manage Preferences
U2 themselves are dwarfed by those images - a reflection, perhaps, of the enormity of their subject matter - the gradual distortion and hi-jacking of the American Dream. But even in the stadium of this size, all eyes and ears are back on Bono when he intros the seismic rumble of Bullet The Blood Sky with a "oh oh, here comes trouble" and the Edge unleashes the apocalyptic Jimi meets Led Zep power chording. Significantly, Bono ends the songs with a bewildered question -  "Into the arms of America?" - rather than the accusatory statement of the album version.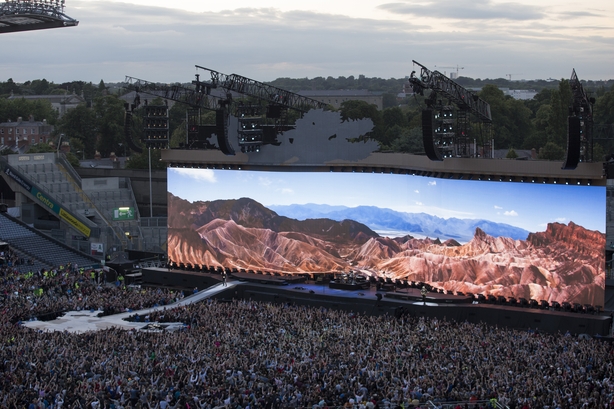 The Cohen-influenced Running to Stand Still takes on a reverent and intimate simplicity as the giant screens project close-ups of the band in grainy monochrome but Red Hill Mining Town, recently given a needless reworking for the 30th anniversary album release of The Joshua Tree, album doesn't quite sound resolved in a live setting.
Adam sits down to pick out perhaps the trickiest bass part on the album and the signature brass section is played by the Sally Army on the big screen but the song, already top heavy on the album, is in danger of collapsing under its own weight.
We need your consent to load this Instagram contentWe use Instagram to manage extra content that can set cookies on your device and collect data about your activity. Please review their details and accept them to load the content.Manage Preferences
No coincidence then that Bono intros side two of the The Joshua Tree with the words "It's taken us thirty years to figure out some of these songs" and while it's true that a couple of tracks from the album don't quite gel, In God's Country is a gig highlight - a real attack of a song with strafing guitars propelled by Clayton's loose and loping bassline.  
Trip Through Your Wires comes rattling down the line like a train and is similarly visceral with Bono's harmonica soaring out into the night sky above Croke Park on a song that proves that four Dubliners can indeed manage to plug directly into the mainframe of Americana and classic rock for four euphoric minutes.
As ever, Bono is half penitent and half pop Pope (middle-aged people of Ireland, I love you etc) but many of his grand gestures and touching thank yous (to the audience, to Mná na hÉireann and father afield) fall on deaf ears among a Saturday night crowd who are maybe secretly urging him to quit the eulogy and play the hits.
Time for Bono to show us his harmonica skills with the sexy Trip Through Your Wires.#U2TheJoshuaTree2017 pic.twitter.com/b9Ihuy32qb

— U2start.com (@U2start) 22 July 2017
However, just as the sermonising sends some of the audience back to checking their wi-fi connections or, indeed, back to the bar, the rest of the band manage to pull another cracker from the hat - Vertigo, a song about the high wire act of fame stupid, stupid fame, is irresistible; Miss Sarajevo, accompanying by footage of Syrian refugee camps, sounds powerful as it rolls majestically out across Croker; and Ultraviolet (Light My Way) takes on an almost gothic grandeur as darkness descends.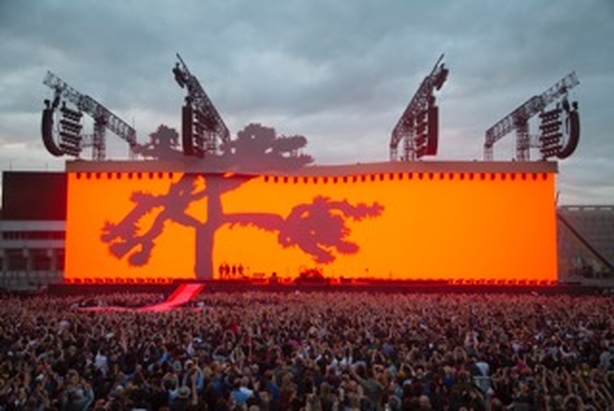 Elevation and Beautiful Day, the band's last two true mega anthems, send the crowd into a convulsing sea of outstretched hands and bobbing heads, but One, U2's very own Imagine, sounds as overcooked as ever.
It was  all a clever and only occasionally dull combination of a sermon, a folk mass - with a very good sound system - and a political rally (Bono also voices his support for the IRFU's bid to hold the Rugby World Cup in Croker in 2023).
Warm up over @CrokePark with @u2. Here we go!! Where the streets have no name!! #U2TheJoshuaTree2017 pic.twitter.com/goseNB3fYm

— Ronan Doohan (@RDoohan72) 22 July 2017
Transcendence was reached on more occasions than most bands of this vintage will ever achieve again. U2 still work very hard to please the audience and to push themselves but finishing the a two-hour plus show with new song It's The Little Things That Give you Away may have been a bold move but it also seems almost wilful after a night of such jubilation, mass karaoke and rock cabaret.
It would have been far better to send the masses spilling out into the night with I Will Follow ringing in their ears. There is no doubt that after all these years, the occasional missteps, crass moves, and moments of redemption, the U2 faithful still believe and will still follow.
Alan Corr @corralan