Kaley Cuoco has revealed she had to go to hospital and get stitches after a prank went awry on the set of The Big Bang Theory.
The 31-year-old actress, who plays the part of Penny on the CBS sitcom, wanted to turn a dinner fight scene between her character and Johnny Galecki's character Dr. Leonard Hofstadter, into a bigger scene to prank the cast and crew. 
Instead of just arguing, they agreed Galecki would pantomime punch Cuoco across the face, sending her onto the floor where he would continue shouting at her off camera.
Galecki even got the hair and makeup department to give him some hair extensions to make it look like he was pulling Cuoco's hair out after she fell over. But when it came time to the big moment, Cuoco ended up falling into a set-piece and genuinely injuring herself.
"So we did it and I fell over, and the chair — and no one knew this and I didn't either — clocked me in the head," Cuoco explained San Diego Comic Con.
"I just thought 'Oh, it's a little bruise,' but I'm still acting. I'm under [the table], and he's still punching me and throwing the hair, and I come back up and I'm like 'How did it look?' And all I see is Simon's face, and my blood is just gushing.
''I had to get stitches that day and come shoot the next day. I got back and there were signs that said, 'No fun allowed on the Big Bang set."
 "We're not allowed to do those jokes anymore," she added.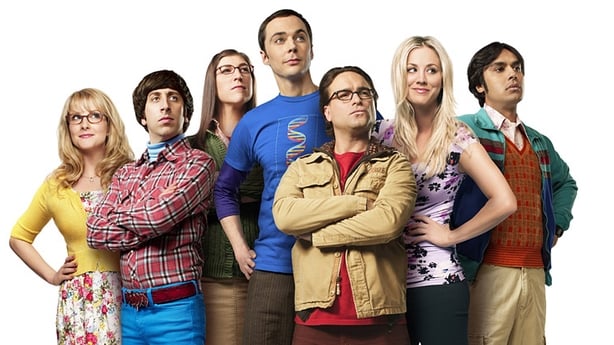 The Big Bang Theory cast ended the panel with a special sing-a-long of "lost" verses of their hilarious song Soft Kitty, about other animals. 
#TheBigBangTheory cast sings "lost" verses of Soft Kitty with other animals! pic.twitter.com/x64kgqA3H7

— Natalie Abrams (@NatalieAbrams) July 21, 2017