It's a tough station being a cynic at a Robbie Williams gig. For well over two and a half hours you're pummelled into submission by a relentless charm offensive (that explains all the boxing motifs on stage) in a show that's as much mass participation karaoke and country wedding jive, as it is pop concert.
Anyone in the capacity crowd basking in the glorious sunshine at the Aviva Stadium who was determined to disobey the script, eventually turned into that family member with their tie around their head on the dance floor at the end of the night. 
Not that there was many of those there. This was adulation on a grand scale and was well reciprocated by a performer with a compelling need to be loved. "I was born in the wrong country" and "you're f**king incredible" he bellowed to loud cheers long before the predictable tricolour was draped on his shoulders.
Williams is the consummate showman, and apart from that easy charm typified by cheeky anecdotes about his family, he knows what his audience wants and delivers it in spades.
There were singalongs galore (everything from A-Ha to Bon Jovi and even Ini Kamoze for the middle aged fans), glitter showers, choreographed olé olés, even a mechanical boxing glove that he hops into at one stage to glide above the audience to literalise the charm assault.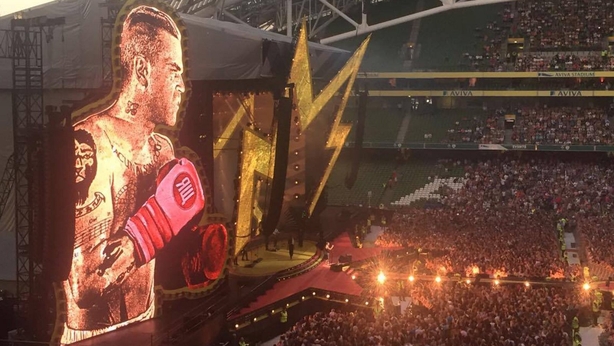 But most of all he has a catalogue of pop anthems that were made to be performed in a huge outdoor arena. From his star guitar stage, this was production line glam rock.
The night blasted off with The Heavy Entertainment Show and Let Me Entertain You as Williams strode the stage in a kilt, ready to jig his way through his greatest hits and a smattering of new material.
The singer himself seems to be aware that he's pretty much a tribute act to himself these days, acknowledging the warm nostalgia for tunes such as Take That's Never Forget which he blends in with Come Undone.
Entertain us? Oh go on then... #RobbieWilliams pic.twitter.com/utfCjzVkDQ

— Entertainment on RTÉ (@RTE_Ents) June 17, 2017
"Allow me to reintroduce myself" he says at the start, a welcome greeting to an Irish crowd that loves him like no other save Ed Sheeran but perhaps a gentle reminder too that he's not the same music-chart monolith he once was. But here he's still King Robbie, sitting on his "silver throne" as he does at one stage, surveying his contented subjects.  
There's thousands of hoarse throats today after the big hits were belted back with gusto, in particular Real Love, Kids and of course Angels which soared to an emotional high as the sun dipped and a forest of camera phones swayed along and blinked in the night. 
We need your consent to load this Facebook contentWe use Facebook to manage extra content that can set cookies on your device and collect data about your activity. Please review their details and accept them to load the content.Manage Preferences
Even some of his new tracks, the decidedly poor Party Like A Russian, have enough bombast to carry themselves on the big stage. Curiously enough the only time the crowd seemed disinterested was during Rudebox, that infamous career misstep during which the wheels on the Williams wagon began to first wobble.
But credit to him for including it on the setlist. It's no fan favourite for sure, but it's a surprisingly epic live number.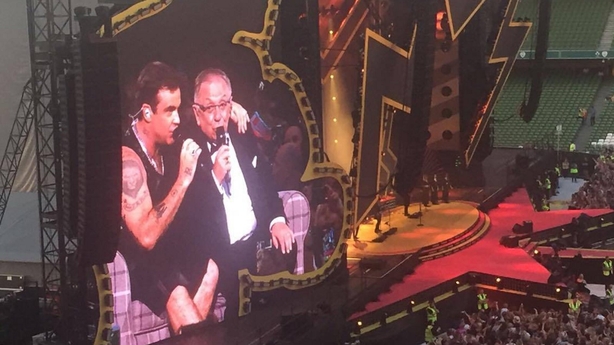 By the time he brings his Dad on stage - complete with lounge singer tuxedo - for a performance of Neil Diamond's Sweet Caroline, it's almost impossible to resist waving the arms in the air and giving into it with abandon. When the inevitable Joe Dolan tribute with Good Looking Woman begins it's full on cheesy karaoke. It may not be cool but it's bloody fun.
If there's any doubt that this the biggest singalong night of the year, the lyrics to Strong are relayed on screen to add greater encouragement. Not that they're needed. 
We need your consent to load this Instagram contentWe use Instagram to manage extra content that can set cookies on your device and collect data about your activity. Please review their details and accept them to load the content.Manage Preferences
The encore ends with My Way one of tracks that got the Williams treatment on his big band album Swing When You're Winning. An understated end to the night, but a fitting statement from a singer who's the epitome of resilience and authenticity in an increasingly bland world of manufactured music.  
As the crowd filtered out into warm night, they were sent on their way with a blast of Time of My Life from Dirty Dancing.
And you know what? They did. There's no show like a Ro show.
John O'Driscoll