Irish actor Simon Delaney made his debut on Coronation Street on Friday and viewers were beyond delighted.
The Dublin star made a splash as the mysterious and effortlessly charming jewellery salesman Phil who arrives into the factory to sell his wares.
Phil reappeared later in the episode when he popped up in the Rovers for a drink.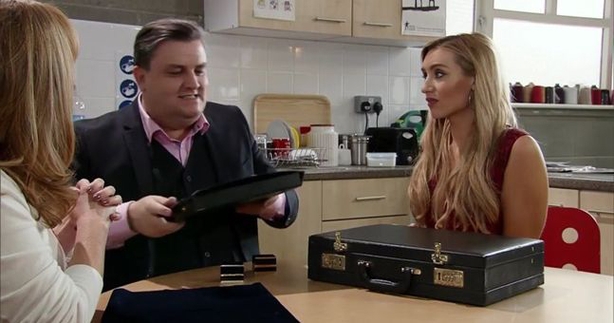 Fans of the ITV soap welcomed the light relief Delaney brought to the show, especially in light of the dark grooming storyline involving Bethany Platt and Nathan Curtis which has been going on for the past few weeks.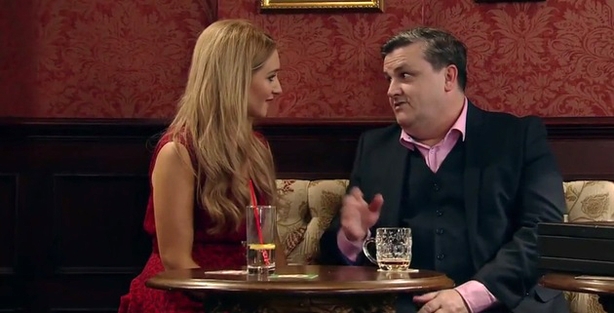 It wasn't just the viewers who loved Delaney, however, as some of Delaney's Corrie co-stars took to Twitter to compliment him.
Ha ??.
I had a scream with this fella.@SimonDelaneyEsq
Welcome sir.????@itvcorrie pic.twitter.com/H42ubsgtLn

— Shayne Ward (@shayneTward) June 9, 2017
Bloody love @SimonDelaneyEsq - bring him back @itvcorrie ????????????????

— Cath Tyldesley (@Cath_Tyldesley) June 9, 2017
We love Phil! x @SimonDelaneyEsq x #Corrie

— Sally Ann Matthews (@SallyAnMatthews) June 9, 2017
The Dublin actor was a big hit with viewers at home, with people tweeting that he was "a natural", "fits in so well" and "a great addition" to the soap.
Many fans begged Coronation Street bosses to include his character in more episodes.
@SimonDelaneyEsq #corrie hey Simon u were great ??real natural!

— angela grace (@angelaellenbill) June 9, 2017
@itvcorrie you have a new star in @SimonDelaneyEsq that's a keeper !

— The Grafton Barber (@GraftonBarber) June 9, 2017
@itvcorrie Please invite @SimonDelaneyEsq back for a regular role. He's absolutely brilliant and fits in so well. Comic timing A1. #moreplz

— Donna Ní Laighléis (@donna_lawless) June 9, 2017
@SimonDelaneyEsq I'm so proud of you man ?? You were great on @itvcorrie Well done ??

— Si O' Connor (@sioconnor) June 9, 2017
@SimonDelaneyEsq Great job so far Simon or should I say Phil! I'd say she'd make short work of an apple. Priceless ???? Keep it up #Corrie

— Sinéad (@sredser) June 9, 2017
'The wow without the ow!' Loving @SimonDelaneyEsq #Corrie

— aislinn nolan (@aislinn_nolan) June 9, 2017
Absolutely brilliant Simon Delaney on Corrie - you legend !! #oneofourown pic.twitter.com/yskFNDsFEk

— Aidan Cooney (@cooneyirelandam) June 9, 2017
@SimonDelaneyEsq Great to see some Irish talent on @itvcorrie Hilarious! #Corrie

— Rita Joyce (@rjoyce101) June 9, 2017
@SimonDelaneyEsq loving you on @itvcorrie Stay forever and marry Eva!

— Sorcha OFlanagan PR (@SorchaPR) June 9, 2017
Oh @itvcorrie please, please bring 'Phil' back! His scenes with @Cath_Tyldesley had me in stitches. "You've got a lovely.... finger" ??

— Georgia Taylor (@RealGeorgiaT) June 9, 2017
He was brilliant ! @itvcorrie bring him back pleeasee

— Sue Conley (@SueConley19) June 9, 2017
@SimonDelaneyEsq Try to stay on Corrie.
You are one of our national treasures ????

— TrishFeeney (@delicia3131) June 9, 2017
@itvcorrie Phil is a great addition already @SimonDelaneyEsq charmer jewellery man #Corrie #Irish ????

— Tam LizAnn ODriscoll (@tamlizann) June 9, 2017
Lovin' @SimonDelaneyEsq in #Corrie tonight! Hope Phil is back to compliment more ladies on their teeth! ????

— Linda McGee (@lindawestmeath) June 9, 2017
@SimonDelaneyEsq on #Corrie now there's a face I'd luv to see there permanently ????????

— ??Belynda?? (@BelyndaRoche) June 9, 2017
@SimonDelaneyEsq congrats on your new Corrie role - playing a blinder!

— Barbara Clarke (@clonsillagirl) June 9, 2017
Delaney previously tweeted that he had "some craic" filming the scenes on Coronation Street, so here's hoping Phil will become a recurring role for the Dublin star.
Had some craic on the cobbles with @shayneTward @Cath_Tyldesley @SallyAnMatthews @ianbevitt Ta for the welcome! #corrie #shortworkofanapple

— Simon Delaney (@SimonDelaneyEsq) June 9, 2017
.