George Clooney and his wife Amal have welcomed twins into the world - a little girl called Ella and a bouncing baby boy called Alexander.
A representative for the couple said that mum and children are healthy and happy and the family are overjoyed by their new arrivals.
"This morning Amal and George welcomed Ella and Alexander Clooney into their lives," the Clooneys' representative told Page Six in a statement.
"Ella, Alexander and Amal are all healthy, happy and doing fine."
Their spokesperson jokingly added of the first-time father, "George is sedated and should recover in a few days."
The happy news that Amal was expecting was first reported on US TV show The Talk in February.
On #TheTalk today @JulieChen confirmed that George & wife #AmalClooney are due w/ twins IN JUNE! Congrats to the happy couple! 👶👶  #BREAKING pic.twitter.com/0ALtxseI3Y

— The Talk (@TheTalkCBS) February 9, 2017
Speaking to Entertainment Tonight Canada, Clooney's friend and Ocean's Eleven co-star Matt Damon said the 55-year-old had shared his joy with him last year.
"I was working with him last Fall and he pulled me aside on set and, I mean, I almost started crying," said Damon.
"I was so happy for him. And I was like, 'How far along is she?' And he goes, 'Eight weeks'.
"I said, 'Are you out of your mind? Don't tell anybody else! Don't tell anybody else! Don't you know the 12-week rule?' Of course he doesn't. I was like, 'Just shut up, man'."
#MattDamon says he almost cried when #GeorgeClooney told him about #AmalClooney's pregnancy months ago https://t.co/qRsJfxnzna pic.twitter.com/66thAIaJB3

— ET Canada (@ETCanada) February 9, 2017
Damon, who was among the guests at the couple's wedding in Venice in September 2014, said he was "thrilled" for the Clooneys.
"She's amazing," he added. "He hit the jackpot. Just on every level. She is a remarkable woman. They're going to be great. They're going to be awesome parents. Those kids are lucky."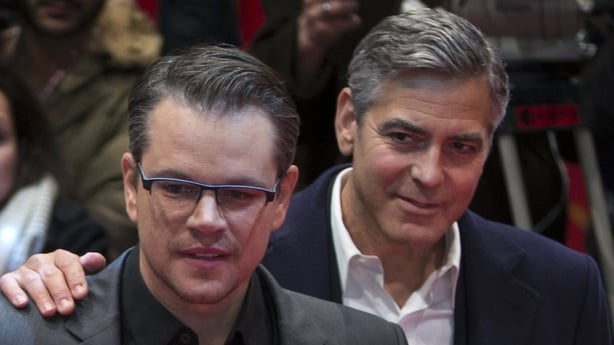 Talk show host Ellen DeGeneres was one of many other celebrities to congratulate the pair.
"It's twins for George and Amal! I thought I noticed a baby bump. Congrats, you two!", she wrote on twitter.
She mocked up a snap of Clooney holding up the message "we're having twins" and sitting in the same pose as Beyoncé - under a veil and against a backdrop of flowers - when she made her announcement.
It's twins for George and Amal! I thought I noticed a baby bump. Congrats, you two! pic.twitter.com/JLpoT4q0ts

— Ellen DeGeneres (@TheEllenShow) February 10, 2017
The chat show legend was also one of the first celebrities to congratulate George and Amal on becoming parents.
Welcome to the world, Ella and Alexander Clooney. Congratulations, George and Amal, or as I'm now calling you, Ocean's Four.

— Ellen DeGeneres (@TheEllenShow) June 6, 2017
Prior to the birth, George and Amal, who are currently based in Berkshire, England, scaled back their international travels.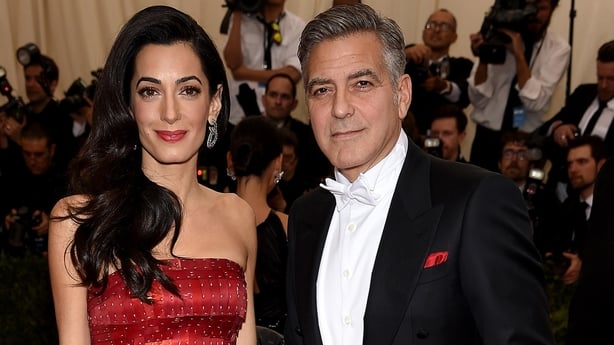 "We decided to be much more responsible, to avoid the danger. I will not go to South Sudan anymore and in the Congo, Amal will no longer go to Iraq and she will avoid places where she knows she is not welcome," George said.
"Before, I did not care, I would even say that there was a pretty exciting side to going where no reporter had ever been."
The couple tied the knot in an intimate ceremony at the Aman Canal Grande luxury resort in Venice, Italy in 2014. They were married by Clooney's friend Walter Veltroni, the former mayor of Rome.