The Rock am Ring festival in Germany is going ahead this weekend after police carried out further security sweeps following information received about a "possible terrorist threat".
The three-day festival, held at the famous Nuerburgring sports complex near the western city of Nuerburg, had been evacuated on Friday after the information was received. Ninety-thousand fans are estimated to be attending the festival.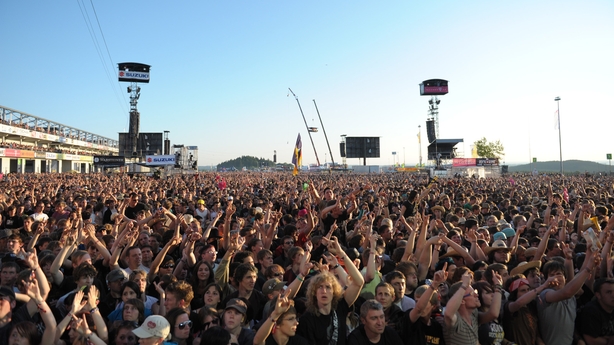 In a statement issued on social media on Saturday morning, the organisers said they had "the news we all have been waiting for".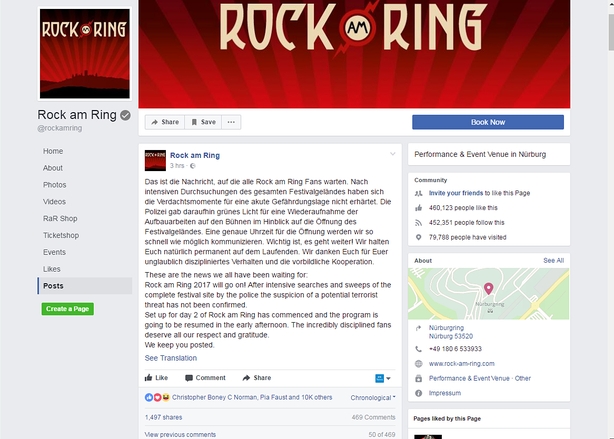 "Rock am Ring 2017 will go on! After intensive searches and sweeps of the complete festival site by the police the suspicion of a potential terrorist threat has not been confirmed," the statement continued.
The organisers added that the "incredibly disciplined fans deserve all our respect and gratitude".
Ab aufs Festivalgelände: Wir rocken weiter! #RAR2017 pic.twitter.com/GKGvVvE1bN

— Rock-am-Ring (@rockamring) June 3, 2017
On Friday, police said they were in possession of "concrete elements, in the light of which a possible terrorist threat cannot be ruled out".
"Due to a terror danger situation, we told the organiser to temporarily stop the concert as a precaution," police in the nearby town of Koblenz said in a statement.
The official Twitter for the festival had posted a notice, saying they were instructed to "temporarily interrupt" the festival by police, asking that all festival-goers make their way to the campsite areas.
Bastille drummer Chris Wood tweeted to inform fans of their safety and to thank the staff at the festival for "looking after everyone".
We're all OK, thanks for all your messages. Staff at @rockamring have been phenomenal looking after everyone. Everyone get home safe x

— Woody (@Woodythedrum) June 2, 2017
Simple Plan singer Pierre Bouvier posted a message to Instagram, saying the band "are here and we are fine".
"#RockamRing has just been evacuated due to a credible terrorist threat," he captioned an image of him on stage at the festival. "We are here and we are fine. Nothing has happened as of yet. What a world we live in... 😔 So sad. Thank you to all the fans who were there for our show. It was an awesome crowd as usual. Love you Germany."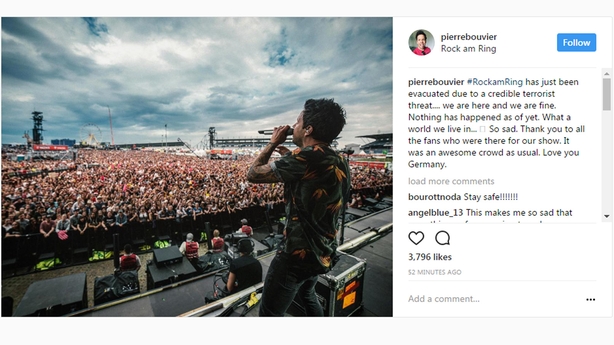 Bouvier's bandmate Jeff Stinco tweeted that they "don't really know much yet" but that "The Regime of Fear cannot win. It cannot win..."
Five Finger Death Punch bassist Chris Kael also took to Twitter saying, "Yes, @rockamring is being evacuated; but, aside from a siren and occasional flashing lights, it seems from my vantage point to be calm."
Yes, @rockamring is being evacuated; but, aside from a siren and occasional flashing lights, it seems from my vantage point to be calm.

— Chris Kael (@5FDPChrisKael) June 2, 2017
Last year's Rock am Ring programme was curtailed by violent storms in which dozens of people were injured by lightning.
Germany remains on high alert after an attack on a Christmas market in Berlin on December 19, 2016.
Friday's incident came less than two weeks after the Manchester terror attack following an Ariana Grande concert in the Manchester Arena on May 22, which saw 22 people lose their lives and over 100 injured.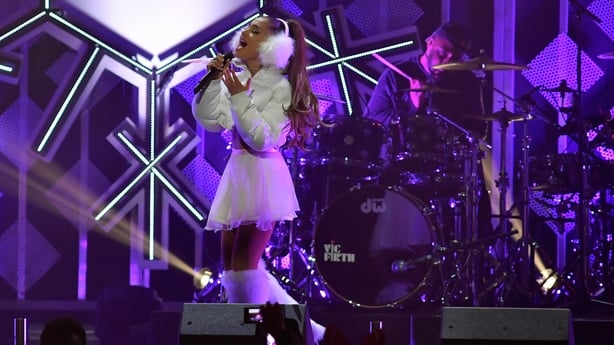 Festivals and concert organisers have been beefing up their security since the attack, with Dublin's 3Arena updating their security procedures for Tuesday night's Shawn Mendes gig.
The organisers of this weekend's Forbidden Fruit festival in the Royal Hospital Kilmainham in Dublin City Centre are also imposing stricter security practices, with fans urged not to bring backpacks or large baggage with them to the three-day event.