Vogue Williams has said she is still friendly with her ex-husband Brian McFadden even though they went through a tough break-up.
The 31-year-old Dublin model, who is currently in a relationship with reality TV star Spencer Matthews, revealed she is happy her former partner has moved on with teacher Danielle Parkinson.
The Jump star admits she is delighted that the former Westlife star is in a good place and says she is still "friendly" with him even though the 37-year-old singer said that he doesn't see the point in staying in contact with exes.
"Brian got a load of press attention when he was younger and it didn't reflect who he was. I'm friendly with him," Williams told Closer magazine.
He's moving on with his life and I feel happy for him – he's in a good place, and I am. That's all that matters.
However her comments are at odds with a reply to a question she gave about McFadden to the Irish Mail on Sunday recently when she said "I don't speak to him and I don't speak about him".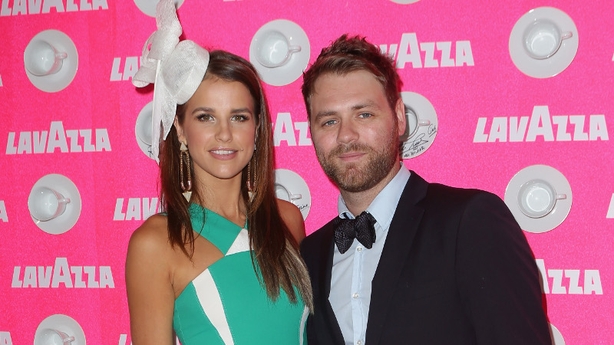 The Howth native recently hit headlines after it was confirmed that she wouldn't be attending Pippa Middleton's glamorous wedding to Spencer's elder brother, James, in Berkshire.
It was reported that Pippa, who is currently on honeymoon with her new husband in Sydney, imposed a 'no ring, no bring' policy for her big day.
However, Williams said she was unable to attend the lavish ceremony due to "other commitments".
Spencer confirmed he is dating Williams during an impromptu Facebook Live chat with Brendan O'Connor in March.
Williams remained coy anytime their romance was mentioned, but Matthews could not contain himself leading Williams to chastise him by saying: "What are you talking about Spencer – you're giving the game away here!"
The DJ and TV personality previously said that her romance with the Made in Chelsea star isn't for show and said she wouldn't have the energy to lie about it.
"I've never understood how people could have a 'showmance' because it's really hard to fake something like that," she told the UK's Mail on Sunday.
"I wouldn't be able to and I wouldn't do it to my family either. It's telling lies. Obviously Spencer has a reputation and people are waiting to catch him out," she added.
Williams also denied rumours that the pair are in an open relationship after Matthews was snapped on what appeared to be a date with another woman recently.
"If you've chosen to be in a relationship, what's the point in wanting to be with other people?
"That's just like being single."