The wait for Fair City fans is finally over as Katy has been reunited with her family after a year in captivity - but their trauma is far from over.
Thursday night's episode saw Katy make her way back to Carrigstown, where she was seen by Gardaí tearing down a missing person poster of herself.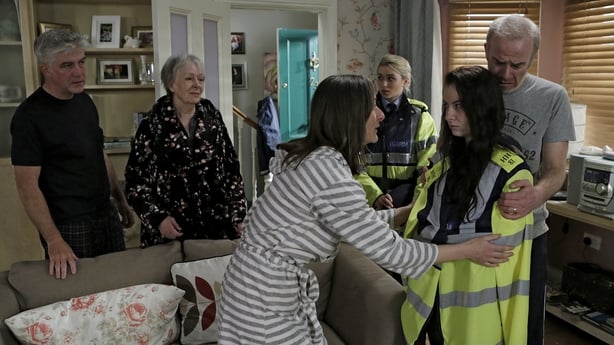 After an emotional reunion with her parents, it soon became apparent that the O'Briens are still a family in crisis.
We need your consent to load this Facebook contentWe use Facebook to manage extra content that can set cookies on your device and collect data about your activity. Please review their details and accept them to load the content.Manage Preferences
Katy was questioned by Gardaí about her kidnapper Ciarán and insisted he had died, but Ciarán's emotional hold on her continues.
It was then discovered that Ciarán had called someone when he and Katy were on the run - putting Farrah in the frame.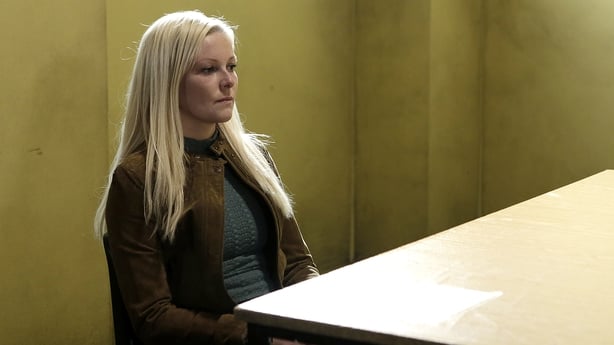 Back at the O'Briens, Katy told her parents that Emmet had raped Ciarán's sister and was the reason she had been kidnapped.
As the O'Briens tore themselves apart, the episode closed with Debbie leaving the house, setting up what looks like family civil war in Carrigstown.
Fair City, Sunday, RTÉ One, 8pm
We need your consent to load this YouTube contentWe use YouTube to manage extra content that can set cookies on your device and collect data about your activity. Please review their details and accept them to load the content.Manage Preferences
Here's what the fans have been saying:
They should have just made it all a dream #FairCity #FreeKaty

— Derrick Lynch (@DLynchSport) May 25, 2017
Sundays #FairCity will end all happy & back to normal, THEN right before the credits the camera will turn to Ciaran hiding *winks at camera*

— Pete (@peterwalsh27) May 25, 2017
Well done to actors taking part in #FairCity tonight 👌🏻 pic.twitter.com/L7JrFKOiug

— Lydia Magee (@Lydia_M1) May 25, 2017
The family reunion with Katy isn't near as happy and exciting as I hoped after a full year 😦 #FairCity

— Ev エブリン (@evelyn_m) May 25, 2017
@Amilia_Stewart knocking it out of the park on #faircity tonight.Just brilliant!!!

— Margaret Barrett (@margaretb2010) May 25, 2017
The twists just keep on coming in #FairCity fair play to @IamSamAtwell & team this storyline is gripping the nation @faircityfans #whatnext

— Philip O'Malley (@philip_malley) May 25, 2017
I know Ciaran was stabbed and fell in the water but I still think we haven't seen the end of him yet😐 #FairCity

— Linda (@Irishlin) May 25, 2017
I won't lie to you I'm a bit underwhelmed with tonights #faircity pic.twitter.com/KrGcAYQ0pv

— Margaret Traynor (@WicklowLiving) May 25, 2017
@RTEFairCity what a storyline it has been & performances by you amazing lot @Amilia_Stewart @Dotknee @unajude @JohnnyWard7 #FairCity 👏🙌❤

— Joanne Farrelly (@jogonecrazy) May 25, 2017
#FairCity if I was missing for a year and I got that reception on my return I'd be gone again....

— P daddy (@paddyrobinson82) May 25, 2017
So they drag out this storyline for 13 months but can't even show us what happened after katy jumped In the water with Ciaran #FairCity

— Sydrian Flames (@Cian_TheFanboy) May 25, 2017
Katy is finally home, in 20yrs time you can say you where part of it, live it, love it, Katy Forever, 😂😂😂 #FairCity

— Pete (@peterwalsh27) May 25, 2017
So she spent an hour looking for him in the water? With all her clothes on? And didn't drown herself?!!! Ah here lads #FairCity pic.twitter.com/LVR35EYsZp

— Cl▲ire D™ (@claireDoyleXX) May 25, 2017
Ok how did we get from the middle of the night and her jumping into the sea and the next day and Katy in Carrigstown?! 😳🙄 #FairCity

— Aoife ☀️ (@A_Smurf) May 25, 2017
Well that was a little mild after all this time #faircity

— Margaret Traynor (@WicklowLiving) May 25, 2017