Actress Aoibhín Garrihy's husband John Burke has been welcomed home to Irish soil and greeted with a hero's welcome in Shannon Airport after becoming the first Clare man to summit Mount Everest.
The couple described the homecoming as "a day we'll never forget".
The 38-year-old hotelier, who wed the Dancing With the Stars finalist in a lavish beachside ceremony near his hometown in September, reached Everest's summit last Tuesday.
"I owe everything to my wife Aoibhín for supporting me on this as it was a huge sacrifice for her to make, and suffice to say that her gift of golf clubs is a hint that's not lost on me," Burke said at Shannon Airport, where he was joined by his wife and family and over 200 supporters.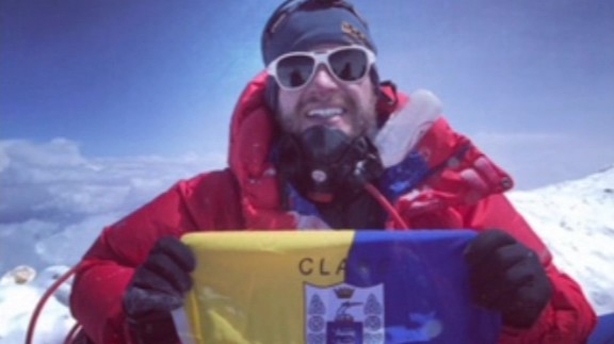 Burke had been preparing for the climb for a number of years and had successfully climbed a number of peaks in Ireland and in Europe and took on the challenge to raise money for the charity Elevate, which he and Garrihy established to promote well-being among young people and provide encouragement to them to reach their potential and follow their dreams in life.
"You need a lot of things to go your way to get to the top of Everest and there was clearly someone up there looking after him," said Garrihy.
A day we'll never forget...thank you to everyone who made it so special ❤️ pic.twitter.com/SewJZc7Cpa

— Aoibhín Garrihy (@AoibhinGarrihy) May 22, 2017
"He was very determined to do this and it's a means to an end for sure as it enables us to talk about an issue very close to our hearts, mental wellbeing."
Burke admitted reaching the top of Earth's highest mountain was no easy feat and previously described his final night on Everest as "hell on earth".
"I witnessed casualties of the mountain first hand, passing the first body soon after setting off," he said in a statement last week.
"I could see the fear of death in the faces of some people close to me. At one stage I had to intervene with a Romanian who seemed to have summit fever, an inability to make a rational decision about turning back," he added.
Garrihy travelled with her husband to Everest Base Camp at the beginning of April and recently admitted that it has been a rollercoaster few weeks for her.
"We focused on the positive all the time but we were aware at the same time of the serious risks involved in climbing Everest," she said. "I was, of course, anxious but also extremely excited for him, the time had finally arrived for his dream to be realised.
"We even got family and friends together for a prayer service in the Armada [Hotel, Co Clare] on Monday ahead of his final push for the summit. I'm so proud of him; it's an incredible achievement. Only 50 percent who try succeed but, more than anything, thank God he's making it back safely," she added.
The Irishman was quick to thank his wife after reaching his goal and dedicated his momentous milestone to her in a video posted to Facebook.
"It's an achievement of a 10-year goal for me. It's been hell on Earth to get here, but I'm here now.
"I want to dedicate this to Aoibhín, my wife, who I love very much.
"I want to thank you Aoibhín, for all the support and all the sacrifices you've made in our relationship," he said.
Watch the video in full below.