Tributes have been paid to Soundgarden and Audioslave singer Chris Cornell, who has died in tragic circumstances in the US at the age of 52.
In a statement to the Associated Press, Cornell's representative, Brian Bumbery, said the vocalist had died on Wednesday in Detroit where Soundgarden were on tour.
"His wife Vicky and family were shocked to learn of his sudden and unexpected passing," said the statement.
"They would like to thank his fans for their continuous love and loyalty and ask that their privacy be respected at this time."
Cornell had performed with Soundgarden in Detroit on Wednesday night and tweeted from the city just hours before his death was announced.
#Detroit finally back to Rock City!!!! @soundgarden #nomorebullshit pic.twitter.com/BqXx9veFoD

— Chris Cornell (@chriscornell) May 18, 2017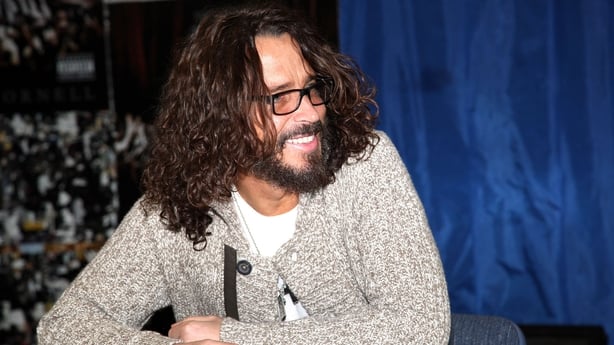 Born Christopher John Boyle (Cornell was his mother's maiden name) to an Irish-American family in Seattle, Cornell was considered to be one of the most talented and charismatic frontmen in rock. In a career spanning over 30 years from the early Eighties, he sang on a handful of classic albums.
"What I look forward to the most...is the camaraderie. It's what we missed when we weren't a band." - @chriscornell pic.twitter.com/yMPqJefoGo

— Soundgarden (@soundgarden) May 16, 2017
With Soundgarden, the Seattle native created two of the seminal albums of the 1990s Grunge era, Badmotorfinger (1991) and Superunknown (1994). Soundgarden's songs Jesus Christ Pose and Black Hole Sun are considered to be two of the rock anthems of that decade.
When Soundgarden split in 1997, Cornell embarked on a solo career and later teamed up with Rage Against the Machine's Tim Commerford, Tom Morello and Brad Wilk to form supergroup Audioslave.
Tom's heartfelt eulogy to @chriscornell #SayHello2Heaven pic.twitter.com/IZJNvAX2c4

— RageAgainsTheMachine (@RATM) May 18, 2017
Soundgarden reunited in 2010 and released their most recent album, King Animal, in 2012. Cornell released his fifth solo album, Higher Truth, in 2015.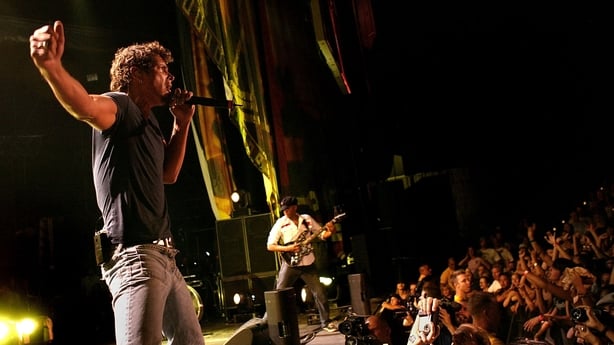 Cornell was also a member of Seattle supergroup Temple of the Dog alongside members of Pearl Jam and the band's shared drummer, Matt Cameron. Temple of the Dog's eponymous 1991 debut - a tribute to late Mother Love Bone singer Andrew Wood - regularly features on 'greatest albums' lists. Temple of the Dog toured last year to mark the album's 25th anniversary.
While Cornell had one of the most powerful voices in rock, there was also a tender, introspective side to his music, beautifully highlighted on the song Seasons from the soundtrack to Cameron Crowe's Seattle-set romantic drama Singles in 1992.
A Grammy winner and Golden Globe nominee, Cornell was also one of the select few artists who had been commissioned to write and record a Bond theme, working with David Arnold on You Know My Name from 007's 2006 comeback Casino Royale. Cornell recently contributed the title track to Irish director Terry George's film The Promise.
Having made his Irish debut with Soundgarden at 1995's Sunstroke festival, Cornell had played Ireland a number of times over the years, with his last Irish show taking place at Dublin's Olympia Theatre in April 2016.
Absolutely gutted, RIP @chriscornell. A huge talent, honoured to have had him on our stage.Beautiful photo by Steve Dempsey @Down_The_Barrel pic.twitter.com/rHwrYLixI4

— The Olympia Theatre (@olympiatheatre) May 18, 2017
He is survived by his wife Vicky Karayiannis and their children, Toni and Christopher Nicholas; and his daughter Lillian Jean from his first marriage.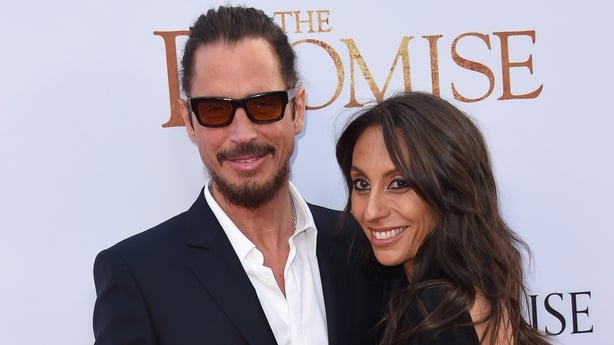 Cornell's fellow musicians and fans have been paying tribute on social media:
Shocked and saddened by the sudden death of @chriscornell. A great singer, songwriter and the loveliest man. pic.twitter.com/Hwdgst8kmg

— Elton John (@eltonofficial) May 18, 2017
Very sad news about Chris Cornell today. A sad loss of a great talent to the world, his friends and family. Rest In Peace. pic.twitter.com/BlgxE6cJLH

— Joe Perry (@JoePerry) May 18, 2017
RIP Chris Cornell
Incredibly Talented
Incredibly Young
Incredibly Missed. pic.twitter.com/pKNI4tKiXz

— Jimmy Page (@JimmyPage) May 18, 2017
RIP Chris Cornell. Damn

— mark lanegan (@marklanegan) May 18, 2017
SO SO stunned to hear about Chris Cornell! Such a terrible and sad loss! Thinking of his family tonight! RIP

— Dave Navarro (@DaveNavarro) May 18, 2017
Chris Cornell's lyrics + voice have loomed large for me since '94. "Fell on Black Days" now playing in tribute. Damn. May he rest in peace. pic.twitter.com/lVSDCJXX9O — Ava DuVernay (@ava) May 18, 2017
I hope it's ok with the grief police if I say Chris Cornell's death has come as an unexpected gut punch this morning.

— Ed Byrne (@MrEdByrne) May 18, 2017
#RIP to one of my biggest influences, Chris Cornell... one of the greatest voices and writers of all time!

— Danny Worsnop (@dannyworsnop) May 18, 2017
Sad 2 hear of Chris Cornell passing..great singer and artist... another blow…RIP — Billy Idol (@BillyIdol) May 18, 2017
RIP Chris Cornell. Chris was the most influential singer to me as a writer. I just saw him perform days ago. Completely devastated

— Mark Tremonti (@MarkTremonti) May 18, 2017
He is the reason I first let go & found my voice at 18. He paid me a compliment on my voice on a stage we shared years later, v sad. Kelly — stereophonics (@stereophonics) May 18, 2017