Portugal's Salvador Sobral has triumphed at this year's Eurovision Song Contest with a jazz-style ballad written by his sister Luisa.
Sobral's win makes it Portugal's very first time to ever win the song contest.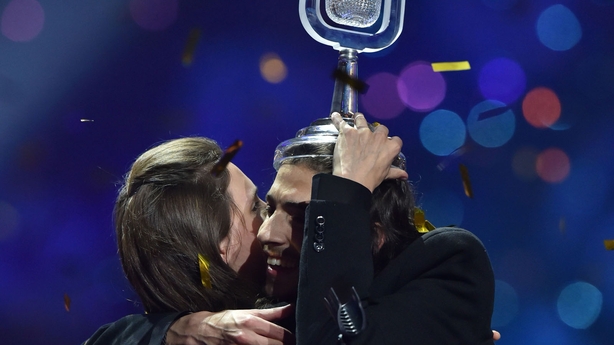 The 27-year-old Lisbon born singer was a firm favourite in the competition from the get-go with his catchy track, Amar Pelos Dois, the title of which means Love for Both being tipped to be a front-runner in the contest.
Congrats to #Portugal on taking home #Eurovision gold! #ESC2017 pic.twitter.com/T9VeaREsXm

— Entertainment on RTÉ (@RTE_Ents) May 13, 2017
Sobral is no stranger to TV and music having previously found fame competing on the third series of Idolos, Portugal's version of Pop Idol in 2009.
His sister Luísa Sobral, who wrote his winning Eurovision track, also competed in the Portuguese contest coming third in the first season.
Salvador was diagnosed with a life-threatening heart condition and was unable to travel to Kyiv for his technical rehearsals for the first semi-finals last week. He is currently awaiting urgent surgery to repair two hernias.
Italy were the bookmakers' favourite to win the competition this year, with Portugal expected to take second place.
By the time it came to the public vote however, Portugal had a firm lead with Bulgaria and Sweden coming in second and third place.
After the public vote, Portugal had secured their lead, with their points totally at 758. Bulgaria remained in second position with 615 points overall, and Moldova took bronze with 374 points.
Portugal have never managed to finish in the top five at Eurovision in 53 years of trying.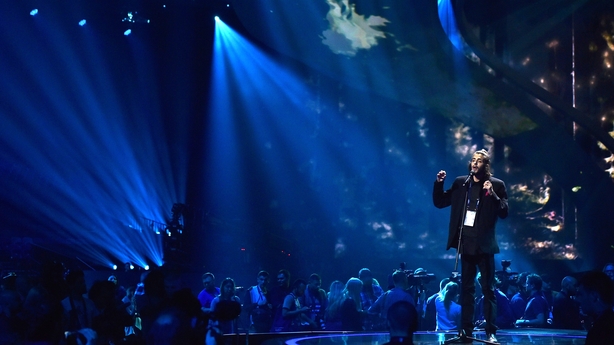 There was a full moon in Kyiv during the show when an Australian audience member invaded the stage during the third interval act which saw last year's Eurovision winner Jamala take to the stage.
A man jumped to the stage and pulled down his shorts, before wiggling around and then retreating.
See all of the action from Eurovision 2017 as it happened here!
A similar incident occurred in Norway in 2010 when the Spanish entry had to perform for a second time following a stage disturbance. Dressed in a hat to match the backing dancers' distinctive outfits, an imposter joined them on stage before being removed by security.
Meanwhile during Saturday night's show, viewers expressed their disappointment that the contest's theme "celebrate diversity" was not reflected in the acts or hosts chosen.
"Thank you for celebrating diversity tonight!" #Eurovision pic.twitter.com/Uj9G2prgao

— Declan Cashin (@Tweet_Dec) May 13, 2017
This year the organisers picked diversity as the idea they wanted to see expressed in performances but with a team of three white male presenters in Kyiv and an overwhelmingly white roster of performers, viewers were left wondering what had gone wrong.
One person tweeted: "This is the whitest celebration of diversity I've ever seen. So many different types of white. #eurovision"
Someone else asked: "#Eurovision what exactly happened to the diversity you were meant to be celebrating?!"