There were horses atop ladders, sassy Queens, terrified teenagers and a very, very intense-looking Hozier doppelgänger...
The first Eurovision Semi-Final served up the usual cacophony of silliness, show-stoppers and surprises as the first ten songs qualified for Saturday's Grand Final in Kyiv.
Three of the competition frontrunners, Sweden, Portugal and Armenia, sailed into the final with very memorable performances.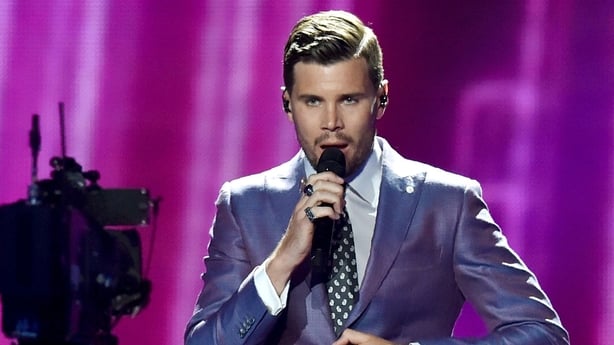 However, there was a very tense wait for fan-favourite Belgium which had to tough it out until the end to find out that it had made the cut.
Before last week's rehearsals began, Belgium was one of the bookies' favourites. However, 17-year-old Blanche saw her odds lengthen massively from 8/1 to 80/1 after a very shaky first performance of City Lights and some questionable staging.
During Tuesday night's semi-final she was visibly nervous, but managed to finish the song well.
Nervous start but good finish from Belgium's Blanche. Super song too! #esc2017 #eurovision2017 pic.twitter.com/VZEuzdpDDR

— Entertainment on RTÉ (@RTE_Ents) May 9, 2017
The biggest cheer, though, went to Portugal after it clinched the fifth qualifying slot for the Grand Final.
The touchingly old-fashioned ballad, Amar Pelos Dois, is sung with a huge amount of intensity by Salvador Sobral, who suffers from a serious heart condition and is awaiting a transplant.
He has now placed himself firmly in contention to win the Eurovision title, and if he does it will be the first time that Portugal has taken home the crown since it started taking part way back in 1964.
Portugal's Salvador Sobral was one of the highlight's of the night so far #esc2017 pic.twitter.com/ymyHDtjPLk

— Entertainment on RTÉ (@RTE_Ents) May 9, 2017
Also going through to the final were Australia, Azerbaijan, Cyprus, Greece, Moldova and Poland.
We need your consent to load this YouTube contentWe use YouTube to manage extra content that can set cookies on your device and collect data about your activity. Please review their details and accept them to load the content.Manage Preferences
Azerbaijan's performance was the most talked about of the night and featured a hefty slice of the surreal.
The bonkers staging involved a man on a step ladder with a horse's head while the singer pranced about drawing on a blackboard - and the rest of the group. 
Part Brechtian nightmare, part student art-project, it is certainly one to watch out for next Saturday.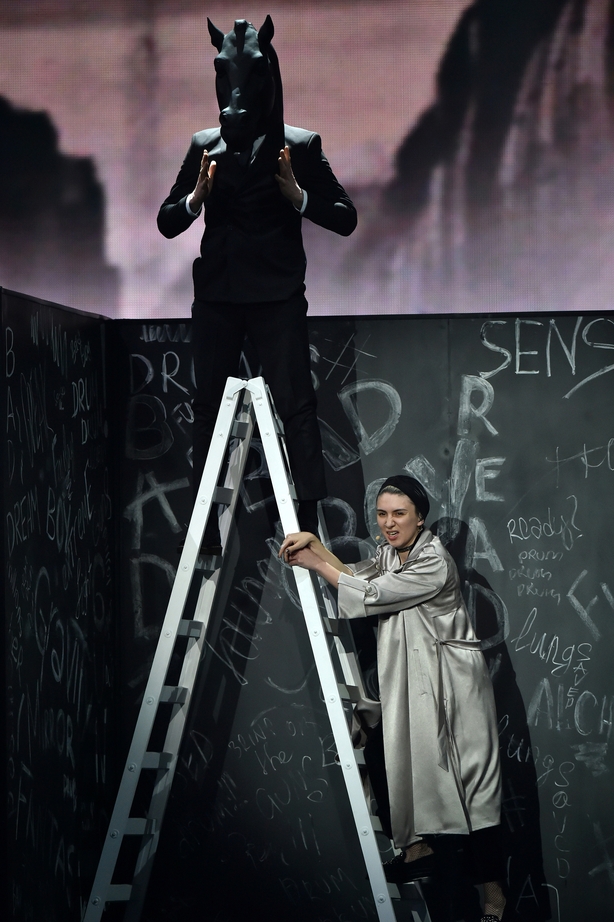 There was plenty of fun, too, from Moldova whose infectious song, Hey Mamma, had a sax break worthy of My Lovely Horse and was delivered with just enough polish and knowing energy to win over the sceptics.
One of the biggest ear-worms in the competition, it's set to do well in Saturday's final.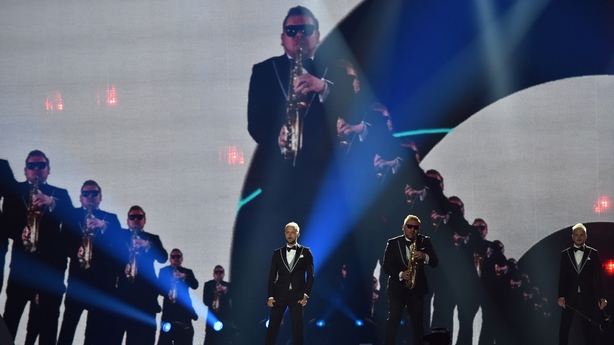 But the big surprise from Tuesday's semi-final was the failure of both Georgia and Finland to qualify.
Georgia's Tamara Gachechiladze delivered probably the best vocal performance of the night with her song, Keep The Faith, a soaring Bond-Theme number.
Holy mother! This was truly epic stuff. Good job #Georgia. Based on that performance should get through #eurovision #esc2017 pic.twitter.com/IMSHlW3bfa

— Entertainment on RTÉ (@RTE_Ents) May 9, 2017
Finland's haunting ballad, Blackbird, performed by duo Norma John, was also considered one of the standout songs in the semi.
However, it failed to win enough support from both the public and juries, with the result that Finland failed to qualify for the third year in a row.
There was disappointment, too, for the self-proclaimed 'Queen' of Eurovision, Montenegro's Slavko Kalezić.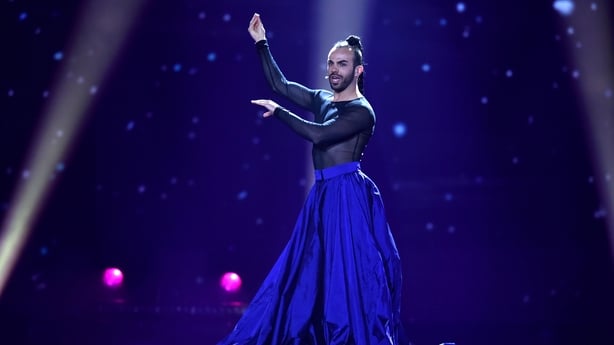 His sassy moves, including whipping his trademark plait, and outré lyrics ("Linen is covered with feathers, Wet dreams, wild nightmares, I surrender") had made him a firm fan-favourite, however their support wasn't enough for him to secure a place in the final.
Ireland will compete in Thursday night's second semi-final when Brendan Murray sings Dying to Try. Ten more countries will again go through with Macedonia, Hungary, Netherlands and Bulgaria among the big guns on the night. 
Eurovision Song Contest Semi-Final, Thursday, RTÉ2, 8pm