Samantha Mumba has admitted she likes to indulge in unhealthier fare when she's back home in Dublin - mainly because all the bad things taste better here than in Los Angeles!
The singer, actress and TV presenter splits her time between her hometown of Dublin and the Californian city where she lives with her husband of four years, Torray Scales, and their two-year-old daughter Sage.
The Gotta Tell You hitmaker, who is an unabashed food lover, was filming for the new RTÉ Player series Chef Adrian Eats Ireland.
She told RTÉ LifeStyle's Soraiya Ryan: "My food is completely different and it's not even necessarily a health thing, it's just my taste preference.
"I'm a carb girl, I need my carbs, I love sliced bread [in Ireland] but I hate it in the States, it doesn't taste good and it lasts for like a month and I'm like 'Eugh, what's in that?!'
"So I'd be healthier [in the States] just by mistake I suppose because I don't like lot of the stuff that I would love at home."
Mumba went on to say that as well as avoiding the bread Stateside, she would also be less likely to chow down on greasy breakfast foods like bacon or sausages.
And don't even get her started on American chocolate. "I don't like American chocolate, I love Irish chocolate, it's just better!" she said with a laugh. We couldn't agree more.
The 34-year-old star previously took part in Celebrity MasterChef, but it doesn't sound like she's trying to carve out a career in cooking any time soon.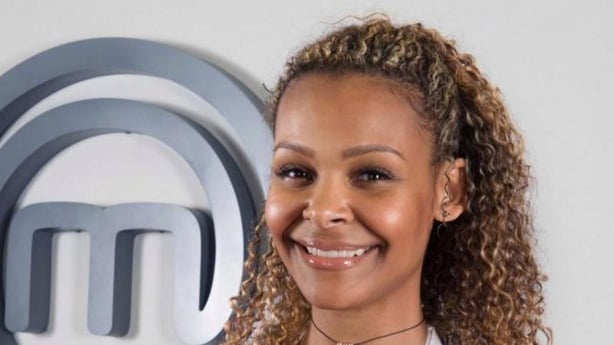 "I genuinely love to cook just for my family," she said. "The MasterChef thing came about because I loved the idea of getting to learn from pros, and getting tips and tricks, and it has completely changed how I'll cook forever, so that's been amazing.
"In terms of Chef Adrian, it's just fun and I think he's great. It was just something fun to do. I've no aspirations of being 'Chef Mumba', I just like to eat I think.
"That's the overall common theme, anywhere I can go and I can eat I'm pretty much there", she added laughing.
Chef Adrian Eats Ireland will see Mumba and a host of famous guests, including Mateo from First Dates Ireland and Fair City star Jenny Dixon, get some top notch cookery tips from the up-and-coming Irish chef.
In the new online series, Chef Adrian searches high and low for the best places to eat the food he loves across the country, and then shows you how to make his own version at home.

Watch the show on the RTÉ Player here.