Liam Neeson found time to sandwich a visit to a Canadian deli into his schedule after it offered him free food while filming in British Columbia.
When the Big Star Sandwich Co in Westminster, British Columbia heard that the Taken star was working on his new thriller Hard Powder in the area, the staff put up a sign up outside saying, "Liam Neeson Eats Here for Free."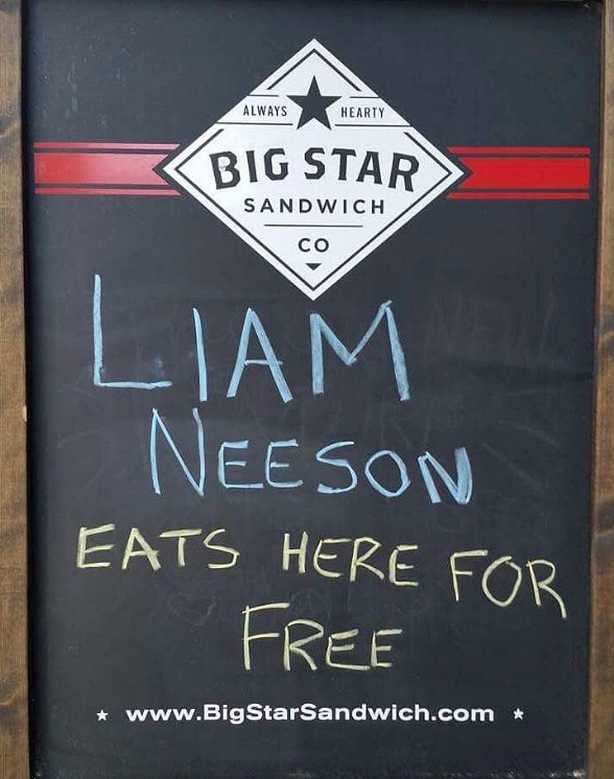 The news got back to Neeson, who decided to pay a visit.
Holy f**k, it worked! #LiamNeeson pic.twitter.com/CStddcrtYj

— Big Star Sandwich Co (@bigstarsandwich) May 3, 2017
Speaking to the Canadian Broadcasting Corporation, Big Star Sandwich spokesman Alex Johrden said Neeson had asked: "Where's my sandwich?" in the voice of his no-nonsense Taken character, Bryan Mils.
While Neeson didn't take the eatery up on their offer, he posed for photos with staff and now has a sandwich named in his honour.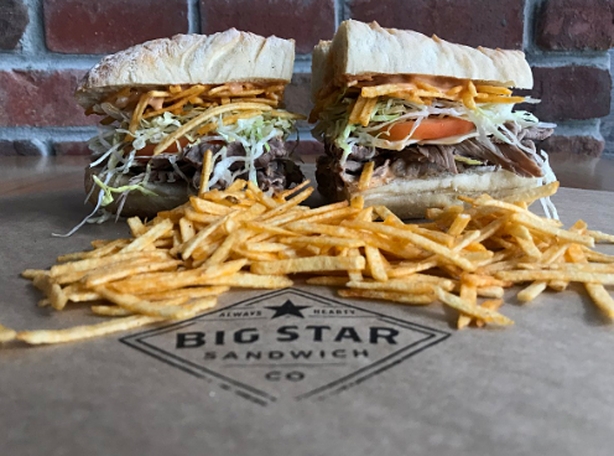 Johrden said The Neeson was the perfect name for the sandwich because it has "a lot of beef, a one-two punch of bacon and hickory sticks and spice that will get revenge on you tomorrow."
Big Star staff are now hoping that Neeson will find them (again) and eat his namesake before he finishes work on Hard Powder.
Of course, the wags ate it all up on social media:
@bigstarsandwich @KyleKulinski I hear you guys have a very particular set of grills

— William Fry (@frywill) May 4, 2017
@bigstarsandwich Eat in? Or Taken out?

— Daniel Fortin (@dfrtn) May 3, 2017
@BrettSBaker @DrJenGunter @bigstarsandwich @ivortossell Did he order a TLT? (Taken, lettuce, and tomato)

— tjsimplot (@tjsimplot) May 4, 2017
@bigstarsandwich @ivortossell "What I have is a very particular sandwich order. An order that makes me a nightmare for ppl like you. If you srv me I will not pursue you."

— Brett Baker (@BrettSBaker) May 3, 2017
@bigstarsandwich @TheresaMcManus Was his order #Taken?

— Bruce Wayne (@mstad101) May 3, 2017
Hard Powder is a remake of the Norwegian film In Order of Disappearance and tells the story of a snowplough driver out for revenge against the drug dealers he believes are responsible for his son's death.
The film, which also stars Laura Dern and Emmy Rossum, sees Norwegian director Hans Petter Moland back behind the lens for the English-language version of his movie and will be released in cinemas next year.