There were moments of absolute magic at Ed Sheeran's second of two sold-out concerts in Dublin's 3Arena on Thursday night, with the musician showcasing yet again his incredible one-man show.
The first time I saw Ed live was in the same venue in 2014 and it was one of the most incredible gigs I've ever been to. I was blown away by his outstanding talent and his ability to make such a large venue seem so intimate. He had us all on the edge of our seats, listening to every single word that left his mouth, and when he commanded it, the venue fell silent; we were in the palm of his hand, and it was stunning.
It was one of those shows that could turn an ambivalent listener into a real fan, and I couldn't help but marvel at the fact that he was doing it all by himself.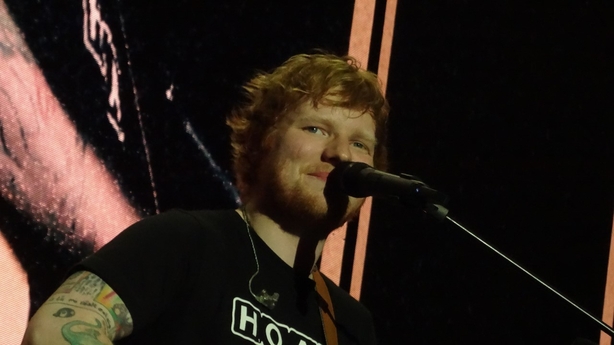 While this show was, by most other artist's standards, a triumph, it lacked that special something that made previous Sheeran concerts seem almost otherworldly. Don't get me wrong, at no stage did he drop the ball, hit a bum note, or fail to engage the crowd - he was excellent, but there was something different in the air. Expectation, perhaps.
The set list was jam-packed full of new material, which was exciting in the way that hearing a song live for the first time gives it extra energy and meaning, but it did detract from some of the most exhilarating moments of gigs gone by.
He did a great job, I had a great time, but it left me with the impression that perhaps his new album is more enjoyable in record form that in the live arena, where his back catalogue tends to excel.
There were moments of sheer magic however, with Bloodstream providing an almost out-of-body experience. Hearing the line "all the voices in my mind calling out across the line" chanted by almost 10,000 people, with their combined volume rivalling Sheeran himself, was unforgettable. Electricity flowed through the crowd and sent shivers down my spine.
getting to play Nancy Mulligan and Galway Girl today and yesterday with @beogamusic in Dublin was something else

— Ed Sheeran (@edsheeran) April 13, 2017
Galway Girl live was always going to be a huge moment, and no doubt it will be for every single Ed Sheeran concert in Ireland for the duration of his career, but when trad group Beoga joined him on stage, the crowd really let loose. I'm not a huge fan of the song itself, but in the live setting it was impossible not to sing along and dance. He incorporated a verse of the original Galway Girl into his own song's intro which played extremely well.
Taking us through new songs like Happier, Dive and Eraser, and mixing in huge hits like A Team, Thinking Out Loud and Sing, Ed covered all bases – even throwing in a very brief cover of Rag'n'Bone Man's Human at the beginning of I See Fire – but it was a mash-up of Don't and New Man that was the highlight for me.
Lyrically, there are few that can beat Ed Sheeran. His new album is genius in that department, and it's always been his strong point. Mixing his two hilariously cutting diss-tracks together was phenomenal. So much sass, so much feeling, and the crowd loved it.
getting to play Nancy Mulligan and Galway Girl today and yesterday with @beogamusic in Dublin was something else

— Ed Sheeran (@edsheeran) April 13, 2017
Having penned some outstanding love songs, it was no surprise to see a few proposals take place during the concert and Ed seemed truly overwhelmed with emotion by the first one as he sang Perfect.
He gushed to the crowd that even if the song doesn't perform in the charts, it will be immortalised for that couple forever and that his music will live on in people's memories even after his death, and sure that's the beauty of it all.
You know it's a good concert when your only complaint is that it wasn't as good as one you've been to previously – which was just spectacular. He really can do no wrong, it was a thoroughly enjoyable show, and I'd never turn down a chance to see him perform.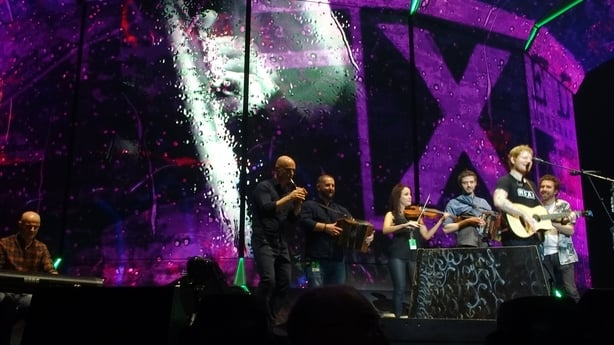 Finishing up with You Need Me, I Don't Need You, he left us all wanting more. I could have stayed in the 3Arena for at least another hour if he would've kept playing. Energetic to the end, and crowd-pleasing to a fault, if you're an Ed Sheeran fan you need to see him live, and if you're not, attending might just turn you in to one.
We need Ed, and he needs us – he seemed to be having the time of his life on stage and more than once labelled the Irish crowd his favourite to play for (we're sure he's not just saying that). It's no doubt that he has an affinity for Ireland and he ended the gig by promising to be back again next year – so start bracing yourselves for the ticket scramble now!
Sinead Brennan
Set list:
Castle on the Hill
Eraser
A Team
Don't
New Man
Bloodstream
Happier
I'm a Mess
How Would You Feel (Paean)
Human (cover)/I See Fire
Perfect
Sing
Thinking Out Loud
Galway Girl (cover)/Galway Girl
Nancy Mulligan
Encore:
Shape of You
You Need Me, I Don't Need You