There's no denying that Ireland has taken Ed Sheeran to its heart and it seems the love is mutual as proven with the inclusion of two very Irish influenced tracks, Galway Girl and Nancy Mulligan, on his new album.
To mark his two gigs in Dublin's 3Arena this Wednesday and Thursday, we reveal the top ten reasons why the singer-songwriter is practically one of our own.
10. He's as ginger as they come
The popstar is well-known for his flaming locks, which he was bullied for as a child. If they're not a testament to his Irish "roots", we don't know what is.
9. His family are Irish
Ed's grandparents hail from Gorey in Co. Wexford (Nancy Mulligan is, in fact, his granny), while his Galway cousin, Laura Sheeran, is also a musician. He makes sure to schedule family time when he pops over to Ireland for a visit, and was the guest of honour at Laura's wedding in Spiddal.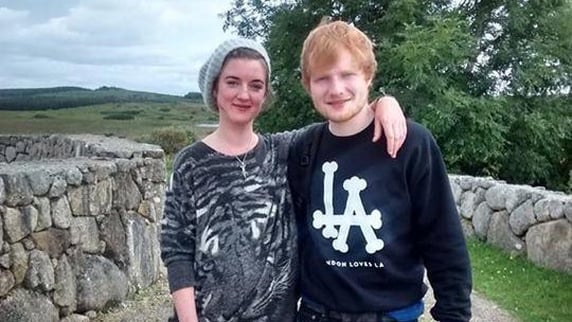 8. He's mates with Niall Horan and Snow Patrol's Johnny McDaid
Ed wrote the One Direction song Little Things and has been pictured having the craic with Niall Horan.
Ed is also good pals with Snow Patrol's Johnny McDaid, who collaborated with him on his smash hit, Photograph. Last year, when Johnny's sister was getting married in Derry, Ed helped to serenade the happy couple. Not a bad wedding pressie, eh?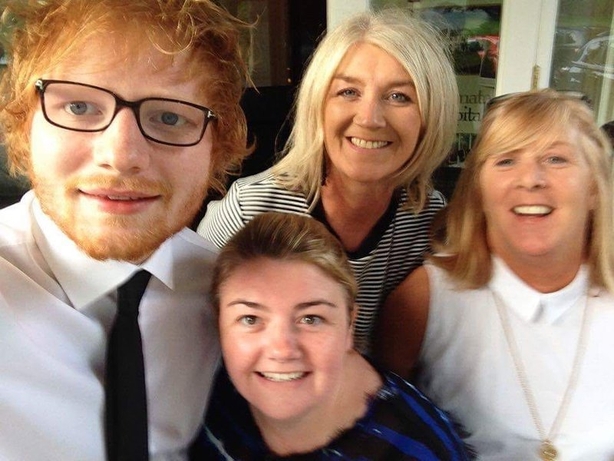 7. He plays the bodhrán
The video for Ed's song, Photograph, shows him playing various different instruments - including the traditional Irish bodhrán. Good man yourself.
6. He's Mr Down-to-Earth
Ed is always modest and friendly in interviews, and in typical Irish fashion, loves making self-deprecating jokes.
They told me it was sold out, but no ones turned up yet pic.twitter.com/vQyXFdniY9

— Ed Sheeran (@edsheeran) July 10, 2015
5. He wants to live here some day
While Ed is always on the go, he told RTÉ 2fm two years ago that he would "move [to Ireland] in a heartbeat if the opportunity presented itself".
Then, of course, there was that appearance in Croke Park two years ago with a GAAGo shirt which made its way into last year's Bridget Jones movie.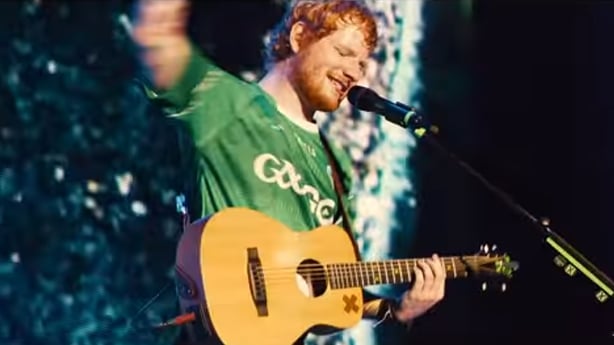 4. That Late Late Show appearance was adorable
Ed won over the hearts of everyone in Ireland when he surprised 11-year-old Aimee Keogh on the Late Late Show three years ago. The excited fan's reaction was priceless:
3. He used to busk in Galway
Ed Sheeran wasn't always a star. As a teenager, he busked on the streets of Galway for a bit of pocket money. Check out the Photograph video for more.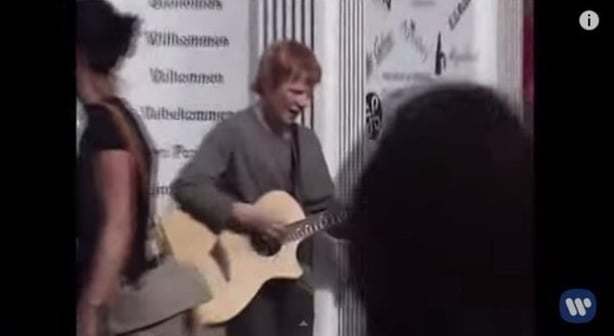 2. He's a bleedin massive Love/Hate fan
The singer has claimed he is "obsessed" with the show and posted a picture on Instagram of him spending time with actor Tom Vaughan-Lawlor. "I was instantly hooked in and I want Nidge to be my best mate. I can do a Nidge impression - it's just a lot of nodding and saying Trish," he added.
1. He loves playing concerts here
Whether it's an intimate gig in Whelan's or a massive show in the likes of Croke Park or the 3Arena, Ed is guaranteed to be excited to play over here, saying, "I always love coming back to Ireland. Irish audiences are among the best in the world." Aww.