The Thor: Ragnarok trailer has become Marvel and Disney's most viewed trailer over 24 hours, smashing the previous record holder, Beauty and the Beast.
It became not only the most viewed Marvel trailer in that time period, but the most viewed trailer across all of the studio's brands, including Disney, Pixar and Star Wars.
This November, Thor: Ragnarok. Watch the teaser trailer now. pic.twitter.com/ppOx0fwdv9

— Disney (@Disney) April 10, 2017
The upcoming superhero film from New Zealand director Taika Waititi garnered 136 million views in 24 hours after being unleashed on Monday, comfortably beating Beauty and the Beast's 127.6 million.
Star Wars: The Force Awakens was viewed 112 million times in that time frame while Captain America: Civil War held the previous Marvel record with 94 million views.
However, the superhero flick doesn't hold the all-time record for the most viewed trailer, which is currently held by the trailer for New Line's adaptation of Stephen King's It, which was viewed 197 million times in 24 hours.
There is considerable buzz around the latest Thor outing, not least because of Waititi's original take on the superhero franchise, which he has decided to set outside the Marvel universe.
The director, best known for his 2016 breakaway indie hit Hunt for the Wilderpeople and vampire mockumentary What We Do in the Shadows, was an refreshing choice to head up the Marvel property, and fans are welcoming his new approach with open arms.
The big budget flick has been teased with a series of hilarious short mockumentaries starring Chris Hemsworth's Thor alongside his long-suffering flatmate Darryl.
Thor: Ragnarok also stars Hollywood big-hitters Cate Blanchett as the powerful villain Hela, who destroy's Thor's hammer with one hand in the trailer, and Jeff Goldblum as Grandmaster, who has delighted fans with his impressive quiff and flamboyantly made up face.
The trailer also gives viewers a glimpse of Tom Hiddleston's returning character Loki and Mark Ruffalo's Incredible Hulk, who Thor greets with the hilarious one-liner: "He's a friend from work!"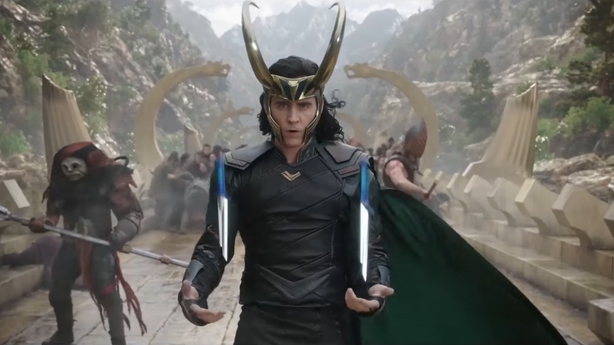 The trailer has been greeted with much enthusiasm online, see a look at some of the reactions below.
EVERYTHING ON TWITTER IS BLEAK AND--

Thor trailer

EVERYTHING IS SAD AND--

Watches Thor trailer again

....

Heh. He's a friend from work

— Tom Taylor (@TomTaylorMade) April 12, 2017
me in bed, lovingly gazing at family photo: goodnight mom & dad
me, lovingly gazing at this pic next to it: goodnight Thor Ragnarok trailer pic.twitter.com/NLTGPh9E1m

— your pal ched (@royalpizzaboy) April 12, 2017
My favorite part of the Thor trailer is Jeff Goldblum just straight up playing Jeff Goldblum.

— Erica Henderson (@EricaFails) April 11, 2017
That #THOR trailer was absolute perfection. BRB have to go watch it and nothing else over and over again until the movie comes out...

— Clarke Wolfe (@clarkewolfe) April 11, 2017
I have but one complaint regarding the new Thor trailer. That much awesomeness should last longer!

— Dan Jurgens (@thedanjurgens) April 10, 2017
Everyone's transition from waking up on a Monday to then seeing the Thor Ragnarok trailer. pic.twitter.com/vX21H3UyuJ

— Daniel (@dan_man4) April 10, 2017
It's funny how we all expected some dark , intense trailer for thor ragnarok but it's actually fun & unexpectedly amazing?

— wiss ☄ (@irommans) April 10, 2017
That Thor trailer giving me Guardians of the Galaxy vibes and my body is ready

— aaron burr, sir (@KimAshley__) April 10, 2017
Me: good mor-

*my elderly grandmother slaps me awake*

Gran: HAVE YOU SEEN THE NEW THOR TRAILER

— Connor MacDonald (@SamuraiCorndog) April 10, 2017
i have no real interest in the Thor movies, but that new one's trailer's use of music and typography have sold me.

— ɌUΔIΓI (@rubot) April 10, 2017
"How's work"
"Have you seen the Thor Trailer"
"You're supposed to be working"
"Thor trailer"
"We have a deadline"
"I'm gonna watch it again"

— TechnicallyRon (@TechnicallyRon) April 10, 2017
@MarvelStudios Me: not completely sold

Thor Trailer: Jeff Goldblum

Me: I need to see this immediately

— Mary (@QuiteeContrary) April 10, 2017
I can't believe the Thor trailer actually starts with

*record scratch"

"That's me, you're probably wondering how I ended up like this" pic.twitter.com/cGTfl2aWYD

— Kieran Shiach (@KingImpulse) April 10, 2017
..