Liam Neeson has reflected on the loss of his wife Natasha Richardson saying he threw himself into his work after her death as he didn't want their sons to see him "wallowing in sadness or depression."
Richardson died in 2009 from injuries sustained in a ski accident, and Neeson said reprising his role in Love Actually for the short Comic Relief reboot this year has made him reflect on her passing and how everyone's lives have changed in the 14 years since the original.
"It's 14 years ago now and we've all lived lives," Neeson told Entertainment Weekly. "Some of us have died. Oh, my dear friend Alan Rickman, God rest him. Some have gotten divorced. I've lost my wife.
"And, oh, sure, plenty of times I've thought about this film and my own life. Love Actually, that's the way it is. That's the tapestry of life."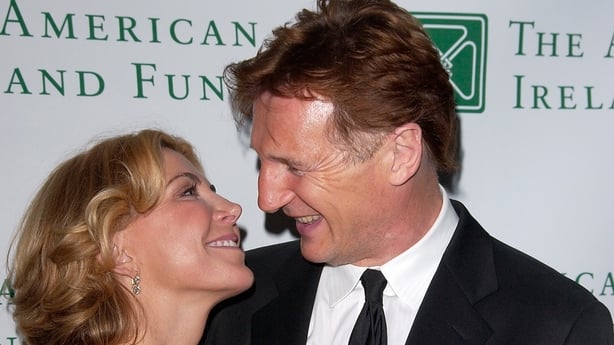 The 64-year-old actor said he threw himself into his work after Richardson's death because he didn't want their sons Michael (21) and Daniel (20) to see him wallow.
"I'm not good without work. I just don't – I just don't wallow too much. You know? And I just didn't want to – especially for my boys – seem to be wallowing in sadness or depression," he said.
Speaking about his ongoing struggle to process his loss, he said, "It hits you, it's like a wave. You just get this profound feeling of instability... The Earth isn't stable anymore and then it passes and it becomes more infrequent, but I still get it sometimes.
"[Her death] was never real. It still kind of isn't. There are periods now in our New York residence when I hear the door opening, especially the first couple of years... Any time I hear that door opening, I still think I'm going to hear her."