Bob Dylan will finally receive his Nobel Literature Prize this weekend in Sweden after he ruffled feathers by not accepting the award in person from the Academy late last year.
At the time, the Swedish Academy said that the singer-songwriter informed them "he wishes he could receive the prize personally, but other commitments make it unfortunately impossible."
They also acknowledged that it "respects" the musician's decision, calling the move "unusual, but not exceptional."
BREAKING 2016 #NobelPrize in Literature to Bob Dylan "for having created new poetic expressions within the great American song tradition" pic.twitter.com/XYkeJKRfhv

— The Nobel Prize (@NobelPrize) October 13, 2016
Dylan, who is set to play two gigs in Stockholm over the weekend ahead of a show in Dublin in May, was awarded the literature prize in October 2016, with the panel citing his work with "having created new poetic expressions within the great American song tradition". 
He became the first songwriter to ever win the prize and is the first American recipient since Toni Morrison in 1993.
A blog entry from Prof Sara Danius, the permanent secretary of the Swedish Academy, has confirmed that the 75-year-old musician will accept the award this weekend.
"The good news is that the Swedish Academy and Bob Dylan have decided to meet this weekend."
"The Academy will then hand over Dylan's Nobel diploma and the Nobel medal, and congratulate him on the Nobel Prize in Literature.
"The setting will be small and intimate, and no media will be present; only Bob Dylan and members of the Academy will attend, all according to Dylan's wishes."
Dylan however won't deliver the traditional Nobel lecture this weekend, instead a taped version is expected to sent at a later date. In order to claim the prize, which is worth €822,500, Dylan needs to give deliver the lecture by June.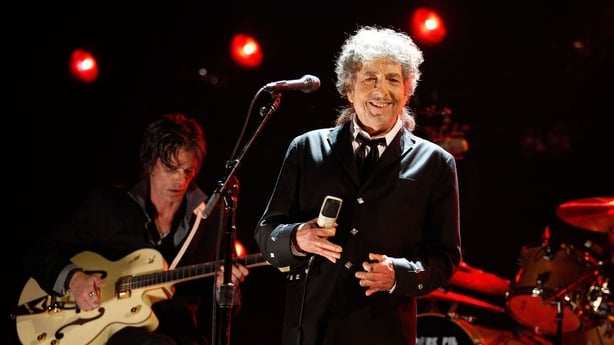 In 2008, Dylan won the Pulitzer Prize for his "contributions to music and American culture".
His recent status as a Nobel winner came as a surprise in a field dominated by more established literary figures, such as recent winners Doris Lessing and Alice Munro, and Séamus Heaney, who won in 1995.