Viewers have praised Rio Ferdinand's emotional BBC documentary Rio Ferdinand: Being Mum and Dad, saying the former footballer is "incredibly brave" for tackling issues of grief and raising his children alone.
The former Manchester United player opened up about his wife Rebecca Ellison, who died in May 2015 aged 34 after a battle with breast cancer, leaving him a widow with three young children to raise.
"I love my wife more than anything," he said. "Me and Rebecca, we had an unbelievable relationship."
The heartbreaking documentary resonated with viewers as Ferdinand embarked on a journey to get advice about loss, grief and moving on and how to honour Rebecca's memory with their children, Lorenz, 10, Tate, eight and Tia, five.
This hit me hard 😰😭 #BeingMumAndDad pic.twitter.com/ycDwIe8CKV

— Jasmin Stork (@JasminStork) March 27, 2017
The sports star broke down in tears when he said he worried about his two sons, who he struggled to talk to about their feelings about their mother's death.
He said: "I worry about all of them but I just can't get anything out of the two boys. I want to help them and for them to be able to talk so I know they're alright, as I don't know right now. They talk about memories, but I don't hear feelings."
After talking to other widowers and health care professionals, the 38-year-old said he managed to "switch it from dark to bright"
Ferdinand started a memory jar that acts as a conduit for the children and himself to talk about Rebecca. 
He said: "It kind of opened everything up and it was a beautiful moment just seeing them talk happily and being joyful about their mum rather than it being sad and negative moments."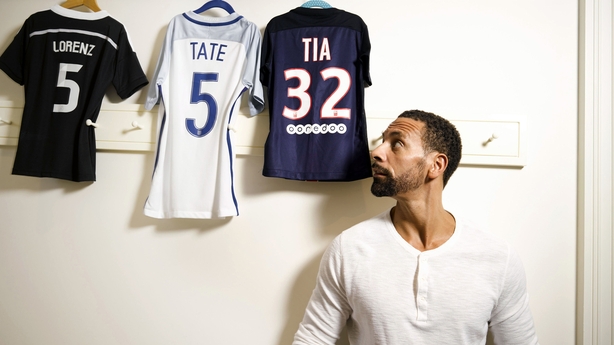 The highly-emotional documentary struck a chord with viewers who took to social media to praise Ferdinand for his bravery and honesty.
I have so much respect for @rioferdy5 for speaking so openly & honestly. What a genuinely amazing and inspirational man! #BeingMumAndDad

— Maddison Pike (@MaddisonXPike) March 28, 2017
So much respect for Rio Ferdinand and those Dad's who have lost their wives/children. This is heartbreaking to watch 😢 #BeingMumAndDad

— Dan Clifford (@DanCliffordCTFC) March 28, 2017
Just finished watching #BeingMumAndDad. @rioferdy5 showing that it's okay to ask for help.

— Antony Cotton (@antonycotton) March 28, 2017
Rio's doc was real, it was honest. It was more than a tear jerker. It showed why Rebecca knew their kids would be alright #BeingMumAndDad

— Paula☮ (@T_skll) March 28, 2017
I can't put into words the respect I have for what @rioferdy5 has just done, truly heartbreaking, you're an amazing father, #BeingMumAndDad

— Mr DT © (@MrDtAFC) March 28, 2017
#BeingMumAndDad such a touching documentary putting life into perspective ❤️ @rioferdy5

— Jack Grealish (@JackGrealish1) March 28, 2017
#BeingMumAndDad @rioferdy5 What a beautiful film. A tribute to the power of honest communication. Well done mate.

— Russell Brand (@rustyrockets) March 28, 2017
Hats off @rioferdy5 - beautiful, heartbreaking, touching piece of television. So important to talk about grief/mental health #BeingMumAndDad

— Ben Jones (@Benjamin_JJones) March 28, 2017
Incredibly brave. Well done @rioferdy5 and all involved. Powerful. #BeingMumAndDad

— Joseph Barton (@Joey7Barton) March 28, 2017
Crying watching @rioferdy5 programme. I just can't imagine how painful it would be to lose your partner & so young. 😢😓 #BeingMumAndDad

— Maria Fowler (@MariaFowler) March 28, 2017
Truly heartbreaking. Massive respect for @rioferdy5 for doing this documentary. So moving💔#BeingMumAndDad

— ELLIS (@ellisfassett) March 28, 2017
Incredibly emotional. Incredibly brave @rioferdy5 for being vulnerable and honest in your grief. Thank you for #BeingMumAndDad

— Anna Richardson (@AnnaRichardso) March 28, 2017
...