Mrs Brown and singer-songwriter James Blunt really did get tongues wagging as they gave in to their mutual attraction in the first episode of All Round to Mrs Brown's on Saturday night.
Blunt was the surprise musical guest in the opening show, but he gave the 'Hostess with the Most Effs' and the audience a lot more than they bargained for.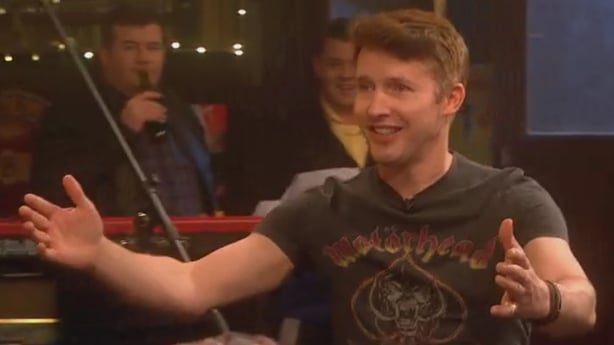 Introduced as "the nicest, kindest young man that I've ever seen in my life", Agnes gushed about Blunt's talents before bringing him back down to Finglas by telling him "I don't understand why everyone thinks you're a w******".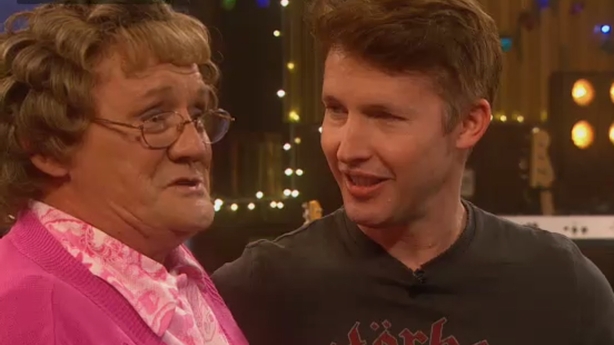 Blunt's response, which saw him holding up his (free) hand and admitting to enjoying what he had been described as, was one of the telly moments of the year. 
But there was better on the way...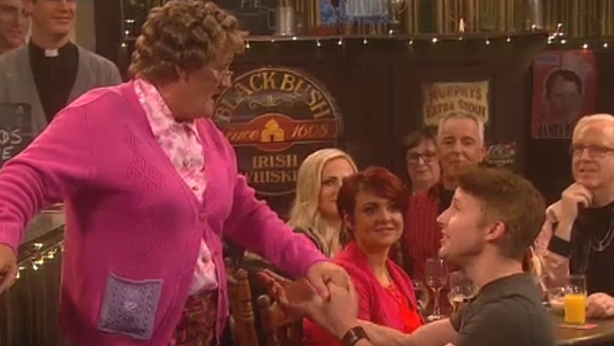 After serenading Agnes with Fly Me to the Moon, Blunt moved in to seal the deal - and brought the house down.
We need your consent to load this Facebook contentWe use Facebook to manage extra content that can set cookies on your device and collect data about your activity. Please review their details and accept them to load the content.Manage Preferences
When she had somewhat recovered her composure, Agnes bestowed another accolade upon Blunt - "the hottest tongue" - before he performed his new single.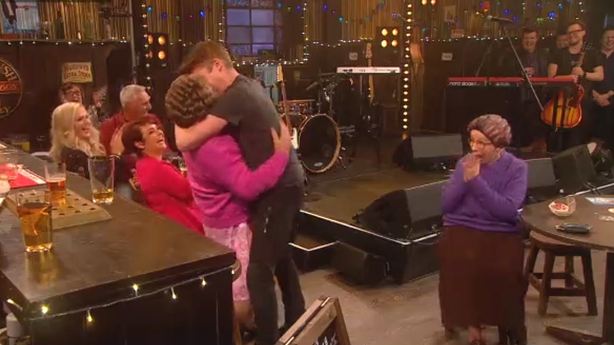 "James Blunt was amazing," said Ireland's most (in)famous mammy afterwards. "His tongue tickled my throat. I don't know why people have a problem with him - I'd shag him! There's a little hope resides in my head that he'd shag me!"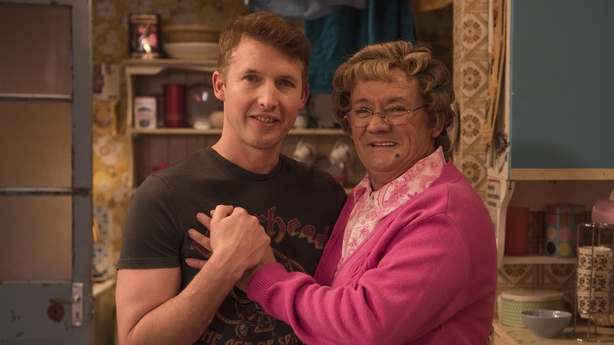 Mrs Brown also revealed that the other two singers she fancies are Ed Sheeran and Daniel O'Donnell - they've their work cut out to better Blunt's performance if they appear on the show.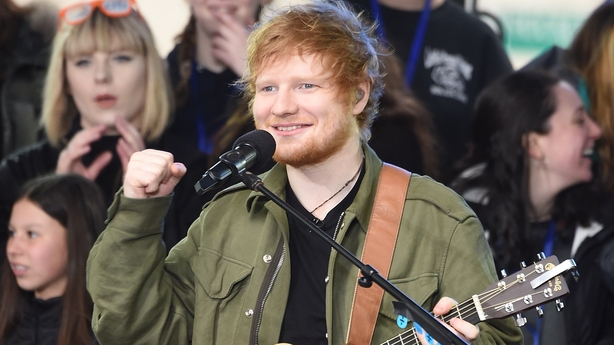 All Round to Mrs Brown's, Saturday, RTÉ One and BBC One, 9.15pm
Read our review of All Round to Mrs Brown's here.
Here's a selection of what people have been saying:
#ARTMB Was brilliant, me and Mum were in stitches. Well done @brendanMrsBrown @JennyGibney ,can't wait for next week 😂

— Sarah-Jane Kinder (@sarah_kinder76) March 25, 2017
What a load of shite!! #ARTMB

— rod (@Mcrods12a) March 25, 2017
#AllRoundToMrsBrowns literally had my gran and grandad in stitches, laughing so hard they fell off the couch @MrsBrownsBoys #ARTMB 😂

— ✯ⓈⓄⓅⒽ✯ (@SophHutto) March 25, 2017
I think we can all agree it's a crazy world, but there is nothing more baffling than the continued popularity of mrs brown's boys

— Ken Doyle (@JohnQJesus) March 25, 2017
Everyone needs to watch the new Mrs.Brown Show it's brilliant!!!

— Gràinne Skehan (@grainne_skehan) March 25, 2017
@MrsBrownsBoys move over Ant and Dec!!! 💙💙 love your box Agnes 😂#ARTMB great tongue action @JamesBlunt #JamesBlunt

— Cathy Dalton (@Catsd13) March 25, 2017
Mrs brown was shameful tonight... But give @JamesBlunt his own show.. kissing mrs brown has to have a positive effect on his career... Wtf?

— olivia hynes (@elliottsma) March 25, 2017
@JamesBlunt on @MrsBrownsBoys is absolutely hilarious 😂😂😂 sticking the lips on Agnes 😂😂#ARTMB

— David (@drafferty1993) March 25, 2017
Was never a Mrs Brown's boys fan but "all round Mrs Brown's" was hilarious tonight.. pic.twitter.com/vcNJCMwp44

— Anne Marie Geraghty (@amgeraghty) March 25, 2017