The fans will love it, the angry mob will hate it and, going by the opening episode, there were plenty of toe-curling reasons for the neutrals to tune in next week.
Having caused more conflict among members of Irish families than who gets what in the will, the country's most (in)famous matriarch is at it again, expanding her entertainment empire and trying out a new position over the next few weeks as the Hostess with the Most Effs.
"The BBC have decided to give me my own Saturday night show," said the 'woman' herself as she finally got both legs over the Fourth Wall in the opening episode. "Will they ever feckin' learn?"
Leave it to Brendan O'Carroll to come up with a one-liner that worked as both rallying call and riposte.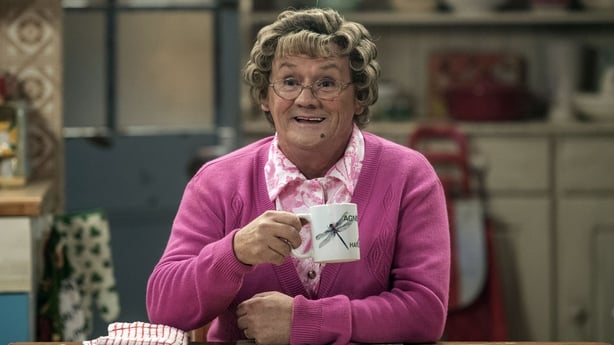 Saturday's opening episode took a while for its Tiswas-in-tights tactics to really get going. There was a bit of yapping around the kitchen table (harking back a bit too much to Mrs Brown's Boys) and the introduction of in-house caterer Chef Aly, who was accompanied by new catchphrase "Reggae!" to the tune of Shaggy's Boombastic.
Then came the bizarre, more whimper-than-bang arrival of Pamela Anderson, who literally came in through the back door for the quickest of sit-downs before being whisked off again to get her hair done at Rory's. In terms of maximising comedy value, it was a missed opportunity.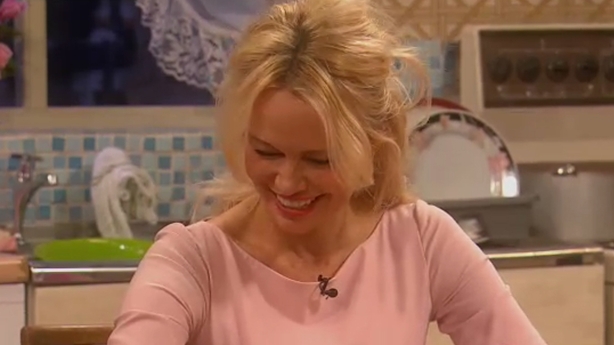 As was Dermot and Buster's visit to Madame Tussaud's with Louis Walsh in tow. The X Factor judge's appearance on the Mario Rosenstock Show proved that the Mayo man is up for a bit of craic, but he just didn't get the material to work with here.
With Dermot and Buster dressed as Shrek and Princess Fiona, the madcap potential of the set-up was wasted in favour of a ho-hum walk through the exhibits, who had more life in them than the sketch itself. There was also a tasteless Stephen Hawking joke. Surely having Walsh and Mrs Brown getting on each other's wick amidst the wax was the ideal set-up, rather than the S**** at the Museum that ended up onscreen?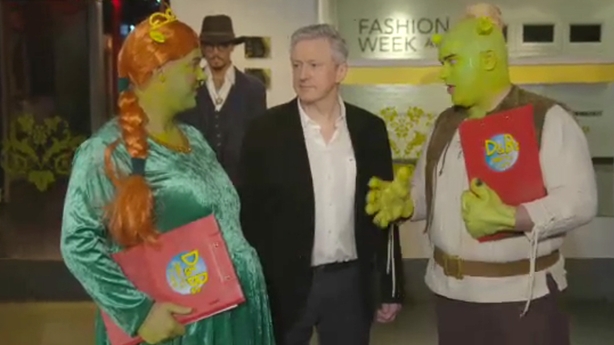 When the show returned to Finglas, however, the fun flowed. The Mammy of the Week slot struck gold when we were introduced to Sandra Gittens, who had used floor cleaner to wash pots, mistaken Deep Heat for haemorrhoid cream and taken her dog's epilepsy medication when looking for the headache tablets - not all on the same day, by the way.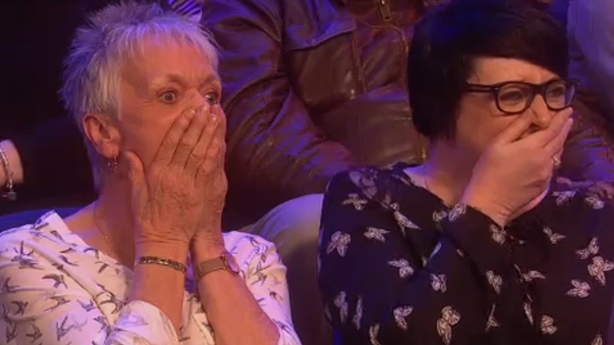 The mix of heart and humour was just right, and that was before Sandra was brought upstairs to try to find the 'Key to Mammy's Box'.
This Generation Game-style set-up saw Buster employed as a human piñata while Sandra used a tea towel to try to knock prize stickers off him - exactly the kind of bedroom antics needed here. Sandra won a dishwasher in the end; chances are there'll be a fondue set up for grabs soon.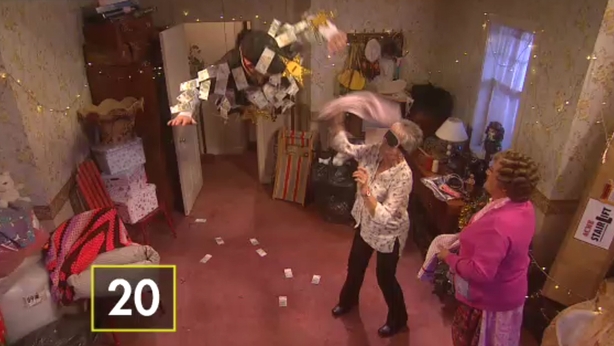 Back downstairs, the chat bit of the show finally arrived as Pamela Anderson was joined on the couch by Judy 'mother of Andy and Jamie' Murray and, a little bit later, by Judy's own mam, Shirley. The spirit of the much-missed Caroline Aherne and her Mrs Merton could be felt in the room with Judy displaying a sense of humour that many Wimbledon watchers may never have thought possible - especially when told she was "so full of s***".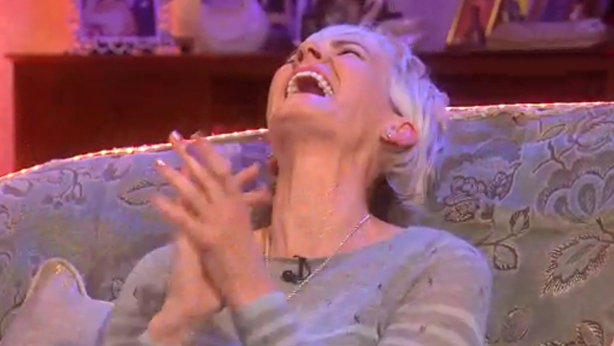 Even funnier was Shirley, who soon joined Agnes for shots in the kitchen. "Real whiskey," said the Scot, taking a sniff. "I hear you'd know" was the genius reply.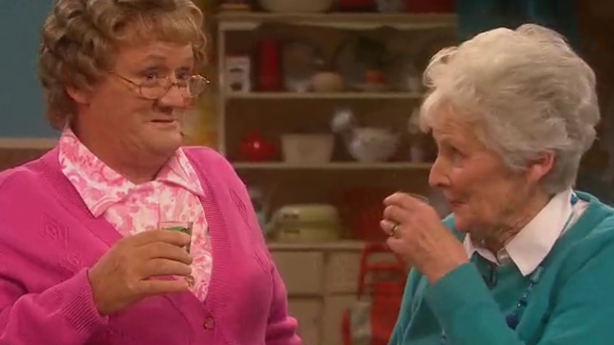 Like many a visitor to an Irish sitting room, Pamela Anderson looked like she wanted to crawl under the table the odd time - but there was also the feeling that she was more game for a laugh than came across (you don't make Baywatch and Barb Wire if you take yourself too seriously) and should have been onscreen far longer.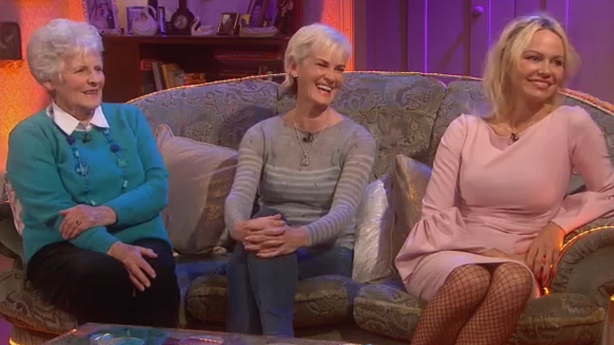 The same was true of the Viewers' Problems segment, which this week took in the menopause, canine voyeurism and the perils of heeding the call of nature while wild camping - exactly the kind of stuff that will give the show its best bits, no pun intended.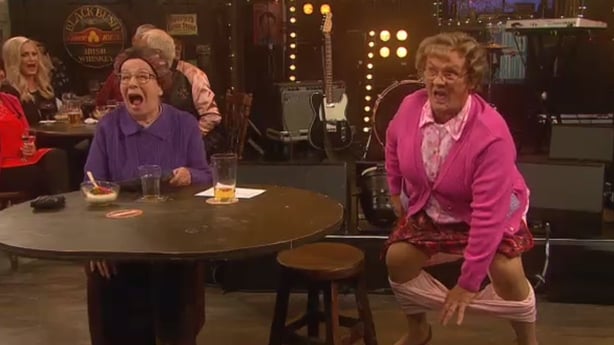 It looked like the night would belong to Shirley but James Blunt proved to be the star of the show for every reason other than the new single he was hawking. "You've a beautiful voice, you've a great talent and you're a handsome man and I don't understand why everyone thinks you're a w*****," he received by way of a welcome.
"It's true; I do like w***ing" was Blunt's comeback. Mic drop - but there was better on the way...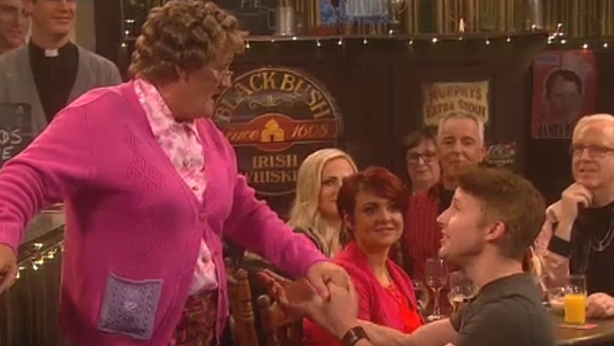 The audience was still coming to terms with that revelation when James and Agnes gave in to passion and gave the show the moment that really had tongues wagging. Talk about a paradigm shift...
We need your consent to load this Facebook contentWe use Facebook to manage extra content that can set cookies on your device and collect data about your activity. Please review their details and accept them to load the content.Manage Preferences
Given that Agnes said Ed Sheeran and Daniel O'Donnell are her other favourite singers, we may have received a hint about future musical guests. They've a lot to live up to.
"James Blunt was amazing," said the now-knickerless object of his affection. "His tongue tickled my throat. I don't know why people have a problem with him - I'd shag him. There's a little hope resides in my heart that he'd shag me!" A sketch with the two of them making small talk in the sack does sound like a great way to end the series. He could even strum his... guitar.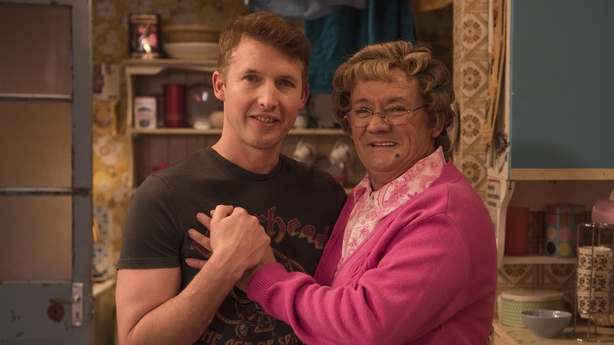 We're a few weeks off that, mind, and if Brendan O'Carroll can multiply the moments of magic from opening night, then there'll be more than enough reasons for the neutrals to tune in again. For his fans, All Round to Mrs Brown's is Mammy from Heaven, and for the haters it's a chance to restock a vitriol bank that was running dangerously low since the Christmas Specials. Each camp will still accuse the other of having no sense of humour, while the ratings will prove once again that all things Agnes are critic-proof.
Really, the only big surprise here is that it has taken so long for the Beeb and O'Carroll to wise up to the idea of getting the audience and celebs in on the act. They need to make more use of both in the week's ahead.