The entertainment value of Don't Tell The Bride relies on the bride and groom having VERY different ideas of their "perfect" wedding day, but it looks like the groom could have gone a step too far on tonight's episode.
Primary school teacher Nikki and chef Jamie met through the dating app 'Plenty of Fish' over 5 years ago and Jamie has decided to use that as inspiration for their big day - by organising a ceremony by a lake, right in the middle of an Irish winter.
Unfortunately for his bride-to-be and her father, they have to arrive at the lakeside venue by boat. And neither of them can swim.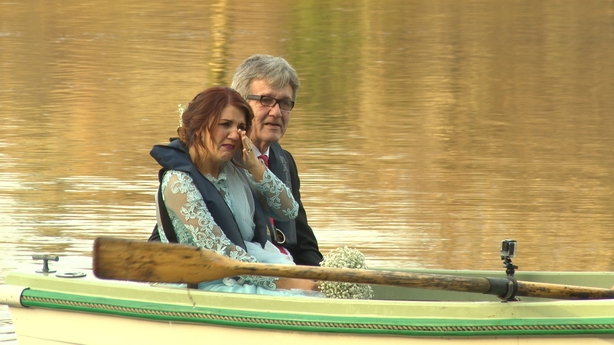 Cue an emotional reaction when Nikki and her dad arrive at the lake.
"Shut the f*** up. I'm not going on a boat", she exclaims, while her dad says "Oh my God".
To make matters worse, Nikki has to contend with muddy terrain in vertiginous heels to get on said boat.
"This is disgusting", she says, before yelling at her husband-to-be: "Jamie I'm going to kill you, I'm filthy!"
"I'd say she's nervous, she can't swim and she hates water and she gets seasick as well. I'd say it's a really anxious journey for her," Jamie admitted.
"I'm happy out. Look, I couldn't be happier, I'm the happiest man in the world. I'm marrying the girl of my dreams".
At least someone is happy.
The unexpected boat journey and muddy conditions certainly put the blue wedding dress into perspective for Nikki.
You could cut the tension in the room with a knife when she made her debut in her home-dyed frock in front of her mum and sisters. They were left speechless after her entry, with a stressed Nikki saying she "feels like getting sick".
We'll have to wait until tonight to see her reaction to the blue gúna.
Watch Don't Tell The Bride on Monday at 10pm on RTÉ2.