With Saint Patrick's Day falling on a Friday this year it means most folk face a long weekend off work. What better way to enjoy it than with the telly? John Byrne charts a weekend's viewing.
FRIDAY March 17
St Patrick's Festival Parade, 12.15pm, RTÉ One
The big one. Des Cahill, Blathnaid Ní Chofaigh and Aidan Power present this year's live coverage of the main St Patrick's Festival Parade, in Dublin.
Aidan will be overseeing the backstage colour and pageantry while Blathnaid and Des hold their positions on O'Connell Bridge - right in the centre of Dublin city - waiting for the main event and its many thousands of participants to pass by.
The Late Late Show, 9.35pm, RTÉ One
Ryan Tubridy is live in studio for some chat, music and entertainment - and also with a nod to the day that's in it. The big guest is Irish football legend, Paul McGrath.
Viewers will be getting a unique insight into the ancestry of some well-known personalities - including Michael Healy Rae and Eamon Dunphy - finding out through DNA testing what they're made of and whether they have some surprises in their family trees.
The Late Late Show Antiques Special returns this week, with Ryan Tubridy meeting the amateur restorers who'll be transforming some previously unloved furniture.
Festival Gold Cup, 1.00pm, TV3
Ed Chamberlin presents live coverage of Gold Cup day, as the Cheltenham Festival comes to a close. The Gold Cup is due off at 3.30pm and even though star chaser Thistlecrack has been ruled out by injury, there's still a stellar field going to post, with Thistlecrack's trainer Colin Gizzard still hoping to land the Blue Riband prize.
Iron First, Netflix
This latest Marvel creation has been hammered by the US critics who received advance episodes. It can't be that bad, surely? After all, predecessors Daredevil, Jessica Jones and Luke Cage are hugely entertaining.
Finn Jones stars as Danny Rand/Iron Fist, a martial arts expert with the ability to call upon the power of the Iron Fist. He returns to New York City, after being presumed dead for 15 years, to reclaim his family company.
But when a threat emerges, Rand has to choose between his family's legacy and his duties as the Iron Fist. No prizes for guessing what happens next.
PS I love You, 9.00pm, TV3
Okay, it's not exactly a cracker (and that's being polite especially considering Gerard Butler's horrendous Oirish accent), but this Hollywood rom-com is based on the first novel by Cecilia Ahern. Given the day that's in it etc.
It's followed by more Irish-related celluloid in Chasing Leprechauns (what do you mean you've never heard of it??) starring Amy Huberman and Adrian Pasdar .
Finally, the third film in a row on Paddy's Night is The Butcher Boy, an absolute cracker. But at 1.15am it's a bit of a late starter.
Young Offenders, Netflix
Inspired by the true story of Ireland's biggest cocaine seizure in 2007, The Young Offenders is a comedy road movie and massive box office hit about best friends Conor and Jock, two teenagers from Cork who dress the same, act the same, and even have similar bum-fluff moustaches.
When a drug-trafficking boat capsizes off the coast of west County Cork and 61 bales of cocaine, each worth €7 million, are seized, word gets out that there is a bale missing.
Naturally the boys head off in search of the missing bale so as to escape their troubled home lives. Unfortunately for them, Garda Healy is in hot pursuit on his bicycle.
Meanwhile Sing Street, John Carney's cracking film about growing up in 1980s' Dublin, is also still available on Netflix and is definitely worth your time.
SATURDAY March 18
Live 6 Nations Rugby, 5.00pm, RTÉ2
So can we deny the 'aul enemy the Grand Slam? That's the big question facing rugby fans this Saturday.
Daire O'Brien is joined by Brent Pope, Eddie O'Sullivan and Shane Horgan for live coverage of Ireland's final 6 Nations game against new champions England at the Aviva Stadium, with commentary from Ryle Nugent and Donal Lenihan.
Earlier, Scotland face Italy at Murrayfield (KO 12.30pm) and France host Wales at Stade de France (KO 2.45pm).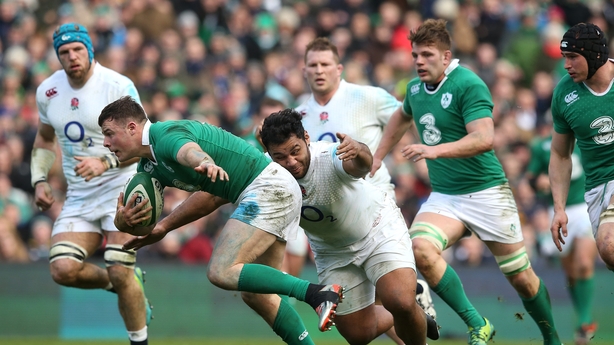 The RTÉ Choice Music Prize, 11.10pm, RTÉ2
Highlights from this year's RTÉ Choice Music Prize, filmed in Dublin's Vicar Street with live performances by and interviews with various nominees.
Presented by Blathnaid Treacy, this event has become one of the highlights of the Irish musical calendar since its inception in 2005.
Nominated acts include: All Tvvins, Bantum, Wallis Bird, The Divine Comedy, Lisa Hannigan, Rusangano Family and We Cut Corners.
Ant & Dec's Saturday Night Takeaway, 7.30pm, TV3
Easily the slickest and most entertaining of the big Saturday evening shows, and hosted by the undoubted twin princes of prime time TV, Ant and Dec.
The boys go head-to-head against professional gigglers Philip Schofield and Holly Willoughby in their new game Make 'Em Laugh, and there's a musical treat in store in the End of the Show Show.
Scarlett Moffatt and Little Ant & Dec will be joining in the fun, and as always another lucky player will get the chance to Win the Ads. All that and a pot of tea - sure what more could you want?
I Saw the Light, 10.05pm, Sky Cinema Drama
Although this is ultimately a disappointing biopic of the legendary country singer/songwriter Hank Williams, who died at the tragically early age of 29, Tom Hiddleston is quite superb in the lead role.
Williams, one of the greatest songwriters of the 20th Century, had a talent that went way beyond his country music background, and Hiddleston gives it everything, but a flat and uninspired script lets him down.
Still, for all its failings, none of which implicate an otherwise outstanding cast, I Saw the Light does draw a modern audience towards a musical genius with an amazing voice, who died way before his time.
SUNDAY March 19
Dancing with the Stars, 6.30pm, RTÉ One
With Des Cahill eliminated, it's down to the final four celebrities and partners, and this time around they'll be dancing to a song by an Irish artist to celebrate St Patrick's Day.
The stakes are high, it's the semi-final and double-dance time, so each couple will have to take to the floor again for a whole new routine to see who makes the final.
SS-GB, 9.00pm, BBC One
This post-WWII fantasy about a nazi-controlled UK has been pretty tame, but tonight's final episode might generate a bit of excitement.
In the early hours of the morning Archer and Harry make their attempt to rescue a frail King George VI from hospital.
Elsewhere, the Nazis have a shaken and bruised Barbara in a police cell, demanding she tells him what she knows of the Resistance. Under threat of torture, can she survive the interrogation?
Meanwhile, the Resistance is stationed at an airstrip near Bringle Sands in Devon, waiting for the arrival of their ailing monarch.
FAI International Football Awards, 8.00pm, RTÉ2
As a prelude to next week's World Cup qualifier against Wales at the Aviva, Joanne Cantwell, Peter Collins and Tony O'Donoghue present the 3 FAI International Football Awards.
An array of Irish football talent is also promised making it essential viewing for fans.
The Magdalene Sisters, 9.00pm, TV3
Not exactly cheery stuff, this pretty harrowing film follows the stories of four 'fallen' young women - Margaret (raped by her cousin), Bernadette (considered too beautiful and coquettish), Rose (an unmarried mother) and Crispina (an intellectually-disabled, unmarried mother) - who were all forced by their families or caretakers into the Magdalene Asylum.
Director Peter Mullan pulls no punches and details the awful lives of the four girls, portraying their harsh daily regimen, their squalid living conditions and the oppressive nature of the catholic church at the time.
The good old days, eh?