With the Dancing with the Stars final getting closer the competition reached new heights. We got a second perfect score, and were introduced to the Ballroom Blitz, which gave the dancers a chance to add to their scores. Here's how the night went down...
Too Fast, too Furious?
Aoibhín and Vitali narrowly missed out on a perfect score in last week's show, missing out care of a judge with the initials 'BR' *hint hint*. Belting out her best Tango with partner Vitali to Shakira's 'Objection', and looking like the red-dressed Tango dancing emoji, Aoibhín delivered what Julian Benson described as a "fast and furious" Tango.
The judges bestowed a high score of 25 upon Aoibhín, lower than last week; however Aobhín more than showed that she was still a contender as the competition begins to reach the finish line. The judges were quick to praise her performance, however also pulled her up on her approach to the Tango itself as a dance, with Brian Redmond pointing out that "at times it was a bit too fast and furious," and that at times her approach was too "manic".
Julian Benson gave them a 9, declaring them a "unique couple" on the floor, but agreed with his fellow judges in saying "it would've been nice to see a bit more light and shade." The pair produced a solid Ballroom Blitz dance, and finished runner-up in the process, adding an extra 4 points to their overall score. Speaking post-blitz, she said she was happy with her Tango, saying, "I actually thought it was my best dance but that's just the look of the draw"; And luck of the draw it was as she found herself battling to stay in the competition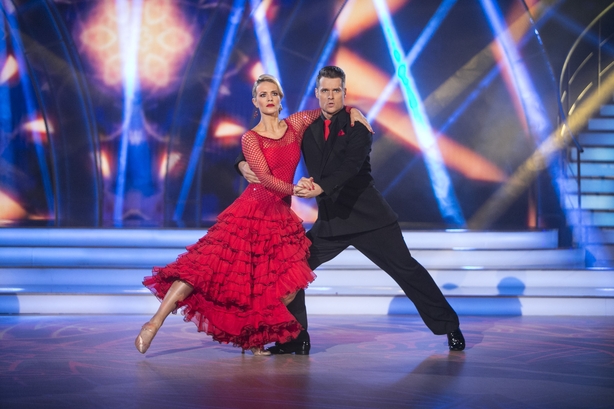 Nobody puts dancing Dessie Swayze in the corner
Dancing Dessie improved week on week, with the judges consistently telling him he had been getting better, but that he still needed to deliver more. Dancing the Jive with Karen Byrne to 'Do You Love Me' by the Contours, Dessie and Karen delivered a performance full of energy.
As the Contours' song goes, "I'm back to let you know I can really shake 'em down", and Dessie definitely shook it down. Post dance, an out-of-breath Des declared "I had so much fun," and it looked like the judges had fun watching him perform. Judge Julian Benson declared, "Dirty Dancing, eat your heart out – nobody puts our Dessie in the corner," telling him that he "embodied the character". The duo earned a score of 19, with Benson pointing out that "we got more progression," and praised his lift, saying "OMG".
Judge Brian Redmond claimed he was "partial to an aul burger" himself, after seeing Des' preparation (a trip with Karen to Eddie Rockets), but he said that his performance "was packed with energy from start to finish."
Loraine Barry summed up a solid performance from Des, saying "this is a Jive from the very start". When it came to the Ballroom Blitz, Karen claimed beforehand there would be "murder on the dancefloor". Her and Des only earned an extra point from the Blitz, as they were the first to leave the floor. They found themselves in the dance-off up against Aoibhín and Vitali, but Dancing Dessie's great run has come to an end at the quarter-finals. We'll miss him.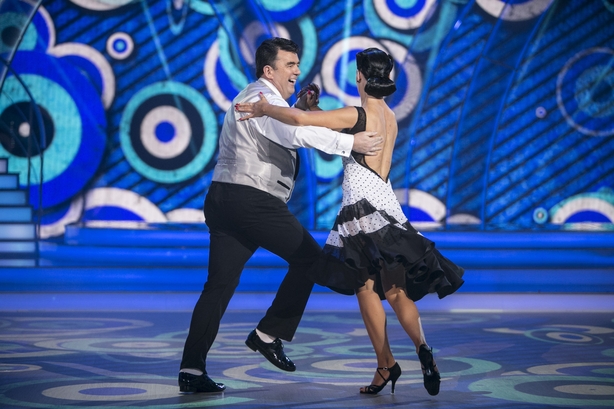 Daddy Cool was in the house
Aidan has become a dark horse in recent weeks, delivering a consistent standard that's been getting progressively higher, with Brian Redmond last week saying "I have been calling for someone in middle ground to step up. I didn't think it would be you. Aidan you are a contender".
Aidan became a first time dad this week, with the five time All-Ireland winner declaring it "the best feeling in the world". However, with his new arrival, Aidan had much less time to rehearse than the competition. Dancing to 'Cake by the Ocean' by DNCE, the judges were somewhat critical of his performance, especially with his hip movement, and while they acknowledged his depleted rehearsal time due to the birth of his child, Brian Redmond stated that they can "only judge what is put in front of us".
Aidan and Valeria earned a score of 22, with judge Redmond claiming their performance was "great at the start but a bit wooden in the middle," and his performance was "good by your standards". Julian Benson was full of praise for Aidan however, stating that "Daddy cool was definitely in the house tonight," before agreeing with both Loraine and Brian in saying "the hips were a little bit stiff at times because last week you were box office". Aidan and Valeria added an extra 2 points to their score following their turn in the Ballroom Blitz, leaving the floor after Des and Karen, and it was enough to carry them into next week's semi-final.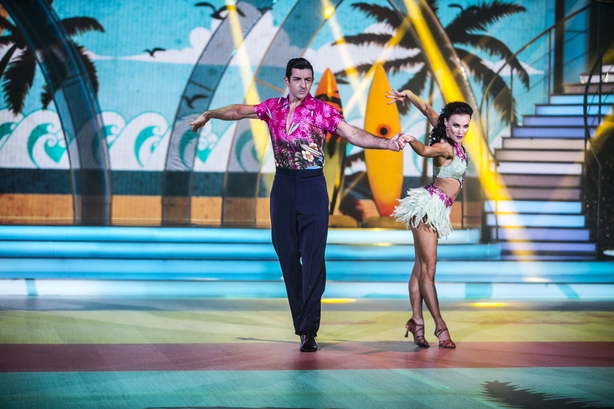 She's back!
Denise and Ryan were taken to task by Loraine Barry during last week's show for mixing up their Quickstep with a Foxtrot, and so were hoping to up their game this week to stay out of the dance-off.
They delivered in spades as they danced the Charleston to Fergie's 'A Little Party Never Killed Nobody', bringing a performance that wouldn't have been out of place in the roaring 20's.
An energetic, vigorous, and quite frankly flawless Charleston was rewarded with a perfect score, a 30 that's been a long time coming after consistently high standard performances.
The judges were universal in their praise for the pair, with Loraine Barry declaring, "I love a Charleston and I thought that was a super Charleston".
Brian Redmond loved it, saying she had "all the swivels in place and perfectly timed all the way through," while Julian Benson was nearly out of his seat, showering praise on the actress, saying she "nailed it," and claiming it "wasn't just a dance, that was a production number". Following a strong Ballroom Blitz, Denise and Ryan added an extra 3 points to their score, finishing 3rd, enough to save her from another dance-off, and take her to the semi-final.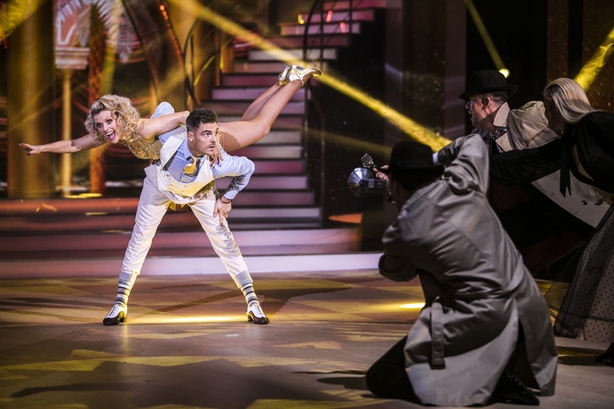 "Tonight the man became the boy.. oops - The boy became the man"
In what was a surprising turn of events, Dayl found himself in the dance off last week, being saved by the judges in the process. Dancing a Paso Doble with partner Ksenia to the Gipsy Kings' 'Bomboleo', Dayl said beforehand that he was worried about getting it right, claiming "the hardest part of this dance for me is the body shapes".
Dayl earned a very high score of 27 to stay close on Denise's heels, with the judges giving the pair high praise, and the second highest score of the night. Judge Julian called it "one hot, fierce, Paso," telling Dayl that he "oozed sexuality," and that his technique was superb, especially his knee drops. Loraine Barry adored his performance, from the technique, right down to the set itself, saying, "the actual set with the flames and fire was perfect," and added, "inside all that creativity it still had all the traditional steps.
A good night for Dayl turned into a great night when they were crowned victorious in the Ballroom Blitz, gaining an extra 5 points to their total; and a great night got even better when he was spared the dance-off, as he blitzed his way into the semi-finals.